If you have not yet got your hands on volume 1 of Trespasses, here is your chance to get it!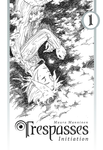 Trespasses Volume 1: Initiation
ISBN 978-952-93-2615-0
136 pages
First printing September 2013
After a cataclysmic event has destroyed the planet and forced people underground, a halfling called Pele has his life derailed by a personal tragedy that transports him to the surface of the earth – and thousands of years into the future!
In this new, arctic world and surrounded by mysterious strangers, Pele tries to make sense of his fate and stumbles upon an even bigger mystery – one that threatens the whole of time and space.
Trespasses VOL 1: Initiation is the first part of an on-going fantasy comic.
Price: 12 € (+5 € worldwide shipping, 3 € within Finland)

You can buy the book at Pratfall Comics shop on BigCartel! Payment via Paypal or bank transfer.
Read the comic online at Smackjeeves!