Here is where from now on updates and announcements will take place

08/08/2019
Thanks to the wonderful
casinuba
, we have a new shading guide that shows the absolute minimums for shading, as well as many examples of unacceptable shading!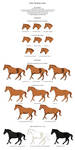 Familiarise yourself with it please! Any questions, don't hesitate to ask!
06/10/2019
The Hall of Fame is being reworked - if you get a mention, don't panic, your horses are just being organised into a (hopefully) better system!
05/31/2019
Another PP update

to count for all the additional things we have added over the years. The limit per PP for image has been increased to 30!
04/09/2019
HAI
Tis Wild here. As by now some of you have noticed
PadroHorseDesigns
. This is the account where we will be keeping the padro designs. Due to increasing issues of lost designs, mistaken IDs and so forth we request the permission of you all as a group that over the next little while you all allow me to upload designs of EACH AND EVERY PADRO. Please note
these designs will NOT be added to the group unless the original is deleted or the designer wishes it so.
These designs uploaded here will act as trackers for myself and the rest of the admin team to keep track of transfers, references and foals born.
So if you guys ever want to know which horse is where and so forth and if a design exists or not you will be able to find it there. Please note this means TRANSFER NOTES MUST BE SENT.
Oh yeah, and for horses missing designs I will be recreating the designs as exact to the original horse as I can.
*You guys are still able to upload your horses to the group. We do not want to restrict everyone to the 10 deviations per day thing, nor do we wish to drastically change how we have done things for years.
3/18/2019
BIG NEWS! For those of you that love to write stories, you'll be pleased to know that we are increasing the PP limit for literature to 10PP!
Thats a whole 2.5PP more than before!
9/8/2018
Your prayers have been answered! PadroHorse now has a discord server!
Please make sure you look over the rules before you chat! Hope to see you all there!
discord.gg/vmeq9QT
7/6/2018
Hi all - please remember that unless a horse is confirmed for their ranking, they cannot pass on lineage points to their offspring!
Ranking notes should now be up to date, and we are working on making sure it never takes longer than a week for your notes to be answered!
Once your horse is confirmed, it is easier for us admins to check confirmation for their offspring if you put a link to the rank confirmation with your padro points total! Thank you!
5/11/2017
Hi all, this is just a little announcement to say that the breeding note links are now mandatory on all foal designs do to mistakes when people copy genes and change things as well as omitting information.
thanks guys!
4/28/2017
Small reminder to those breeding their padros - try to avoid breeding two overos together, and two dominant whites together. This results in lethal white syndrome and consequently dead foals!
3/27/2017
Extra mutation chances of 50% will close on April 1st!
1/11/2017
Since we are a bit behind (again) on breeding notes, I would like to ask not to send in more than 3 notes (with maximal 2 breedings per note) at once.
What does 'at once' mean?
Please wait until your previous three notes are answered by an admin before sending new note(s).
Thank you for your understanding and patience!
10/4/2016
Please adhere to the Leo standard when designing a Leo Padro. This only allows feathering on chest, belly and shoulder and NOWHERE else. The reason for confusion is that the older standard used to have more feathering.
accepted examples are: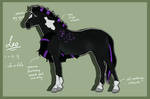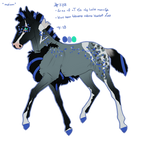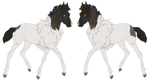 for additional feathering, you would need a feathering gene: nft or ftft. Mutations like Radiya or Phabis allow more additional feathering.
6/20/16
update 6/20
sometimes, we admins get really busy, and with breeding notes overflowing us right now, and to make sure we get our work done as smoothly as possible, certain (intricate and time consuming) mutations have become unavailable for admin design. This means that while you can of course still breed these mutations, you cannot request an admin design on these. This update is temporary. I will update this journal again when the restraint has been lifted.
Apologies for any inconvenience this may cause.
Mutations currently unavailable for admin design:
- Cervus
- Emitola
- Gudial
- Yaril
- Wedusa
6/15/16
Introducing the Skype Group: Padro Everyday Blabber!
Come join and discuss the breed, questions or just to have a good time!
join.skype.com/k4E6RG3Y7l0A
3/16/16
Admin designs are available again in the same manner as before. Thank you all for your understanding and patience.
2/12/16
Admin foal design service will close for one month. (2/14 - 3/14)
We have an insufficient amount of design admins available at the moment to meet the high demand. New admins will be chosen this weekend. You can apply here:
kimbokah.deviantart.com/journa…
Breedings are still open, but foals must be designed on breeders own terms.
1/22/16
Little heads up about the upcoming import season!
- Imports will either free to claim to newcomers, or accord to the custom prizes for regular padro owners.
- Imports will either be naturals, or single (rare) mutation horses.
- The focus will lie on breeding to spread the particular mutation. Buyers of an import must be willing to breed the horse at least once.
- Payment can be either done in points or in art.
More to come soon!
1/16/16
Good News!
After improving Recovery Genes' Stability, it is now possible to breed Recovery Genes to the regular extinct version of the gene. Recovery Genes are always indicated with * (example: nTjs*)
results for breeding are as follows:
nTjs* x TjsTjs = TjsTjs
nTjs* x nTjs = nTjs or TjsTjs
nTjs* x nTjs* = Lethal and not approved.
nTjs* x nn = 50% chance of nTjs* (stays as GMC if not bred to the original mutation)
- Recovery Imports will remain scarce-
1/10/16
Submissions to "breed art" now require one admin vote again to end up in the group, but should still be approved pretty quickly.
This happened because some people abused the auto approval to get things into the group that we would otherwise deny.
1/6/16
About waiting lists:
Admin designs can take up anywhere from 1 day to one month. If after one month after request, you have not received your foal design or custom import, you are encouraged to contact the group.
12/23/15
When you're sending in a note for rank confirmation, please limit it to one horse per note. Makes counting and replying much easier. Thanks!
12/20/15
Small request for users to send in maximal one or two breedings per note until further notice. It's easier to handle for me this way, as we're getting a bit clogged.