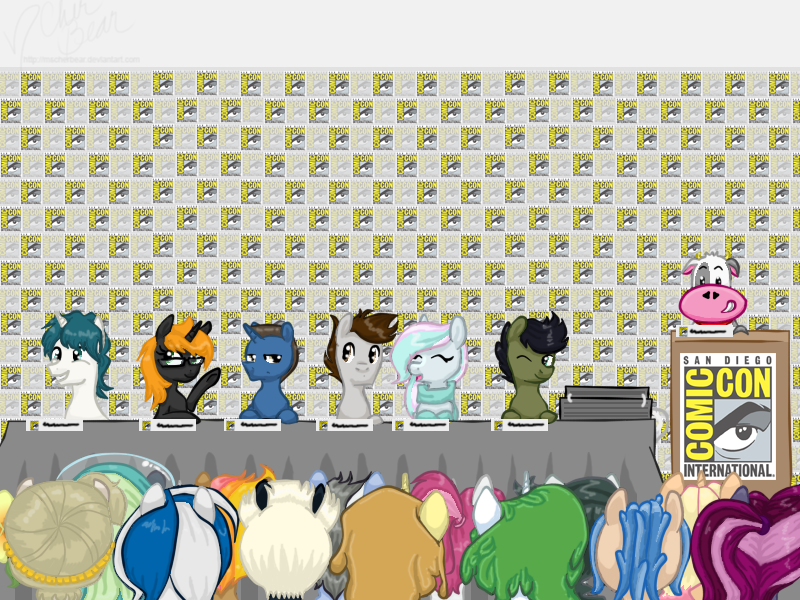 Bronies at San Diego Comic-Con International
San Diego, California -

13 July 2017
- Join your fellow bronies as they watch a panel with
Lyle Gilpatrick
(himself, "Bronies: The Extremely Unexpected Adult Fans of My Little Pony"),
Andrew Ho
(p
ublic relations deputy director, BronyCAN
)
,
Laura Page
(
vice chair of guest and public relations, Equestria L.A.
),
Steven Stern
(
blog author, Equestria Daily
),
Kaelisa VanDyke
(
co-chair, Everfree Northwest
), and
Ted Visser
(
chair, Pacific PonyCon
), as they discuss the fandom,
moderated by
James Udan
(
event planner, SoCal Bronies
). Panel will be on

Saturday 22 July

, in Grand 1 & 2, in the Marriott Marquis San Diego Marina from

7:00PM to 8:00PM

. To see the panel in the official schedule please go to sched.co/BQ49

After the panel join SoCal Bronies for a meetup at the Marriott Marquis San Diego Marina. For more information please go to www.meetup.com/SoCalBronies/ev…
Contact:
James Udan
programming@pacificponycon.com

-----
Stay tuned for more announcements & keep in touch w/ all the latest news, so PLEASE follow!
Pacific PonyCon [ pacificponycon.com/ ]
Follow us on Facebook [ facebook.com/sandiegoponycon ]
Follow us on Twitter [ twitter.com/Pacific_PonyCon ]