#DrawDeercember
day 10: Visayan / Philippine spotted deer.
The Visayan spotted deer is said to be the rarest deer in the world. Native to the Philippines, they have beautiful reddish chocolate brown coats with cream coloured spots. My sketch really doesn't do the markings justice. Due to habitat destruction and hunting there are estimated to be only about 700 breeding adults left in the wild (IUCN 2016).
Challenge prompts: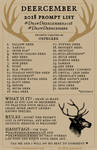 Media: Sketched with Polychromos coloured pencil.

Instagram
|

Facebook
|

Redbubble Store
Image size
4662x4662px 14.76 MB