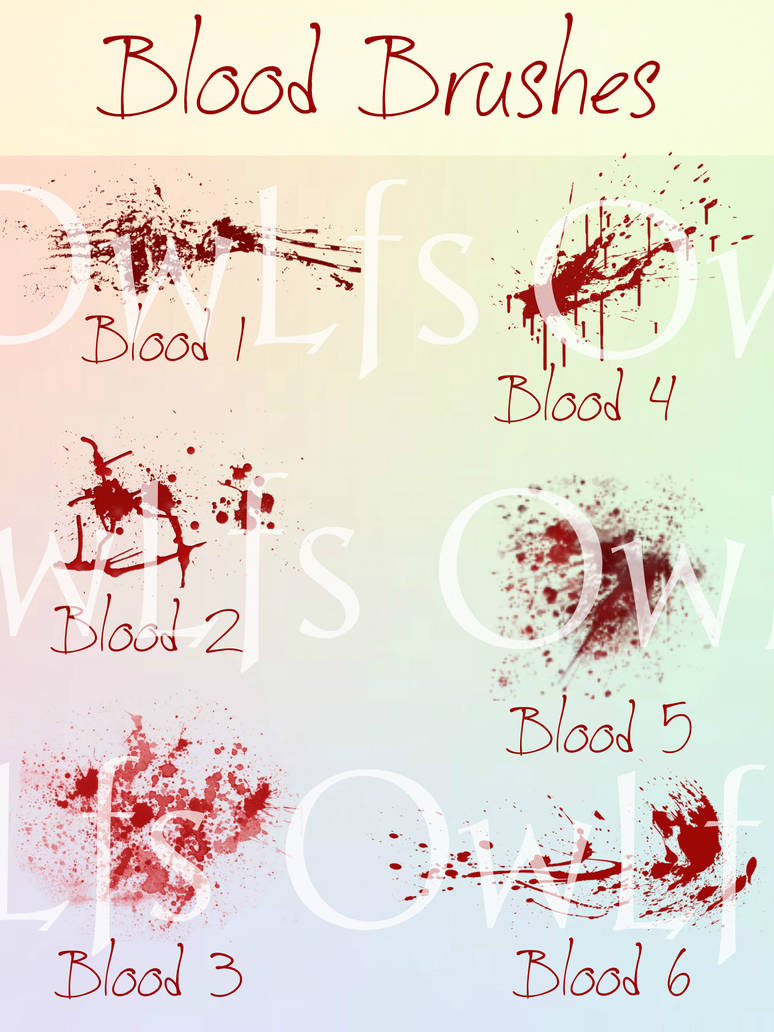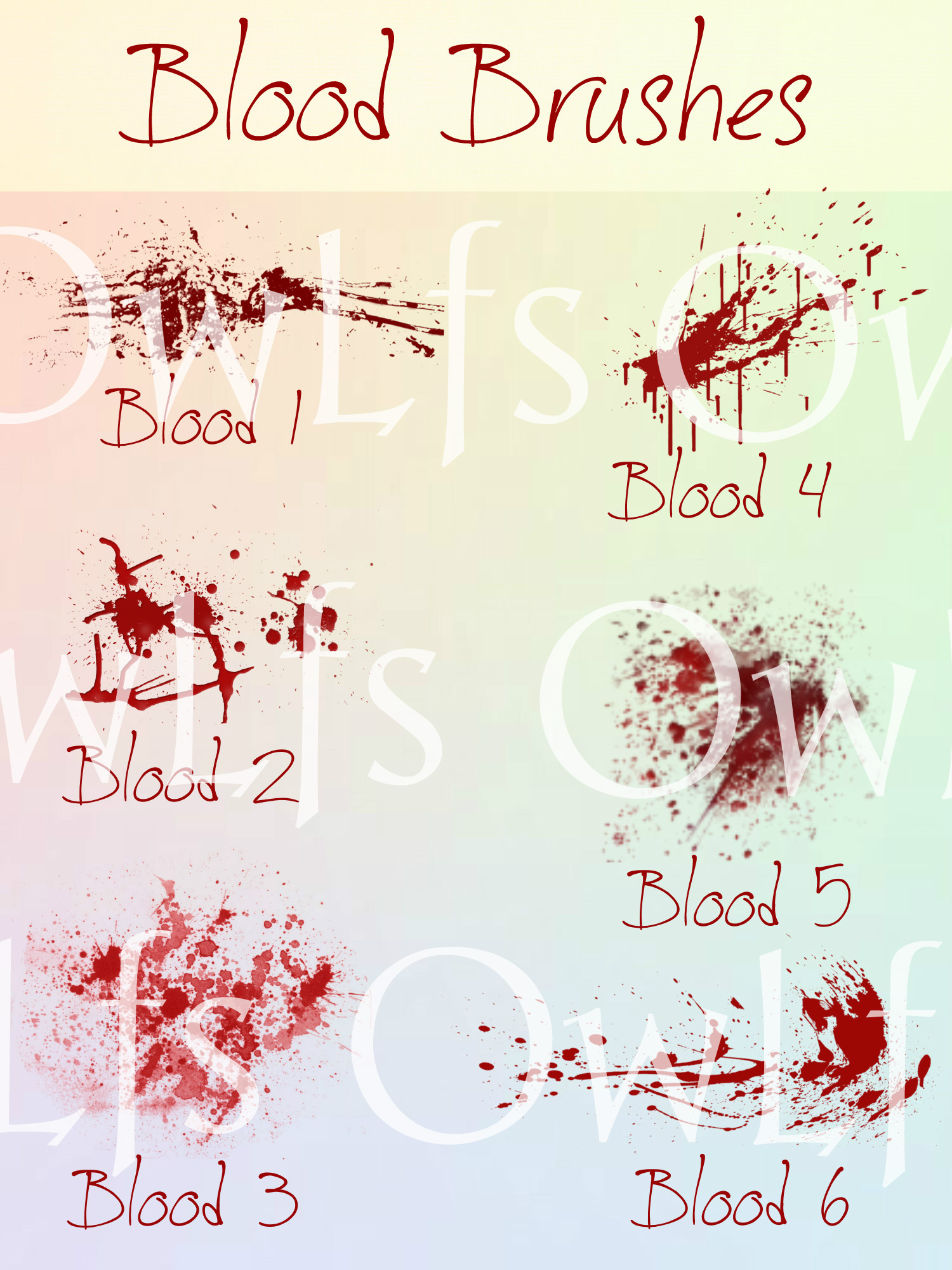 Hey guys!! These are the blood brushes I used in my previous artwork and decided to make them available for people who are too lazy to draw them (Like me

) There are 6 blood brushes that you can use Once you download it you can customize it however you want. If you do download these brushes, feel free to use these as you please! I wouldn't mind being credited, but it's not entirely required. I have no clue if these work on any other program but let me know if it does or doesn't!!

The artwork I used these brushes in: owlfs.deviantart.com/art/Norte…
NOTE:
Do NOT reproduce these brushes, sell them, etc. without my permission! Ask before doing so!!

Do NOT claim the brushes as YOUR OWN, that would just be disrespecting to me.

You can share these brushes on other sites, provided you will not claim them as your own, and attach the credits/link to original source.

If you edit the brushes, credit and link to original source from which you made the edit from and you can share your edited brushes for free. Do NOT sell and profit for it's still my brushes you've edited from.

The brushes are very small so you'll have to increase the size of your brush if you want them to be bigger.


Thank you for being understanding and I hope you enjoy these brushes. Fav or comment when you've downloaded and/or used these brushes!!
How to add brushes into FireAlpaca:
Step 1
Extract the PNG files and store them somewhere that'll be easy for you to find
Step 2
Open FireAlpaca, go to the bottom left (for me it's under the Brush panel) and click the second option (Add Brush - Bitmap)

Step 3
Select the PNG you want to add as the brush
Step 4
Rename and/or customize the settings to however you like (optional)
Step 5
Have fun!
Also feel free to follow and support me and my art on my Instagram, Twitter and Ko-fi accounts!
Instagram
:
www.instagram.com/owlfs/
Twitter
:
twitter.com/_OwLfs_
Ko-fi
:
ko-fi.com/owlfskofi

where is the download???? I can't find it :/
Reply

It's on the right side of the page, near the top or if there's an ad there, it'll be under the ad
Reply

does this work for medibang? please test it out
Reply

It does work for Medibang for its interface and layout is almost the same as Firealpaca's so I have no doubt that it'll work for Medibang
Reply

I know some Firealpaca brushes work for Medibang, do these work for it?
Reply

I honestly don't know, I've never tried Medibang but you can give it a go, if it doesn't work I'll download Medibang and make those brushes for that.
Reply

what settings would you recommend (for this and your other brushes)?
Reply

This is the brush settings I use for my blood brushes and just adjust them if I feel like they need to:
For the others it's basically just you messing around with the settings to see how you'd like it and what fits you, you know? You can also change their type from bitmap to scatter or pattern and just see what you like~! There really is no recommended settings for these brushes~! I hope this was helpful in anyway?
Reply

Ommgg this looks so helpful!
Reply