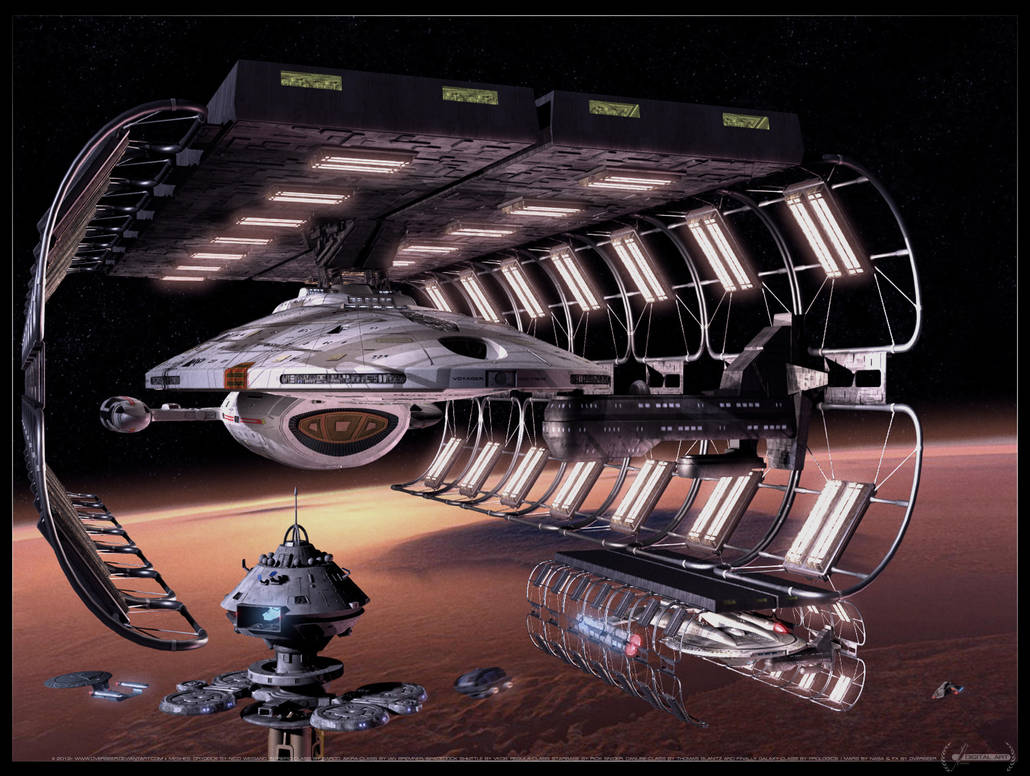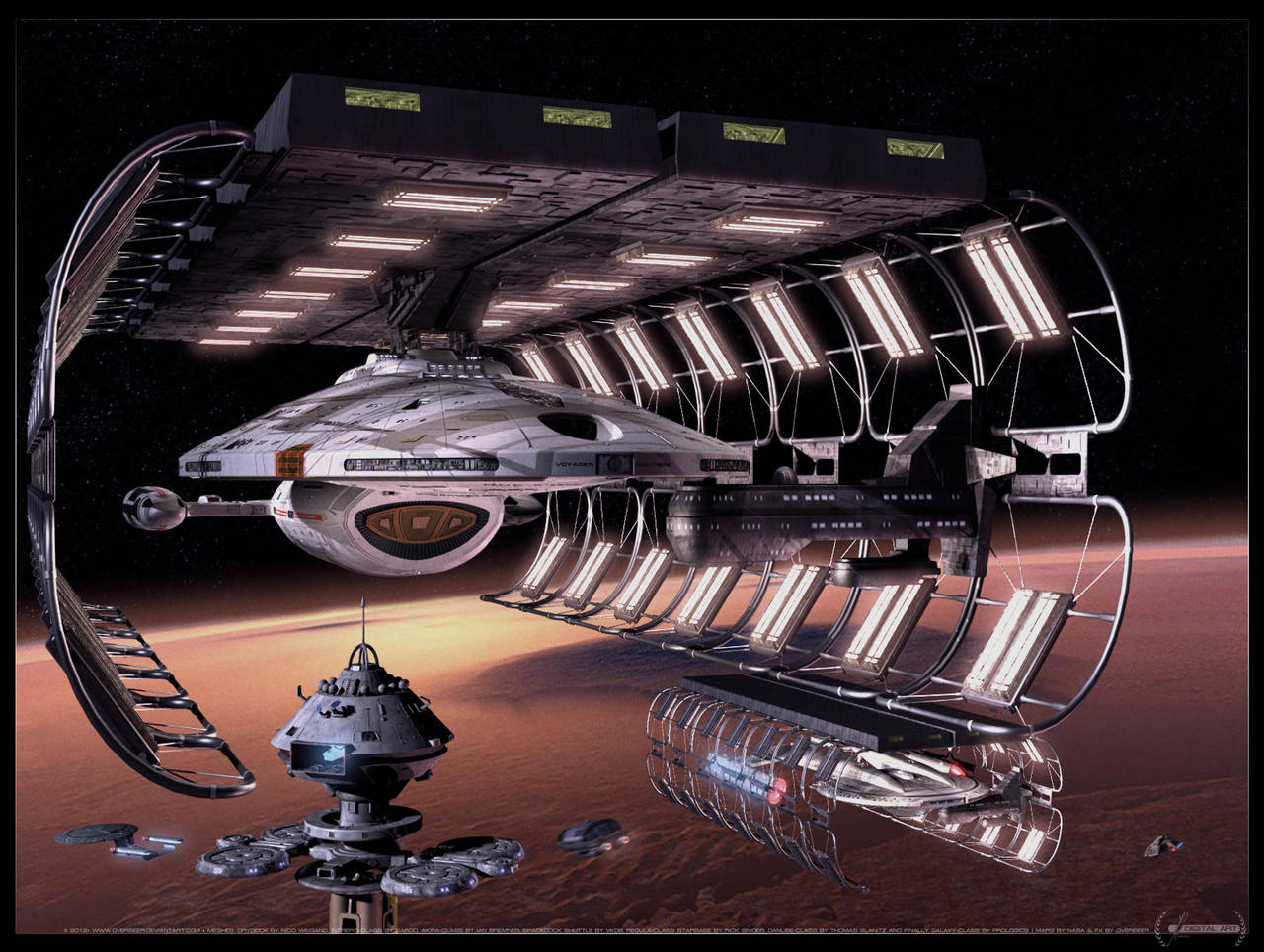 Watch
This is losely based on the opening sequence of the 5th season STVOY episode "
Relativity
" and shows part of the Utopia Planitia fleet yards above Mars.
This was a request by *
TreeClimber

and is essentially a remake of a piece from 2003 (I hope some skill improvement is apparent):
:thumb1755560:
---
Background: Google. Thank you NASA.

Meshes: Drydock by Nico Weigand, Intrepid-class by Sarod, Akira-class by Ian Bremner, Spacedock Shuttle by VK08, Regula-class starbase by Rick Snider, Danube-class by Thomas Slanitz and finally Galaxy-class by Prologic9.

Composition: Scene and lighting setup in LW (this scene contains 72 individual light sources following my initial setup!!), final composition in PS including further glow effects and blurs. Added slight blue-ish tinge and grain for TV effect.

Star Trek © Paramount Pictures, All Rights Reserved.

Original size: 1600x1200 plus frame.

Total time approx. 12 hours incl. render time and 50 layers in PS (following update).
---
Comments and critique welcome as usual. Full view recommended. Enjoy.
Update: Based on *TreeClimber's very helpful critique (thank you muchly

) I've now updated this image with the following fixes additions:


• Voyager windows now lit
• Added texture to starbase 'pods'
• Added shadow to top of secondary drydock
• Added Danube-class Runabout
• Added Galaxy-class
• Some fixes to starfield
• Amended angle of drydock shuttle towards the starbase


I think the additions added depth (as in perspective) as well as dynamic.
Updated 2012.
I know you saw my facial expressions, so you know that my initial reaction was just a jaw-dropped state of awe!

What I truly like about this piece of work: The light glow that you've closely paid attention to, as the way our eyes perceive light, this is just fitting, despite the lack of atmosphere, we would still see light this way, so kudos to that.

The field of depth from the docks to the planet is truly realized! You can not mistaken the distance between the technology and the planet itself - VERY well done.

The texture of the closer dock is fantastic - has a very real material feel to it; very mechanical in that you can see that it is a metal substance, designed to withstand a good beating by whatever comes near/at it.

The blur of the shuttle really gives a great feel of activity in the scene - the blur shows us that these machines (ships and bays) aren't just hanging out for the sake of looking cool. It gives the notion that it takes PEOPLE to build these things, and people to fix and test them as well.

I truly appreciate the attention to the angle of the models to the bays and there corresponding 'partner' stations nearby - as though in my own shuttle craft doing my own fly-by look around.

I do have a few suggestions though, one idea, as I recall in your previous creation of this scene, was that you had the lights on in/on the ship. I'm not suggesting to have that quantity of lighting on again, I'm thinking, that maybe at least, the lights of the Bridge, as it is in dry dock, and the Bridge and Main Engineering would be bustling with technicians.

Another thought I had, was to add a bit of texture to the outer edges of the circular pads to the left, they have a bit of a plastic-y feel to them.

And lastly for the bits of suggestions, is to darken the top of the slightly distant dock, as there isn't anything really providing light to it, the color tones of the rails on Voyager's dock blend in a bit too easily to the top of the other ship's dock.


I am truly astonished with the progression of your work since 2003, and I know you will only improve your works as time continues! I am utterly fascinated by your effort and care that you place into these works!
The Artist thought this was FAIR
12 out of 12 deviants thought this was fair.