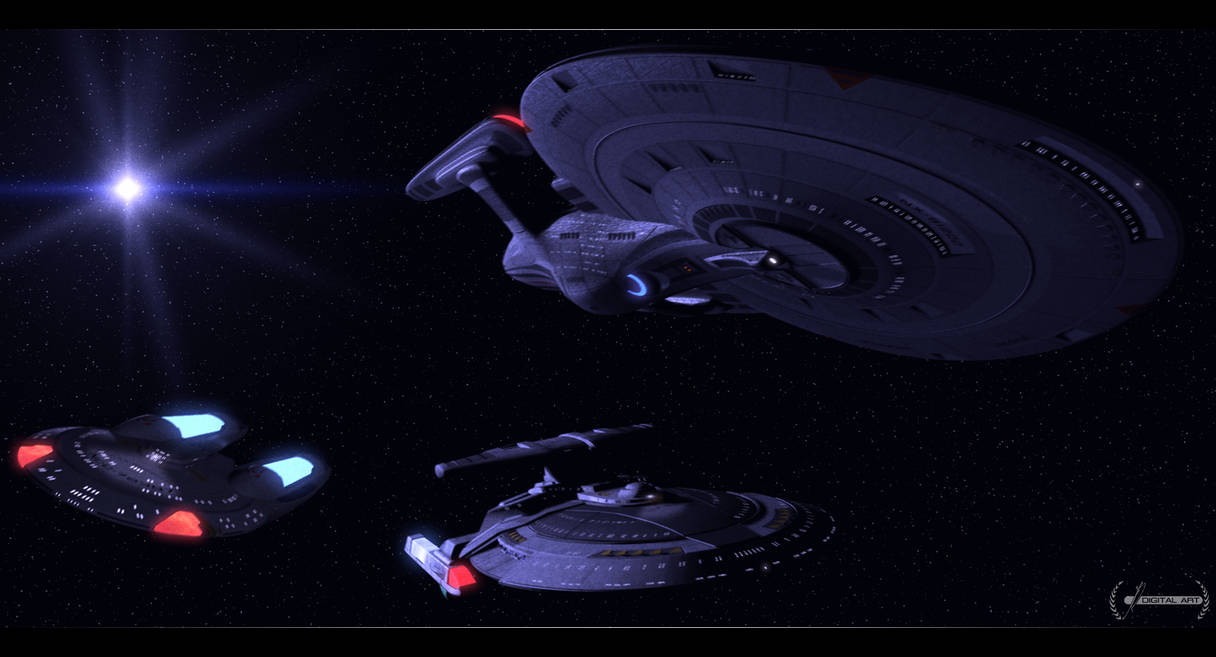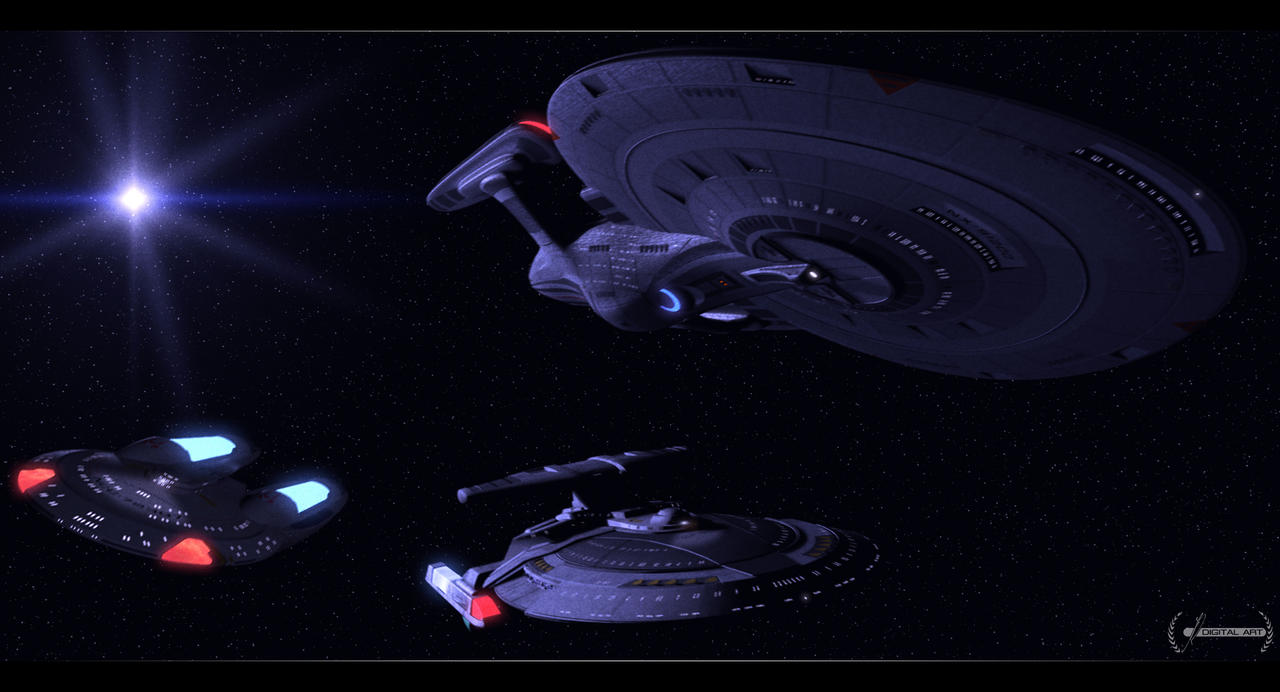 Watch
An updated version of this piece is available:
Just some random fun with a few non-canon ships. No particular story behind this one, just what it says.

---
Background: Starfield created in LW by myself via texture environment, added area light with lense flare for star.

Meshes: Sentinel-class by Jonathan Wasik, Ronin by Rick Snider and Bradbury by Kenny Mitchell.

Composition: Scene and lighting setup in LW, final composition in PS, including glows and blurs. Added slight blue-ish tinge and grain for TV effect.

Star Trek © Paramount Pictures, All Rights Reserved.

Original size: 2000x1080.

Total time approx. 5 hours incl. render time and 45 layers in PS.
---
Comments and critique welcome as usual. Full view recommended. Enjoy.

The Bradbury! I've never forgotten seeing that one at the ASDB! I'm glad someone gave it an updated render!
Reply

Hehe, yeah. I think I may have to update this one again though. It's a little bland...
Reply

Well, for what it's worth, I think it looks great. Keep up the great work!
Reply

I've been working on an updated version all evening; based on the original scene file. If you like this version, I'm sure you'll like the new one once it's complete. Kind of also a challenge to myself; hard to judge your own skill improvement sometimes...
Reply

Hahaha! Well, an artist is always their own worst critic.

I'm looking forward to seeing the new one!
Reply

You're right about that! A piece is never finished. Everytime I look through my gallery, or an image is getting brought back to my attention via the message feed, I'm looking at it wondering what I was thinking when I slapped that together...


The re-work (so far) will feature one different ship (no worries, the Bradbury is safe!), and I'm trying to do most in the native render without (or with little) post-process. I can only work on it during my lunch breaks and in the evenings, but hopefully I'll have it done by the week-end.
Reply

I wouldn't mind seeing these babies in a new Stark Trek TV series.
Reply

Great Goosh!, I love that Legacy class and that Bradbury class!
Reply

Good presentation of the non-canon ships.
Reply

cool!

Reply

I know the design may not be canon, but the Bradbury is a canon ship, mentioned in Menage a trois (if I remember right)
Awesome image

Reply

You are right, the ship is mentioned, however, it is not known what the design looked like. But then it could also be a class/design thing. There used to be a Constitution class "Intrepid" and then there is the Intrepid class to which also Voyager belonged.

And thanks.
Reply