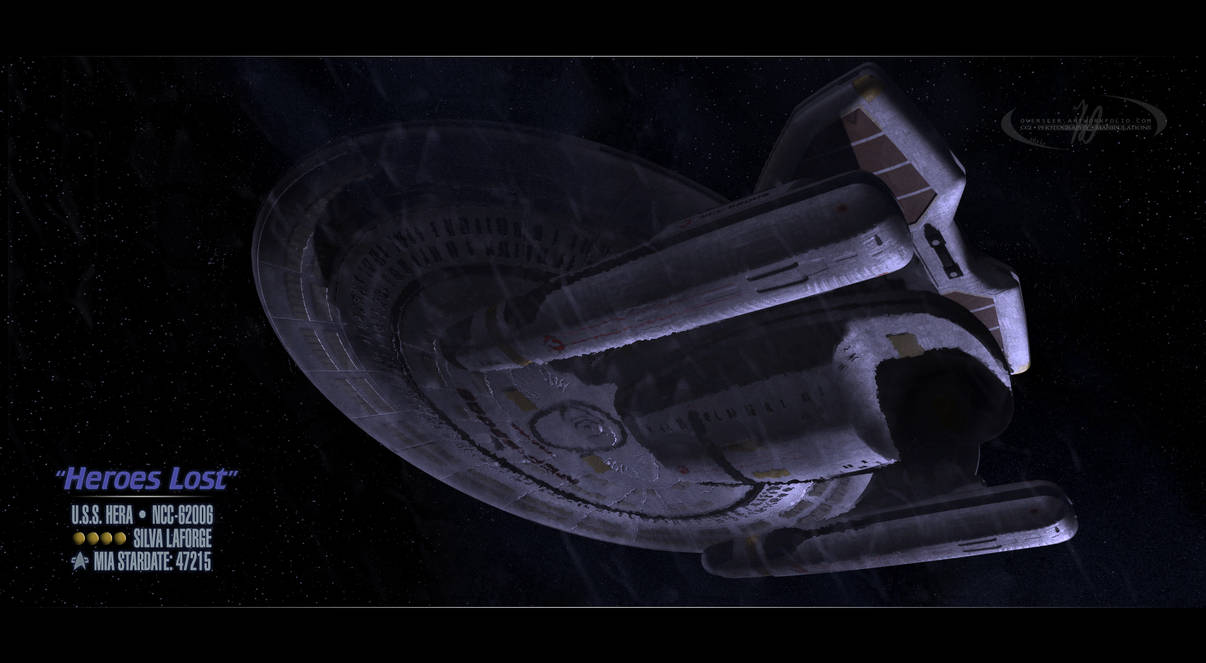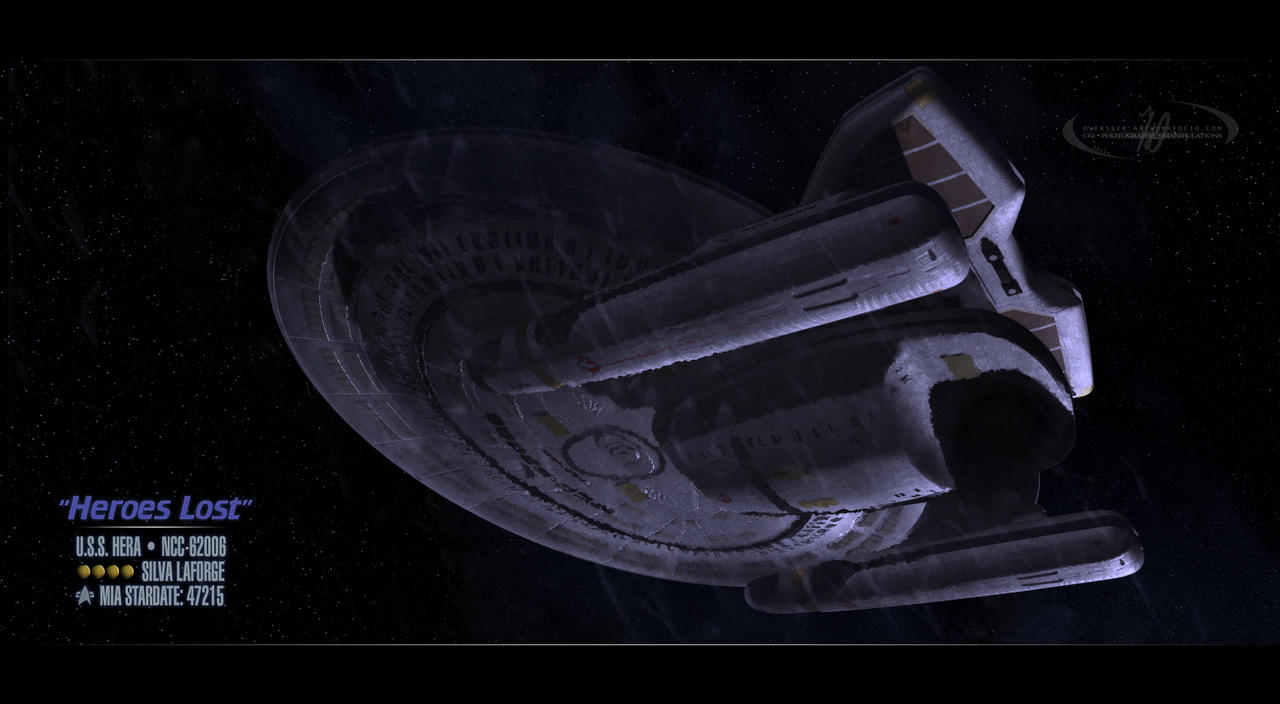 Watch
Heroes Lost Series • #1 • U.S.S. Hera, NCC-62006
I have an affinity for ships mentioned as lost in the canon shows, but we have never learned what really happened to them.

If anyone has a suggestion for a ship that should be included in my planned series, please do let me know! However, limit yourself to the TNG+ era since that is where my interest lies predominantly.
In the 7th season STTNG episode "
Interface
" the U.S.S. Hera under command of Capt. Silva LaForge was declared missing without a trace.
I would imagine that had it been a known phenomenon causing the disappearance, e.g. a Black Hole or some other subspace phenomeon (since the Hera's chief engineer appeared to enjoy modifying the nacelles), it would have been picked up by sensors. So...
In the 5th season STVOY episode "
The Fight
" Voyager encounters a phenomenon called
chaotic space
in which the "laws of physics are in a state of flux". Voyager managed to escape, but Chakotay theorizes about the unresolved disappearance of several Starfleet vessels over the years.
So this is what I was trying to do; show the Hera caught trapped in
chaotic space
in a state of flux, phasing in and out of the normal space-time-continuum which is why it could not be found. The ship's power eventually depleted, drifting dead and cold in space.
---
Background: Starfield created in LW by myself via texture environment.

Meshes: Nebula class by Flat Eric.

Composition: Scene and lighting setup in LW, final composition in PS, including 'chaotic space', blurs and warps. Added slight blue-ish tinge and grain for TV effect.

Additions: Modified the registry of the Nebula class to match U.S.S. Hera. Uniform pip in title is my work.

Star Trek © Paramount Pictures, All Rights Reserved.

Original size: 2000x1000 plus frame.

Total time approx. 8 hours incl. render time and 70 layers in PS (following update).
---
Comments and critique welcome as usual. Full view recommended. Enjoy.

In Non-Canon it was determied that the Hera came across a "Trans-Slipstream" which is basically a natural version of the quantum slipstream drive, a few months after being stranded Silva was Killed in a landslide accident, Later on in the 2380s Geordi Visited his mother's grave I'm guessing to say one last goodbye.
Reply

Was that in one of the official Trek novels? Or are you referring to fan-fiction? Interesting twist though, either way.
Reply

It's in the Official novels.
Reply

DO you know which one? I obviously have missed one with an important revelation.
Reply

It was called "indistinguisable from magic" Featuring Geordi as temporary captain of the USS Challenger, with him are Montgomery Scott, Guinan, Alyssa Ogawa, and the Time Traveling Thief Burlinghoff Rasmussen (TNG: A Matter of Time). It takes place in 2383 which is the 20th anniversary of the commissioning of the Enterprise-D (The Anniversary part I just threw in there randomly, it has nothing to do with the story)
Reply

Thanks. Well, I'll see if I can grab it and give it a read. Sounds interesting enough, especially bringing that scientist back (didn't have to mention where the name was from, by the way

).
Reply

Very nice image. The POV gives a sense of a ship adrift. Cool idea for a series

Reply

Thank you very much. Tried a few angles before deciding to use this one. Glad you agree on my choice!
Reply

Reply

Reply

I agree, they ought to have done more with it, especially since it was LaForge's mom's ship.

Beautiful render though, always like the Nebula class.
Reply

Yeah, I agree. And yes, of all designs based losely upon the Galaxy class the Nebula class retains the majestic form, even if more compact.
Reply

Indeed, it's one of my favorite ships in STO right now.

Reply

Ah hehe, I've not played that.
Reply

Well why not!?

Mostly kidding, only reason I can even play it at the moment is because when it came out I splurged and bought the lifetime subscription, otherwise I'd be bored and likely more artistic.

Which might not be a good thing.
Reply

Well for a start, because I'm slightly annoyed what they did with the game. In the early days they had this grandiose idea to literally build an entire Galaxy class ship, all sections and departments that were never seen in the show and you could choose to be part of the crew and work your way up so to speak with achievements and whatnot as you would in real career. Of course that would have been interesting logistic wise, but there could have been more ships or starbases and you could have been assigned at random. But it would have been cool to roam freely on a starship, as you can do in other MMORPGs (like World of Warcraft where most regions are accessible). They could have limited it by "security clearance" etc.
The concept went down the drain when the developer company changed and I've heard very, very mixed things about it.
Bottom line is really, I neither have the time nor the computer system to play it, but that's OK. I actually am more partial to the older games the older I get.


Maybe I'll give it a go at some stage, but by the time I get around to it, it's probably already "Star Trek Offline".

Reply


Yeah, they initial concept of the game was quite nice, sadly they didn't keep going with it.

It's still decent enough, and has improved greatly since it released.
Reply