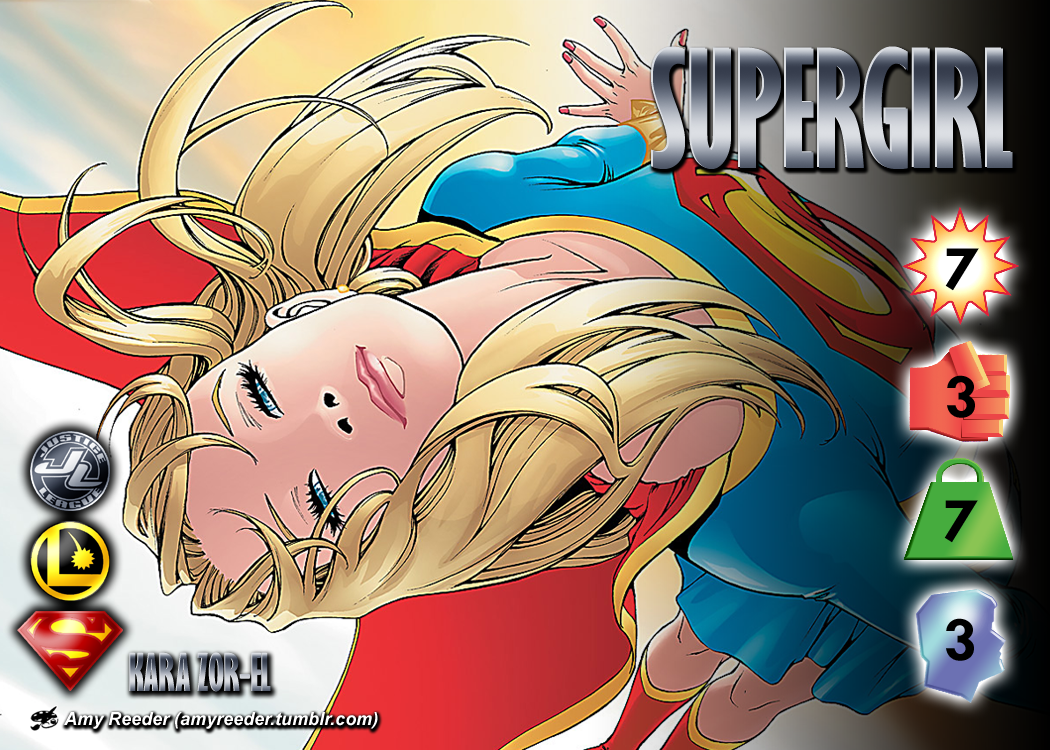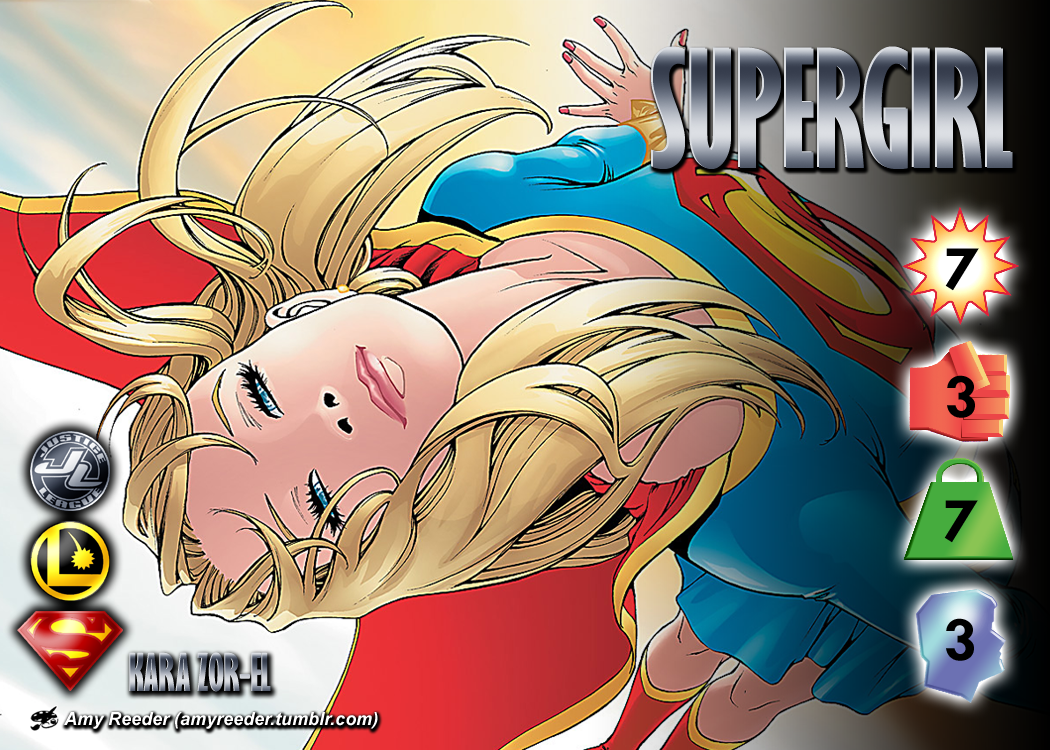 Watch
Art by the soaring

So the Supergirl in the
original game
wasn't Kara, but the weird '90s Linda Danvers/Matrix/Earthborn Angel mess. I honestly don't know if I want that version in OP3, but if I can figure out how I'd present her Identity, she may still make an appearance. Especially if she returns to the DCU somehow allowing me to grab some more modern artwork. Until then, her Specials can't be used by
this
Supergirl, since they are very different characters with very different power sets.
Except
Girl Of Steel
. That one's general enough to be legal in OP3. It was pretty much her only good card anyway.

I remember reading one of the issues with Kara after DC lifted that stupid post-Crisis 'no Krypton survivors except Superman' rule. And got bitch-smacked by Wonder Woman for being a little dumbshit. I know it was wrong, but I laughed.

Y'know, I've never seen the movie or watched a whole episode of the new TV show. Hmm...

Yeah, probably the best fit for classic Supergirl.
Reply

You're not missing anything if you haven't seen the movie. It's a mess. The new show is somewhat entertaining. I'm glad it exists, because it's a bright spot among all the doom and gloom nearly every other DC adaptation seems to be wallowing in these days. It has its moments, but I will say it borrows far too much from Superman's own rogues gallery and mythos, without doing much to set Kara apart or establish her as a character in her own right. She even took on a secret identity as a reporter in season 2. I'm hoping they do a lot more to bring her out of Superman's shadow in the future. But who knows. They haven't really managed to do that in the comics either.
Reply

We'll see. Everyone said the Green Lantern movie was shit but I went for a repeat viewing, and everyone said Homecoming was the best Spidey movie ever but it made me want to throw up.

As for doom and gloom in DC stuff... Uhhh, what I've seen of the Flash TV series seems to exude constant 'fun', and WB learned their lesson movie-wise as of Wonder Woman, which I also saw in theatres twice.

And rogues... Saw a clip with Livewire on Youtube, and sure liked her look there more than her cartoon version. The cartoon version made me snicker and her voice was perfect for that sort of character, but I thought her overall look was stoooopid.
Reply

You named the exact two adaptations I would consider exceptions to the current grimdark DC aesthetic. But too much self-doubt, anxiety, and relationship woes get in the way of any joy the Flash exudes. They're trying to make him Spider-Man on that show. And I'm hoping Wonder Woman marks a turning point in the DCEU towards a more optimistic outlook and themes, but their track record gives me serious pause. Hopefully Joss Whedon can salvage something from Snyder's murderverse fan fiction.
Reply

Then there's no excuse for MCU Spidey to be such an annoying shit, when Flash provided a template to keep a character all youthful and exuberant and shit without going overboard.

I was willing to give Snyder the benefit of the doubt over Dawn of Justice because I really liked Man of Steel. Still, Whedon finishing the job? When I first saw that, I figured it had to be a prank because it sounded too good to be true.
Reply