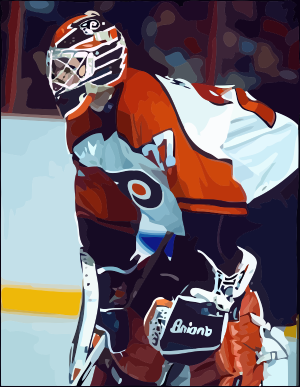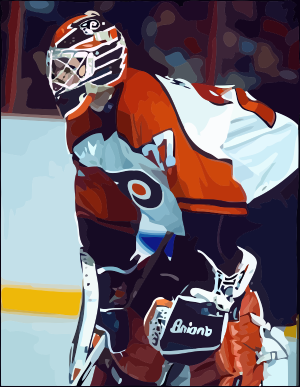 I wanted to remind Flyers fans what a good goalie looked like. So here is a vector of Ron Hextall.

Eww the Flyers, gross. I'm really hoping Buffalo wins their series tonight. I don't like the Flyers and I live in NY just a couple hours away from Buffalo so it's my "home team". But this is really good, I really like it

My favorite parts are the pads and the background.
Reply

Hextall was a badass goaltender

Reply

ouch, lol. but true. we have two decent goalies, now if they'd just stop playing darts in making decisions about them... maybe we'd get somewhere. lol.
this is really nicely done.

Reply

Bobrovsky is the best goalie you've had since Hextall, you should be living and dying by him.

And thanks!
Reply

I completely agree. Too bad the team panicked and pulled him in the first playoff game and now refuses to even dress him as back up. Because Leighton is totally a better choice, even if he's been in the AHL all year. ::rolls eyes:: in Bob I trust, anyway. love that man.
No problem, it's very cool.

Reply
Awesome Man

Reply