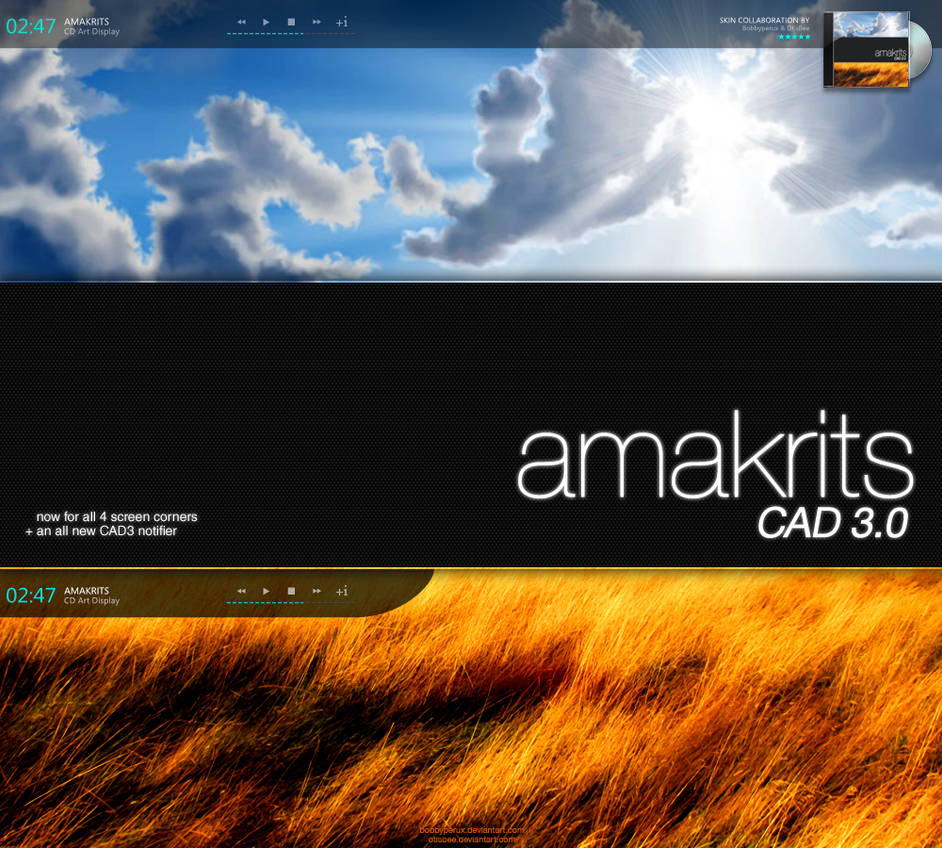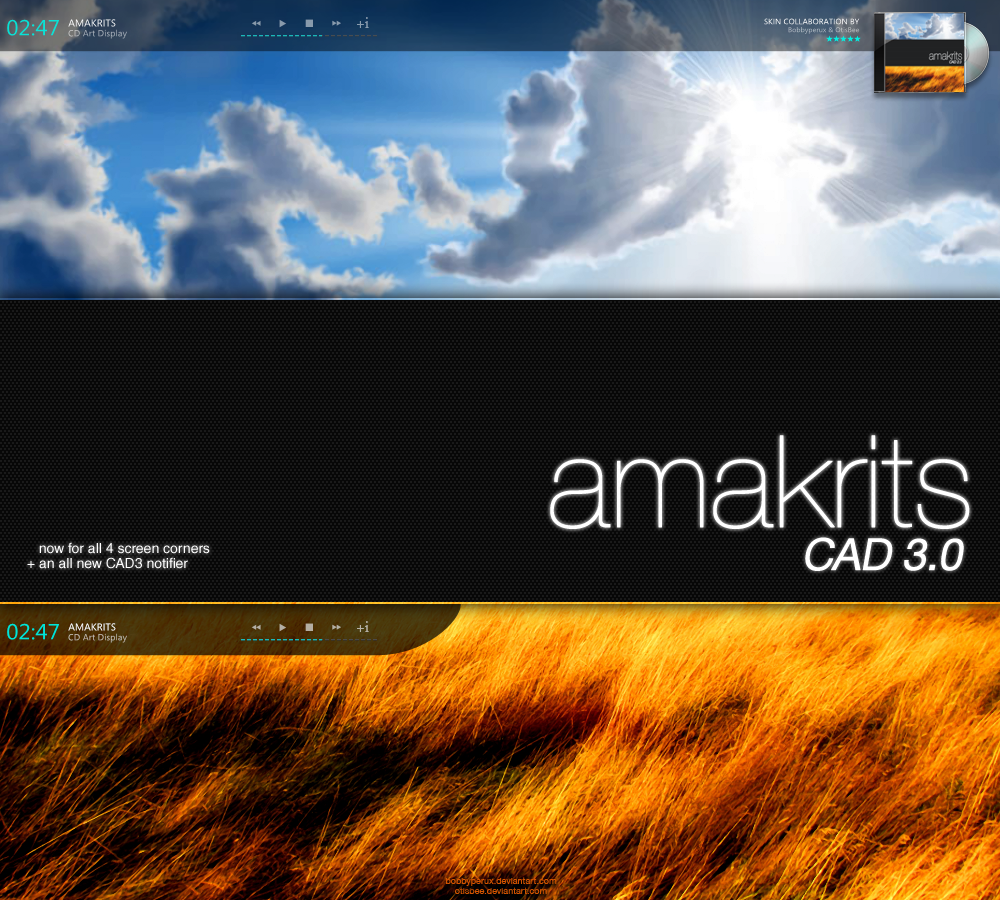 Watch
---
|About:

CD Art Display skin designed to go with the Amakrits Suite by *Bobbyperux.




|Inside:

4 versions for:
top-left - top-right - bottom-left - bottom-right

8 substyles to fit screenwidths of:
1024 - 1152 - 1280 - 1366 - 1440 - 1600 - 1680 - 1920


|Other:

You can grab the amakrits ICO set from here as well as the PNG set from here.


|Terms of use:

All graphics are copyright © and intented for personal desktop use only. You may not modify and release or redistribute them without *Bobbyperux' permission. These graphics may not be used in any way for commercial purposes.

Thanks for reading and enjoy the skin.


© 2009 Roberto Abril Hidalgo | bobbyperux.deviantart.com
---
|Clouds: [link] by ~cj-productions
|Golden Grass: [link] by =P0RG


There's just something about this guy...
Looking back at ThaImpact, Cellular RooLa, AbandonOtis and further back to YouCAD & ThaSceenario, you see a collection of work that simply never fails to impress. The attention to detail in each skin is exquisite every time - but it's much more than just that: He always manages to capture The Big Picture. The various elements that make up Otis' skins always fall into place, everything from the buttons to the shading, from the font settings to the animations - and how it all plays out on your desktop - it all just works together in the most perfect harmony.
Searching through his previous work & now "amakrits" - his 28th CAD deviation at dA, you can see he's still developing his style. Sure, the guy likes the sleek, dark look ("Damn, Otis, open the curtains, dude - it's 3 in the afternoon!"), but there's definitely a direction in his work. Every time he pulls something new out of the box that no one's tried before - it could be a new animation, an awesome font setting, or a new way to make your CAD interact with your desktop. The envelope gets pushed every time.
So - let's take amakrits for a spin. Here's it playing Miles on my desktop:
amakrits - normal & extended mode
In this skin, he's getting back to a more "flat" background and instead of beefing up the png's, he settles for a more subtle icon style, letting the gorgeous flourescent blue colour of the time/progress bar play out against the white text/icons& dark background - which it does like a charm. The extended mode (clicking "+i") gives the wonderful cross-screen display we also remember from his "Subject Matter" theme, but the animation for opening this is just simply wonderful: not a millisecond too quick or slow, all the elements making up the animation fitting perfectly together. It just seems so effortless, but must have involved a lot of testing to get it just right.
Critique? Well, this time he's using Segoe Bold & Segoe Caps, the latter giving a few problems if for the Danish letters å, æ & ø, but I suppose I can survive...

Another little gripe is the text size: for this font, the text is pretty difficult to read, especially the album text in the extended mode. He's solved this before by using Arial Rounded MT Bold as his font of choice, but I guess he opted against it this time because it might feel too "bulky" against the more flat background. I'm telling you, folks, this is a guy that takes his skins seriously...
Oh, and Otis dude, don't forget a 180° version...

Of course, this is just minor stuff & being grown-ups, we all know how to edit a CAD skin, right?...

Rating? Funny as it sounds, it doesn't feel right to give top ratings over the board for this deviation. Simply out of fear that if I do, he'll get all fat & complacent.
However, I just can't for the life of me see how he - or anyone else - can make a skin better than this.
But don't worry. He will.
The Artist thought this was FAIR
67 out of 68 deviants thought this was fair.
Well, this is my first advanced critique here on DA. And a pleasure, I'm doing it for one of your skins.
Preview:
As usual phantastic work here! I know, you spend a lot of time in creating your previews. Amazing presentation!
Installation:
Not much to say here, because the .cskin file (which I miss in most new skins) does its job here.
You provided the necessary fonts (Great!). A good and informative solution to install the right resolution skin follows.

First appearance:
When I have chosen my style, the skin starts without the panel. All visible parts are self-explanatory here. Except the "+i" icon. Maybe you should have told in the preview or the description, that it reveals the animated panel. On the other hand, it's a surprising effect, when you click it and the animation starts. Just wanted to mention it, because I noticed that not every user discovers such features.
Design:
You both chose a minimalistic style which is fine and offers max clarity. Transparency is too high here in my opinion. And because you did the corresponding graphics this way, there is no room to change transparency in the skin editor.
The skin and all of its elements appear very clean. I like the large time display and the textinformation next to it, just as I like the toolbar and the progressbar beneath.
The animation (which is absolutely smooth!) and the revealing cover graphic is a class of its own. Perfectly done!

In my opinion, you could have altered the font size on the larger resolution styles. Especially because there is a lot of unused space left in the middle of the skin. The title
"Satellite (Live in Hammersmith"
for example, starts to scroll. In consideration of the width of the styles, that shouldn't be necessary. Also the informations on the right side aren't readable very good (at least for me on 1920x1200).

You followed the minimal style with your nocover.png (...) and I must say it looks very good. I must confess, less is more sometimes.

All in all
, this is a very good skin, which I truly like. Most of my so called "Critique" is a matter of taste. Other users may have a completely different opinion here...
The Artist thought this was FAIR
80 out of 80 deviants thought this was fair.