The years are short but the days are long. Another month has slipped by and I've been hard at work. Next on the horizon is Chicago's very own Comic and Entertainment Expo- C2E2 in McCormick Place April 21-23, 2017. Despite being from that area, I've never actually attended this one. But reports are that it is massive and a lot of fun.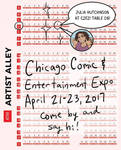 Apart from that, I'm chugging along with One Lucky Bride, finishing page 27 out of a 36 page story. Then there will be an additional 4 page scene exclusively for the book, bringing the total up to 40 pages. At first I wanted the count to be just 32, but that proved unrealistic. I simply couldn't pack the story in without making it too forced and stilted.
The next project is going to be with mermaids. Will tell you more when I get some pictures ready.