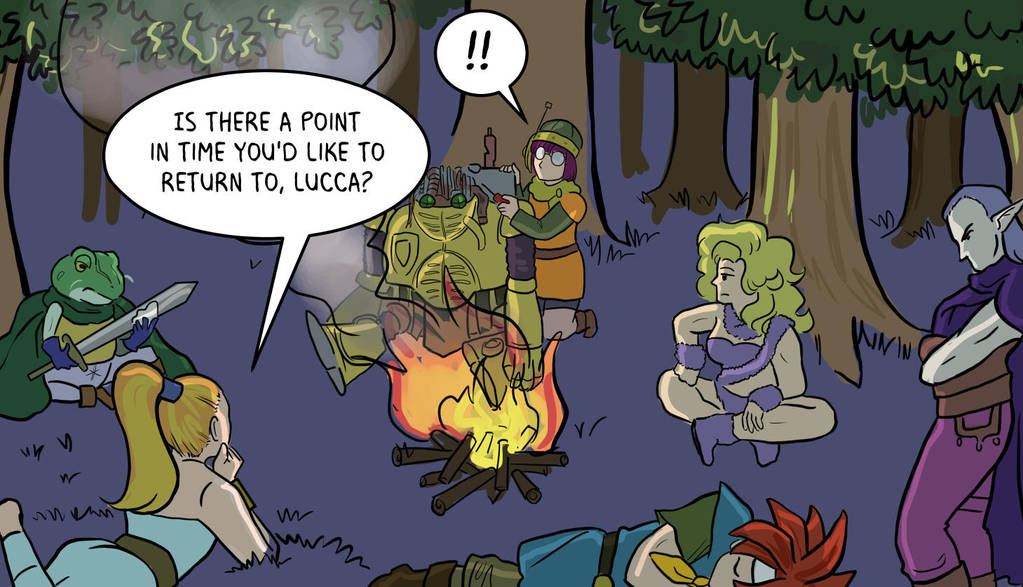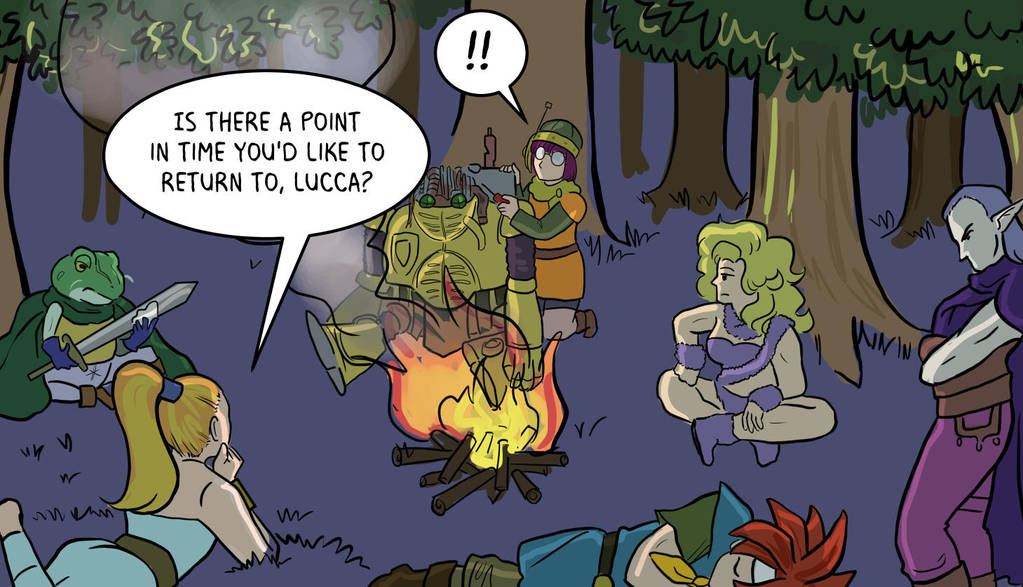 Watch
My first CT fanart! I've loved this game ever since it came out and tragically I never saw fit to do any fanart. This is part of a 4 pager for Chrono Party, a fanzine. It's about Lucca's sidequest to go back in time for her mom and how it affected me personally. We'll see if my entry gets accepted.

I LOVE CHRONO TRIGGER! OMG YOU ARE MY SPIRIT ANIMAL!
Reply

Oh wow, this is terrific. One of my favorite scenes!

...I didn't know what to do with the password the first time and she got crushed anyways... TT__TT
Reply

Same, same! I think my older brother had to clue me in on what to do. Haha!
Reply

Ah that side quest *sighs*
Reply

Oooh, this sounds neat! And looks lovely. :3 I've always loved Chrono Trigger.

The link below didn't work for me... (it triggered my Chrome security, for some reason. I have no idea.) Will you be putting the comic up here, too?
Reply

Oh, I'm sorry! See if this link will work, its for a comic collective called Blank Party and they're the ones doing the CT zine:
blankparty.club
Yes, will definitely share the full comic up here once I get the green light to do so.
Reply

You capture that pensive scene well; it's a sidequest but an emotionally moving one. I think it's creative how Chrono Trigger incorporates the SNES button names into the QTE at the end of this side-quest with Lucca's mother's name. (I'm normally not a QTE fan but in small doses I'm ok with them.)
Reply

Oh man, those quick time events stress me out so bad. I didn't "win" this sidequest first time I played it and it was upsetting. I guess that's the mark of a good story if it can get you emotionally involved in it.
Reply

Good Lucky, your work is amazing no matter the Game

Reply

Golly, you are too sweet. Thanks for always giving me these kind words of encouragement.

Reply

Oh, this is cool. Lucca has always been hands-down my favorite CT character, and so much about her resonated with me, including her backstory and opportunity to change her personal history. Be sure to let us know where we can find the final comic, because I will read the crap out of that.

Reply

Thanks! Ayla was my favorite... or was it Frog? I liked them all honestly. But Lucca's backstory punched me right in the heart.
You can learn more about the CT fanzine here at the Blank Party tumblr. Actually they just extended the deadline to August 5, so there's still time to submit short comics and illustrations if you're up to it! Link:
blankparty.club/post/160013059…
Reply