I N F O:
This is a "Your Character Here" Auction. If you buy this, I'll draw your character on this basis.

R U L E S:
1. End date of auction: 2 days after the last bid.
2. PayPal only.
3. Payment must be made within 48 hours.
4. You will receive a drawing made in color with your character.
5. The client is NOT ACCEPTED:
- Sell the drawing;
- ask for a refund or exchange.
F O R_B U Y E R:
I draw a human or a similar race!


Won:

Finished YCH: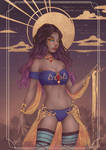 Image details
Image size
1416x2000px 1.71 MB