In Your Mind's Eye

Resource Library Report -Issue I -
'Photography: Pro images without breaking the bank!'
An introduction :

Hello fellow Deviants!

This article marks the first instalment of InYourMindsEye's collection of online photography resources!

We have been busy since the founding of our group last week, and are eager to share what we have learned with the rest of the DA community.

Thank you for reading, I hope you have found something new and informative! Get out there and photograph!



~Mel

---
D.I.Y.
In my travels, I have come across photographers, both professional and newly initiated, that fall into a trap that can stunt their growth as an artist. It also carries a hefty price tag!
They often believe that in order to create a stunning image, one must purchase top-of-the-line equipment-- faster lenses and expensive camera bodies with a multitude of features, knobs, widgets, buttons and whatsits.
Although such equipment can be an asset, it is possible to achieve professional eye-catching effects in your own home, with minimal cost. There are an almost infinite number of online resources that can help you grow as a photographer without breaking the bank!

BOKEH

en.wikipedia.org/wiki/Bokeh
"What is this strange word?" you may be asking. Bokeh can add fantastic lighting effects to an image, with pleasing points of light in the background, outside the focal
depth of field.
With a shallow focus, it becomes possible to blur the background behind your subject in an eye-catching manner.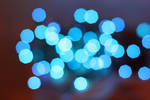 special thanks to kato9stock
This is an example of bokeh, lights that are out of the focus range that become a pleasing backdrop.

Try this! For new photographers: One way to add a fun bokeh effect to a still life shoot, is to add old christmas lights to your backgrounds- hanging or placing them in such a manner that they compliment your subject, and focusing on something closer to yourself. Experiment, and submit the results to our gallery!
The great thing about bokeh, is that you can change the
shape
of it by adding a bokeh lens hood! You can buy commercial equipment to accomplish this wonderful effect, OR Do It Yourself!

www.robertsdonovan.com/?p=702&…
bokeh tutorial

www.photoble.com/photography-t…
Bokeh tips.

www.diyphotography.net/diy_cre…
wonderful DIY article explains how to change the shape of your bokeh! All you need is patience and card stock or construction paper!

www.diyphotography.net/using-t…
clever method, is to print your preferred designs on transparencies, like you would for an overhead projector!

Droplet refraction/ 'Multiplicity Photos'

Insight into how some of your favorite 'droplet' deviations may be created!--
www.diyphotography.net/taking-…

Lighting and Studios

Pros and amateurs alike often dream of having their very own studio complete with fancy lighting, expensive filters, silky backdrops and editing tools. You, too, can be the proud owner of your very own studio- take a look at this guy's studio!

fstoppers.com/more-proof-that-…
More expensive gear does not equal good pictures

A cheap alternative to
strip lighting
for under $20--
www.diyphotography.net/breadbo…

DIY 10$
Softbox
--
www.diyphotography.net/the-10-…

Strip lighting video--
www.diyphotography.net/the-str…

How to clean a strobe light with toothpaste!--
www.diyphotography.net/quick-t…

DIY flash and lighting hacks--
www.digital-photography-school…

21 Lighting Setups --
www.diyphotography.net/21-phot…

The Cell Phone Shoot

Here is a prime example of an inexpensive camera taking great photos!
fstoppers.com/iphone

For Beginners

Don't fret! I haven't forgotten our members who are just starting to discover the wonderful world of photography! These links may help you gain a better understanding of how your camera works, and how to become 'one' with it!

Beginners Guide to Exposure, Shutter speed, and ISO--
www.photoble.com/photography-t…

White balance--
www.tipsforphotographers.com/w…

Metering--
www.cambridgeincolour.com/tuto…

Focal lengths and lenses --
www.cambridgeincolour.com/tuto…

Cropping --
beginnersphotographyguide.info…

Filters--
en.wikipedia.org/wiki/Photogra…
---
This concludes Issue #1 of
In Your Mind's Eye
: Photography Resource Library. **We do not claim ownership to any of the above links, all sources are property of their respective copyright holders and authors!** Please send any topic suggestions for future articles to

Thank you for reading!
- Mel




Thank you for sharing~~ I always love to see new resources for lighting. I might have to try some of this in the future.