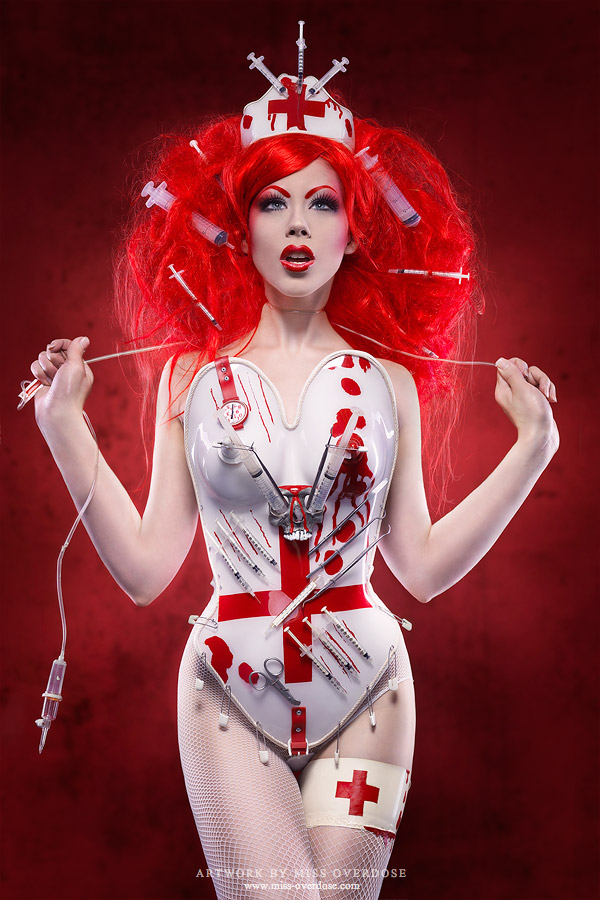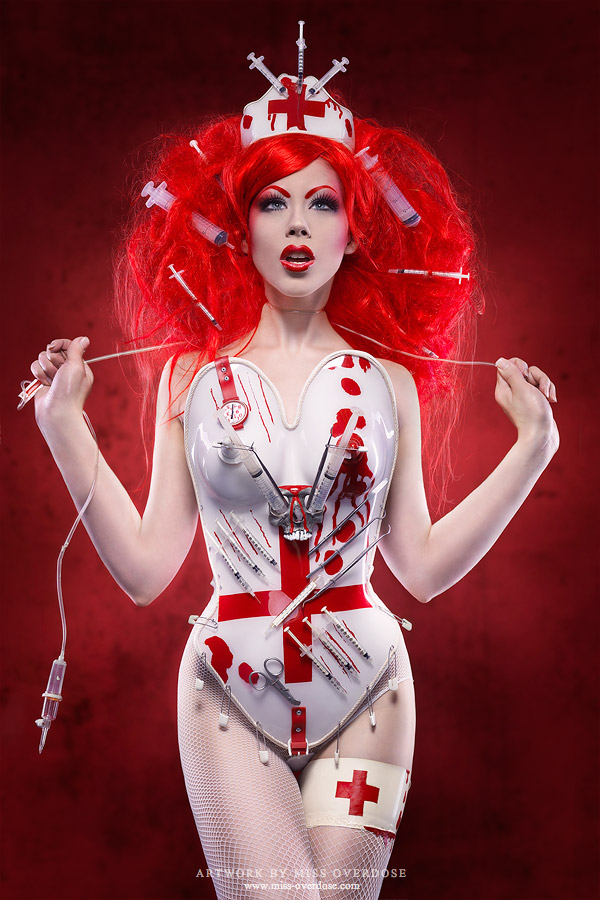 Watch
Third picture of the legendary shoot with Girl Armour 2011
Blog entry about this shoot here:
[link]
4 pictures of my Girl Armour shootings
Please add my facebook page for news, recent informations and private pictures
[link]
Model, make-up, styling, retouch:

| www.miss-overdose.com
Photographer: Julian M Kilsby | www.jmkphoto.co.uk
Breastplate design: Girl Armour | www.girlarmour.com
Wig and latex stockings design:

Clearly from the look on her face she has -ahhm- imbibed herself with the many offerings from the syringes scattered around her.

The Diaper Pins around the bottom is an interesting suggestive touch. The fact that she has multiple splotches of red on her make me think she is not the most careful nurse in the ward.

The fiery red hair is interesting. It makes me think that must be what going through her mind right now.

She is also wearing a curiously hard and plastic uniform I'm not familiar with in any medical setting.

If I'm avoiding talking about the quality of the artwork or the method used, it is because quite simply, this piece is perfect in every way, and meticulously detailed besdies. An excellent drawing, clearly.

While I'm not entirely - comfortable with the subject (I hope she wouldn't be a nurse for me), my G/F likes macabre, unusual and trippy things like this so I will show her when I see her this next weekend.
The Artist thought this was FAIR
24 out of 31 deviants thought this was fair.
The entire photo is in great harmony. The white and red (dominated colors in the photo) go really well together.
I'd probably like to see more realistic blood. But even so the way it is now it's awesome.
The model...hehehe...what to say about her other than she was born for this and she is very pretty and talented...any outfit would look outstanding on her.
The hair and the background are spectacular.
The medical (nurse) uniform matches the model greatly.
What mostly calls my attention is that the tube around her neck is actually tight and you can actually notice that on the photo.
The lighting is perfect.

Special shout out to the photographer as well (I'm not really sure who takes them) but congrats to him/her as well.

Sorry for my miss spelling. English isn't my native language.
The Artist thought this was FAIR
23 out of 23 deviants thought this was fair.