If you couldn't tell I love cats.
Hey I'm Opal , a student artist. You wanna talk? Drop a comment on my page or note me!I am a safe page! That means if you wanna talk about some issues your having , you can send a note!
More stamps!
:thumb502966702: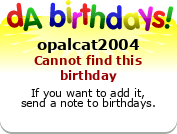 :thumb574330212:
Join Pokemon lake!
pkl.im/r/opalcat2004
Please interact with my egg on pokefarm!
[url=
pfq.link/?JNzRg][img]http://pf…

Me and niv section!

AND NOW HERE COMES THE MYSTERY SKULLS





GET READY FOR THE MARIO STAMPS INCOMING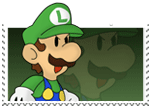 :thumb471897961:
Favourite Visual Artist
Laren faust
Favourite TV Shows
my little pony
Favourite Bands / Musical Artists
Betles
Favourite Books
any I can get my hands on
Favourite Writers
0-0 IDK !!!!!!!!!!!!!!!!!!!!!! *runs out of room screaming *
Favourite Gaming Platform
nentendo
Tools of the Trade
pen, pencile , online tools
Other Interests
Watching happy tree friends