Featuring
- Alcatraz & Tieru
Place
- Aryn's Winter Den & Firewater Flats
Time
- winter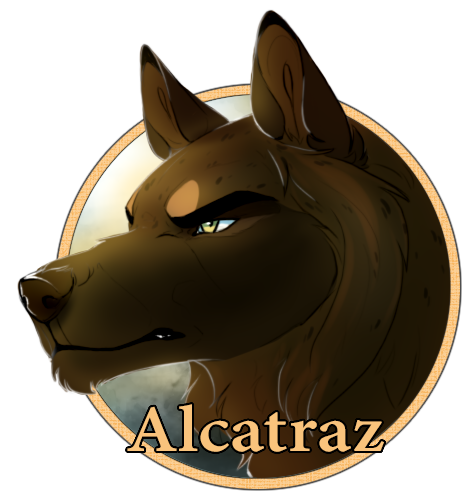 As soon as Brielle had left for Chandor Lord Alcatraz had been a knot of anxiety. Particularly irritable and snappy as well, more than usual. When he had looked into his granddaughter's eyes, the same eyes as her father, it had filled him with hope. He could see her strength, her capability, her willingness to step up however she could with the absence of Tzuriel. And so he and the others had agreed to her request to travel to Chandor in search of aid. The anxiety had begun however as soon as Brielle was out of sight. Stemming not from lack of faith in the she-wolf, but simply from the fact that he had just sent a young wolf out on a mission alone into the wilds. This path is safe. It's safer than some parts of our land, he would tell himself as he paced the territory restlessly. But it's not her home… she should be home… with her mother… with her kin… One of the many terribly stressful things on Alcatraz's mind as he stepped up to the task of sole Alpha due to the sickness of his mate.

Seeing Brielle upon her return, her mission successful as evident from the white she-wolf at her side, was one of the happiest moments in Alcatraz's recent life. Brielle was home again, and safe. And she had achieved the goal. Aryn had never been more in need of Vicars, and now this healer from Chandor, Tieru as she had been introduced, would offer some much needed relief to the overworked medics.

After giving the white she-wolf some time to settle in and rest from the journey, Alcatraz decided it was time to approach, and offer her a more formal introduction. He let his pawsteps fall heavy on the grass, so he would not sneak up on her. "Hello Tieru," Alcatraz said as he approached, pale yellow eyes fixed on the newcomer, "Alcatraz, Lord of Aryn, at your service. I hope you are made comfortable?" Social situations had almost always been handled by Athena, as she was much more gracious and eloquent than her gruff and grumpy mate. But he was trying. And luckily he knew the basics of hospitality, such as it would be best to make sure that, before Tieru would be subjected to his tour of the area, she was at least sufficiently fed and rested! She was a guest, a very special guest, here out of the kindness of her heart, and Chandor's heart. She would be treated with all the care and protection that Aryn could give.
Tieru felt the mood of hidden threat sweeping over the Aryn's territory - she watched patrols leaving the main den area with caution, wolves never wandering alone. All the healer could do right now was to pray for their safe return. While she was a skillful medic, she didn't want to practice her methods here, with wolves wounded by others' fangs.

She dreamed she will stay here useless until the end of the conflict…

The gloomy speculations of the white she-wolf got interrupted - likely for her benefit - by the arrival of the Lord of Aryn. "Hello!" She replied automatically to his first words. Then the wolf introduced himself, what made the Chandorian embarrassed a bit. She bowed. "Oh, it is an honour to meet you, Lord. Yes, yes…" To immediately figure out what to say was not easy but always practical and focused on her task female found a topic for the conversation. "I still need to learn what is stored where." Tieru poked at healer's den with her nose. "And if there are any places where I could still find alive plants. The Elk Totem explained - she was not used to so dramatical change of weather, living her entire former life in south. She wondered if low temperatures and frost could preserve some herbs.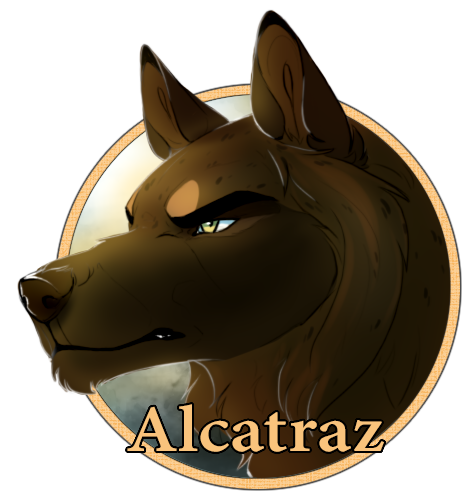 Tieru's reply on her well being was centered entirely on her work rather than individual desires, which rather impressed Alcatraz. Chandor seemed to have sent them a dutiful wolf, eager to assist how she could. Much like Tzuriel…"Yes, I'm sure Master Adrian will assist you in learning what goes where, and the herbs common to the area. I'm afraid I am little help on those topics." Alcatraz had never had a mind for herbal remedies. And he certainly didn't know how Adrian and his son organized the stores! What he would offered, however, he considered similarly important for her to learn. "For now shall I walk you around the den site and nearby areas? It is important that you get oriented. I won't take too much of your time, and you can look for familiar herbs as we go too if you'd like."
The wolf mentioned by Alcatraz was the one Tieru would definitely visit. "Master Adrian." She nodded and repeated the name, for a second taking eyes off the Arynian. "Then I won't bother you with the healers' stuff anymore." She let herself to chuckle and make a joke, as she noticed Lord Alcatraz wasn't behaving excessively lordly as she expected at first.

"Oh of course!" The proposition made the Chandorian thrilled. The she-wolf indeed felt somehow lost in Aryn's camp, overwhelmed by unknown customs and faces that surrounded her. She simply could not refuse, eager to learn new things and to stop getting in the way of the pack members.

"Could you not only show me around, but also tell something more about Aryn in the meantime?" Tieru asked. She didn't have the faintest idea about their traditions and mentality.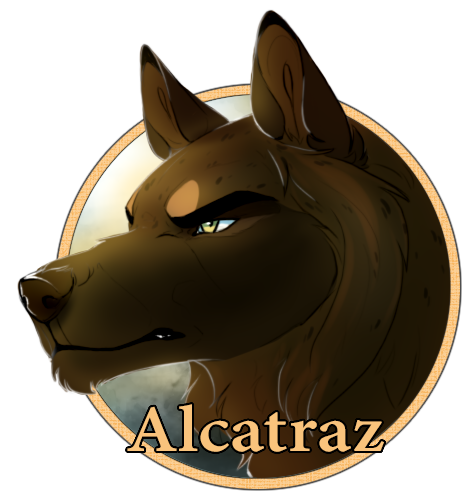 Alcatraz snorted softly in reply to her joke, a small smirk on his formerly stony muzzle. "That may be best," he agreed. Alcatraz liked to think he was good at many things, and he had the self confidence to fake his way through many things more, and come out looking smart if he did say so himself! But as he grew in his Alpha position he had learned that it wasn't always the best method to pretend to be good at everything. After all, he was in a pack, not on his own, so he didn't need to be good at everything. And especially when on the more intellectual subjects such as healing, it was certainly best to not risk marring the knowledge of this skilled healer with a misidentification or mediocre explanation of something he had no real experience in.

The dark Warden was rarely one to deal with guests or those new to the area, so he was pleased at how excited Tieru seemed at the idea of a tour. And also glad that she was interested in learning about the culture of their pack. She ought to be easy to speak with. "It would be my pleasure. Come along then," he said, flicking his tail to beckon her and leading the way out to the center of the main clearing.

"This is the winter den site, as you can see… we do tend to move around this time of year, following the herds. The pack sleeps together as one, I would suggest you join us. Though of course… whatever you're comfortable with." He didn't know the sleeping patterns of Chandor. He had bedded down near the territory once, before he had joined Aryn with Athena. His friend Gabitrix had been in Chandor, and the young wolf Fitu who was now an Alpha himself. He had to admit, thinking back, he had asked very little of either of them when it came to their lives in Chandor.

As they exited the winter den site Alcatraz glanced at the white wolf. "Is there anything in particular you'd like to know about Aryn?" Tieru was likely calling for a sort of overview, a quick summary touching upon the highest points of his pack. But unfortunately the alpha didn't have any of that prepared in the face of such a point-blank question. After all, there was a lot he could tell her about Aryn… was she interested in religion? Or perhaps their ranking system and task distribution. The cultural events or methods when performing certain wolfly deeds? Either way, he figured it best to inquire on if she had any specific interests before he went about guessing what she might want to hear.
The healer eagerly followed her guide, not a single of Lord's word escaped Tieru's attention. "I thought I'll freeze alone beside the herbs…" The she-wolf's complain was built half on a joke and half on the reality. Her fur was short - too short for the weather typical for Aryn's territory, probably even in Chandor the winter wouldn't be a pleasant experience for her. Nature didn't equip her well for this climate, as she was an immigrant from south.

"So I'll gladly join your pack." Tieru added, the voice more serious. The question asked by Alcatraz was simple at a glance but tricky when the Chandorian began to contemplate about a reply. "Well…" The Beta looked back at the clearing they exited and a thought came to her mind. "Is the summer den far away? Does it require a long travel to reach it? It wasn't an important information but this came to Tieru as first. Only then more substantive questions arose. Also… I noticed you refer to your medics as Vicars. I was wondering, is there something special about them, something that makes them different from Chandor's Elk Totems? She wasn't sure how much Alcatraz knew about his allies but it would be easy to determine through the conversation.

In the meantime she came up with more topics for their talk but it would be rude to attack the Alpha with all her ideas at once!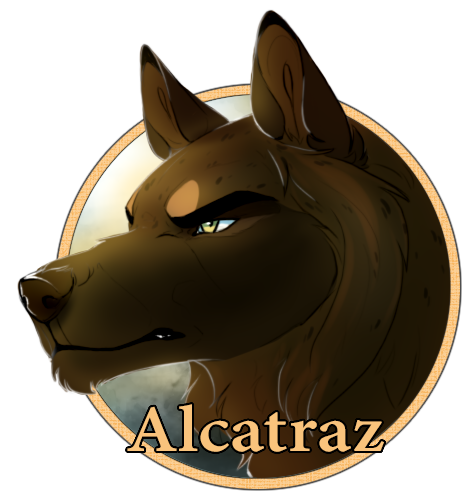 Alcatraz glanced at her sideways as they walked along. Her pelt may be the color of snow, but it didn't sound like she was well accustomed to the feature itself. "We shall head to the Firewater Flats first. It's very near to here. It will be the perfect place for you to visit when you'd like to warm up." The dark Warden indicated the way as they walked side by side from the den site.

Alcatraz thought of the main den site at her question. It was his favorite part of the territory, it felt the safest and most secure. And he had always liked Warden's Watch, and the vantage point it provided. But it was much more reasonable to spend the winters in the lower part of the territory, with milder winters more habitable for their prey. "Our summer den site, the Old Rowan, is in the base of the mountains to the northwest of here. Less than a day of leisurely travel, though if you press on diligently you can get there by noon if you leave at dawn."

Alcatraz may know little about everyday life in Chandor, but he was at least educated in the tasks. It was important to know some things of their allies after all. Particularly Elk Totems, as the services one could provide was a substantial factor when debating whether to send Brielle to Chandor at all. "Indeed, the Elk Totem focuses primarily on herb lore and healing if I recall correctly? Vicars have additional roles, as they are the spiritual keepers of our pack. They have a special relationship with the Great Spirit and they guide all of Aryn with their faith and insight." The Vicar was a special rank, rather unusual from what he knew of ranks in other packs. They were invaluable in Aryn, however, who put such value in their religion. "A Vicar is a bit like a blend of an Elk and Owl totem, is a way you could look at it. Though if a wolf of Aryn wishes to be a healer of others without a faith in The One, they are welcome to do so, but are then referred to as Healers rather than Vicars. We have no such wolves in the pack as it stands, but they are equally valued of course."
Firewater? Her imagination couldn't link water to fire, not mentioning it was cold everywhere and the snowy surroundings weren't looking as if hiding any warmth beneath. Nonetheless, she remembered fumes of steam the wind led from area down the river. That air was humid and warmer than what flew down from the mountains. It was suspicious for Tieru but there was no occasion to ask anyone about these low-hanging clouds until today. "What's there?" She asked the Lord guessing this phenomenon has something in common with the Firewater Flats he mentioned.

As Alcatraz described the Old Rowan, the Chandorian looked at the direction he mentioned. Indeed there were not so distant mountain summits visible northwest. She was thankful she didn't have to stay out there but rather spend her time with Aryn in a valley.

The healer nodded when the topic moved from territory geography to pack tasks and the wolf said a sentence about the Elk Totems. Tieru's responsibilities were to gather medical supplies and to care about Chandor members health. There was also the Owl Totem task, currently not so popular, and wolves who took this path were the lorekeepers, guardians of the history and teachers for the young. Tieru's pack however completely neglected the importance of religion what bothered her. At the same time she couldn't decide what would be worse - to dwell around atheists or wolves of completely different faith? She suspected Aryn didn't believe in The Moon and The Sun too…

"Are the Great Spirit and The One the same… being?" The white she-wolf asked because it was the most diplomatic thing she could say at the moment. The last words Alcatraz said were definitely confusing for her. If the non-believers were treated equally, what was the purpose of Aryn's faith at all? She decided not to express these concerns out loud.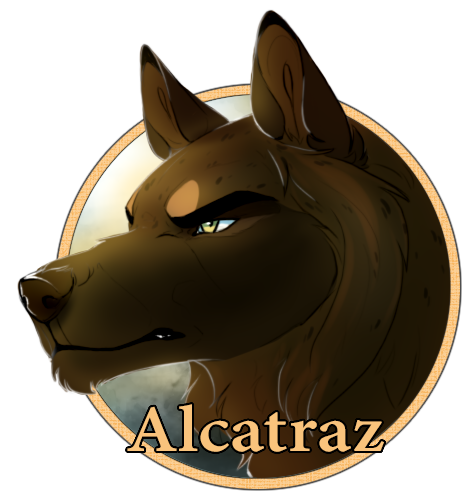 "The Firewater Flats is a hot spring. Heat from the ground warms up the water. It is colorful and sometimes shoot from the ground. The air around it is warmer too. You'll see soon, we are getting close," the Warden assured her as they padded through the forest. The trees were already beginning to thin, and a vast expanse could be seen up ahead. The air would begin to warm up soon. Hopefully that would help Tieru feel more comfortable.

Alcatraz nodded at her question, "Yes, the Great Spirit is often simply called The One, or Father. You will find that most in Aryn have faith in him." Alcatraz had not always been a religious wolf. He had never given much thought to religion when he was young, in fact, or anything beyond survival. Meeting Athena and following her as she founded Aryn had changed many things for him, though, it opened his eyes to the wonders of the world in a whole new way. Alcatraz was not a sentimental wolf, but he had an eye for beauty and a curious mind. When his mate had explained her beliefs to him it had made sens, and over time he found that he believed it too. And he was a happier wolf for it.
"Ohhh." What Alcatraz said amazed Tieru as she had never seen hot springs before visiting Aryn. She was used to water behaving rather predictably - not shooting into the sky. "Isn't it dangerous?" She asked, gazing at the trees that still obscured the view. The she-wolf couldn't imagine water being hot - it was always cooler than air and in the summer often gave relief from merciless heat.

Before the wolves came closer to their destination, the beta made another note about local beliefs. "The Father? So there is no Mother?" She tried to sound polite but Aryn's religion was no less surprising than the geological phenomenon she was about to witness.

Then the wolves entered an expanse where two rivers met and merged into one. The area was dotted with small and medium-sized ponds, steam rose from the water surface and wind led it down the valley. Snow was almost absent. "It looks… umm. As if clouds are coming from the ground." It was an astonishing discovery for the Chandorian. She watched the spectacle with eyes open wide. "That's… whoa." Tieru couldn't find fitting words and stopped to search for these as one of the geysers ejected boiling water.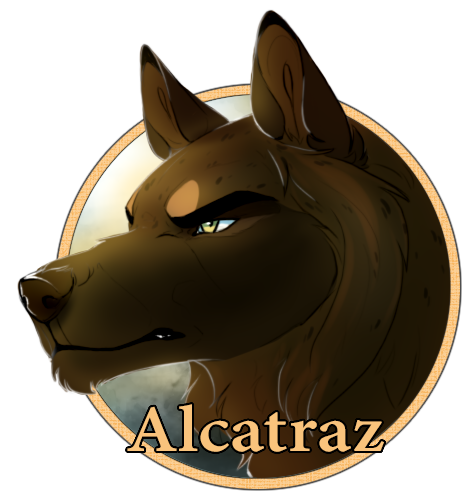 Alcatraz nodded to her question, "It certainly can be dangerous. The holes you will see on the ground tend to erupt very hot water. It will burn you if you get too close, so it is best to give those holes plenty of clearance." The eruptions had grown even more violent as of late, but with proper care there was nothing to fear. "If you stay by me you will have nothing to worry about." Alcatraz liked the warmer climate of the Firewater Flats as much as the next wolf, but he didn't usually spare time to come down here since his thick coat meant he didn't mind the cold. He still did know it well enough to locate the major features and be safe, though. "The colorful pools you will see are safe to approach and admire, but sometimes not safe to touch. The water within those can be scalding as well. It will not explode on you, at the least." He smirked a bit. He liked the pools the best, the colors were always captivating. "Some are a safe temperature for a swim. But often the hotter air around them is enough to warm a wolf up if you don't want to talk back to the den site with drying fur." That can't be too pleasant.

Alcatraz shook his head at her question about the Great Spirit, "We believe in only one God. He is the creator of wolfdom. I suppose he could be looked upon as a mother of sorts..." Alcatraz had never reflected on the gender of The One. He had just adopted the pronoun introduced to him, though if he had to guess he would assume that The One didn't have a gender in the way that wolves did. He wasn't a being that could be defined exactly. Though he did know that when The One was given a physical description it was a male shape that was often adopted.

Alcatraz paused beside the Chandorian, glancing her way with a bit of a smile as she took in the scene. It was a truly unusual place. And quite a treat for this time of year. "I hope you find the temperature more favorable here." Alcatraz said. "As if clouds are coming from the ground." Alcatraz nodded, "Yes the mist can be quite thick, so always be careful not to get lost. Best only come with someone else until you feel comfortable with the area." Suddenly water was thrown into the air by a nearby geyser. "See the spray that comes off? Even a few drops from the ejections are unpleasant if they land on your face!" the Lord said, "So we will steer clear from that one. Come." Alcatraz flicked his tail to beckon the white wolf and followed a path that avoided the geysers but would lead them on a safe route through some of the prettier springs, and along the way there was even a spring that was safe enough to swim in.
The Chandorian followed, but the closer the geysers were, the more frightened she was - surely it was a mesmerizing show of elements but Tieru wasn't one of the bravest wolves. She kept her head and tail low. The warm air drew her attention however and the healer couldn't neglect its benign influence. The Lord of Aryn sounded very convincingly, commending the Firewater Flats. Maybe if she would visit this place often she could somehow survive the winter? Of course she won't come here alone as it was too dangerous to a non-local wolf.

"I'm wondering why they have so unusual colors. All normal ponds appear blue." Tieru shared her thoughts out loud, trying to carefully follow Alcatraz and peek at every object the Lord pointed at the same time. Every unexpected explosion of water made the female shiver. She couldn't get used to the noise and anomalous trembling of the ground. "I bet a bath would be nice as long as you stay in the water, but leave it and dry in this chilly air?" The Beta chuckled, not finishing her sentence, as her dislike toward the cold weather was obvious.

"A mother and a father at once?" It sounded confusing. "I believe the world has both. As every wolf has. There should be two opposites which complement each other." Her opinion sounded respectfully, not intruding - Tieru didn't want to offend her host openly - then again she labeled Aryn blasphemous. She felt the pack she visited worshipped only one part of the whole divine world she knew from the homeland. The white female decided to not to continue the topic for safety. Discussing weather was more diplomatic.

I hope you find the temperature more favorable here. "Oh yes! Makes me want to be here forever." The Beta agreed dreamily but then another wave of boiling water shoot into the sky. "Away from the dangerous springs, of course…" She added no longer so pleased, voice mocking her own previous statement.