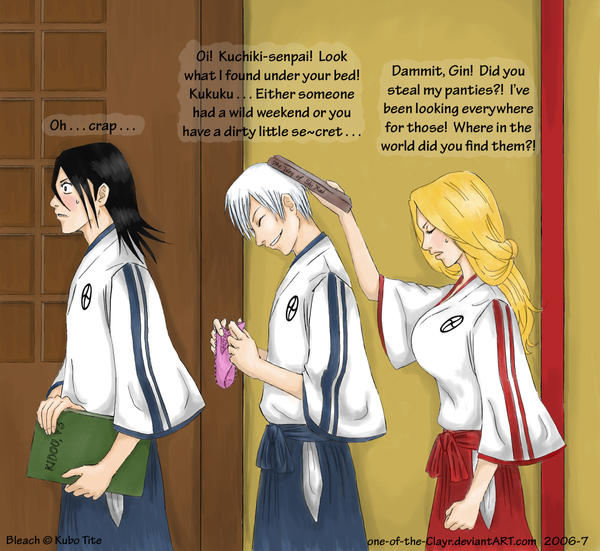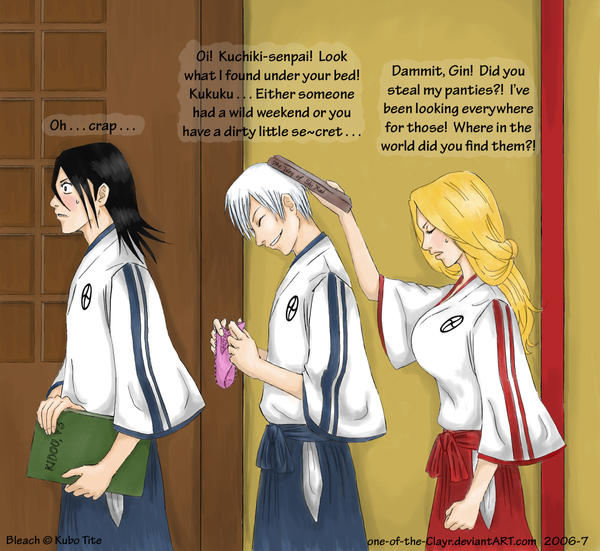 Watch
This is for ~
Neko-zuki
, the other sweetheart who won my last contest!

I finally finished the color, which I started probably half a dozen times on top of the half dozen composition sketches I went through! Her request: Byakuya, Gin, Matsumoto during their academy days and some kind of practical joke or prank . . . Um, anyone surprised I stuck panties in there?

Anyway, it was a lot of fun drawing Byakuya blushing and looking like he was about to have a heart attack!

Some possibilities . . .
a) He doesn't remember the wild weekend or the panties. And when Gin says "dirty little se~cret", oh the things that went through his mind . . .

b) Maybe something did happen with Byakuya and Rangiku, and the joke's really on Gin! Oh! So no wonder he was out for Kuchiki blood in Bleach . . .

c) Rangiku's fooling both of them. They're not really her panties. They're . . . Shunsui's!

Noooo . . .
Well, if the color's stinky, I'm sorry! Just be glad you don't have a Smell-o-matic computer! And congrats again, Neko-zuki!

pencil sketch
rest on PS Elements