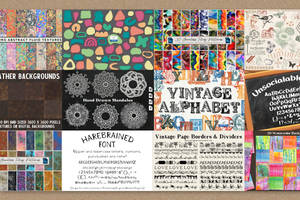 HG Designs Subscriber Area
Lots of high resolution goodies for graphic design including textures, photoshop brushes, seamless patterns and more.
---

Description
Ever wished you could write like me? Now you can.
I made this because we're doing a "word and image" unit right now on my BA Illustration course, so I figured it'd be cute to type all my notes and such in a font that's just my own handwriting.
It's not a very good font, mostly because the images I started with were too small so I had to blow them up which made things fairly blocky. I still thinks it looks kinda cool though.
Note to self: Making fonts is right up there with animations when it comes to "boring, tedious, horrible horrible."
Edit: Fixed a few minor issues.