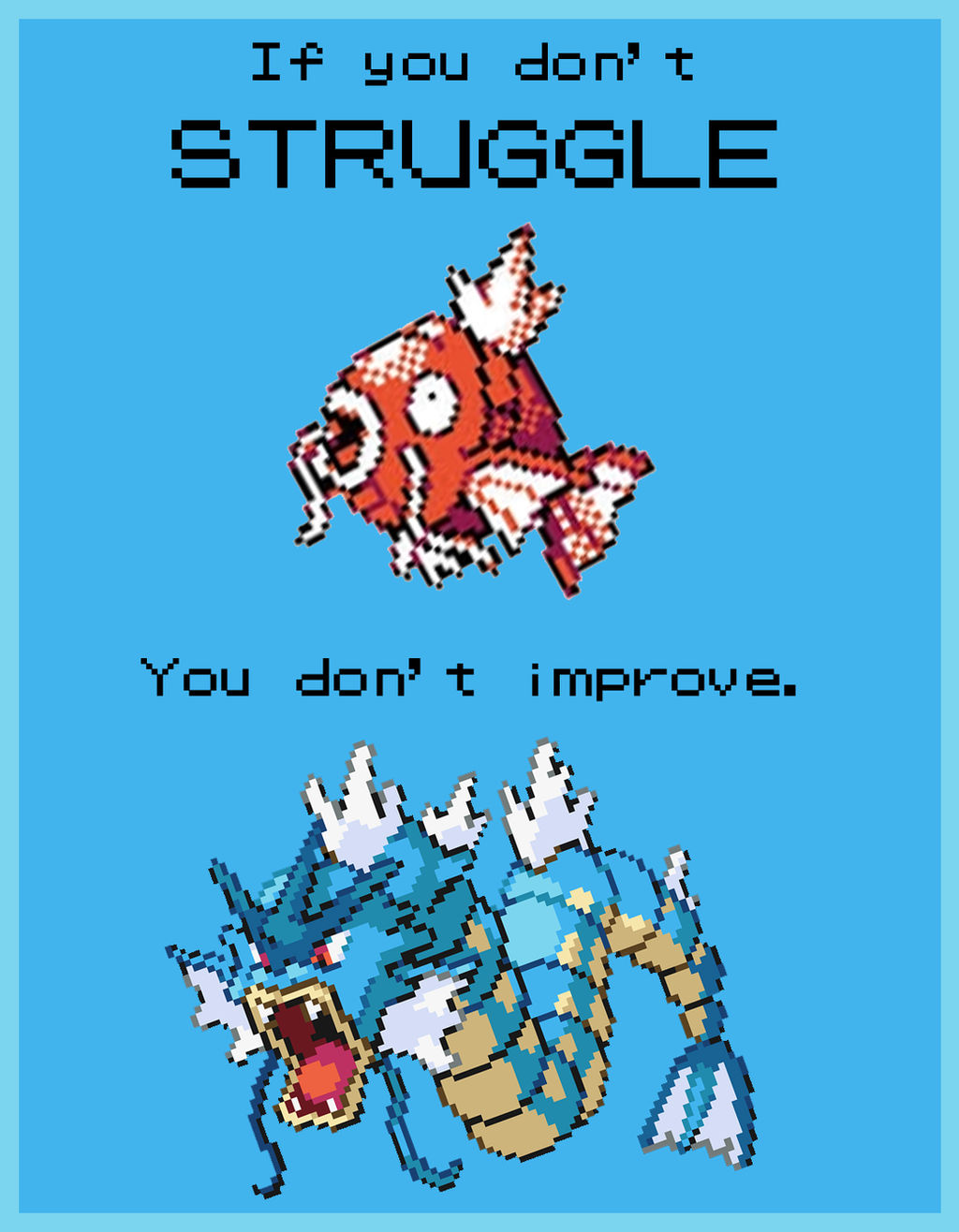 Life lessons from pokemon: In life, if you don't struggle, then you are coasting. It's in the times when we have trouble that we find places to improve.
The picture is a reference to the useless pokemon Magikarp. It only had one ability that could be used 15 (edit:40!) times; after that it defaulted to the move "struggle" which hit itself for a good chunk of damage too. But no matter how much he sucked, or injured himself, he kept trying, and one day, became an awesome laser-beam-spitting death-eel.
There are more posters!
Pokemon Life Lessons Series
Update: There are no more shirts. I contacted TPCI and they said they are currently sending out a lot of notices (part of a push to make their own merchandise/apps/etc.) so I've taken them off the store myself early.
The Magikarp and Gyarados are the pixel versions so they should be copyright to Pokemon, but I got them off the Pokemon wiki and ign.com
The font was from here:
[link]
Major thanks go to

. Our conversation led to this idea, and the words are almost exactly something he said.
There are many great things about this photo and also some bad... The Border is great but simple and matches the style, The Magikarp looks a little dated where is the Gyarados looks much newer (that may have been the style you were going for not 100% sure)...
What really makes this photo is the quote and I like that, very good quote. Your quote is aplicable to almost everyones lives and hey even mine, it's a very true and really has a large impact. Great job on that

...
Other than that great photo, great job and keep up the amazing work...
The Artist thought this was FAIR
23 out of 30 deviants thought this was fair.
Please, I hope I don't offend anyone with my critique!! And so, first off, I'd like to commend you on this wonderful poster that speaks very powerful to all those who recognize the Pokemon series!! The powerful words, images and insinuations in this piece speaks for itself, that 'If you don't struggle, you don't improve'.

Personally, I have not seen a Motivational quite like this, so I speak for myself when I commend you on the originality and ingenuity of this piece. Though, I'd like to suggest that you use more means to display these Pokemon, other than merely taking them off the Pokemon Wiki and editing them. And also, the background color, blue, strikes me as an odd choice, seeing as the Gyarados is also blue and so, the background does not completely provide a contrast to the images. But, we'll manage!

Still, I have to commend you for your imagination in creating this piece! The font of this piece, I have to add, compliments this piece perfectly, seeing as Pokemon is a game and you have used a gaming styled font. But the thing that, again, impacted many of us the most in this piece is the message.

The message that if you don't struggle, you won't grow just hits many of us right in there! And again, coupled by the fact that you used THE Magikarp as an example, you've connected with so many people through the use of Pokemon.

So, bravo on this pure genius piece! Overall, it really is a wonderful piece and words to remember in the struggles of life! Good job!!
The Artist thought this was FAIR
45 out of 49 deviants thought this was fair.