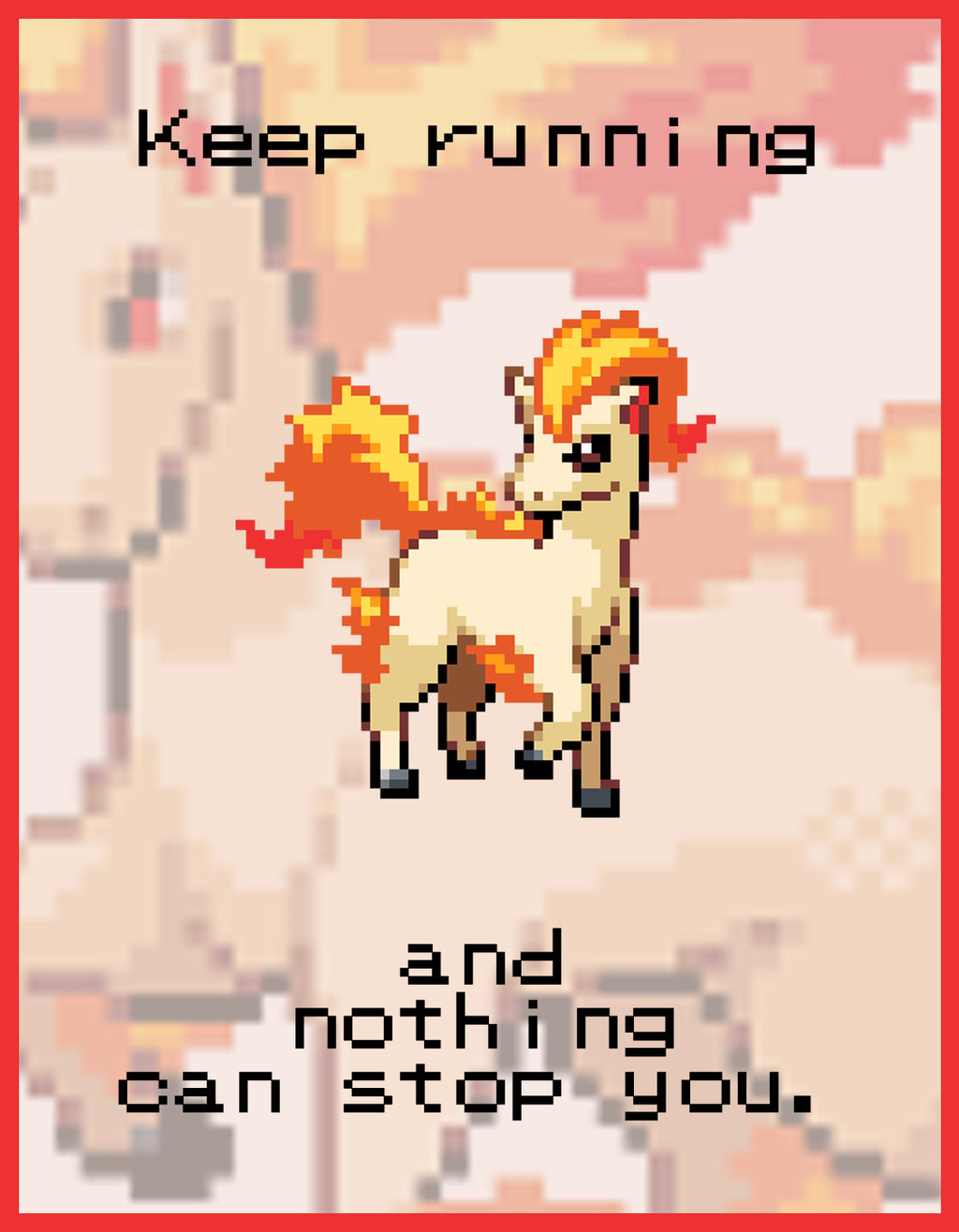 Life Lesson: Put one foot in front of the other, and you will always reach your destination. / The biggest of journeys starts with the smallest of steps.
In the show, Ponyta (and Rapidash in the background) are known for their racing as much as their fighting. I run myself, and there's something primal and pure about just moving your body and achieving distance!
On an equine related note, check out

's site,
Syllfamere
! It's a new equine-rpg, which means no drama, eager and excited admins, and lots of room to grow, learn, and achieve! If you've never played a horse rpg before, you can even go to her gallery and claim one of the free ones to get started

There are more posters!
Pokemon Life Lessons Series
Pokemon copyright Nintendo/Gamefreak/The Pokemon Company International, apparently.

Except a wall. I love ponyta but keeping running isn't advisable. I have ran face first into littleral wall
Reply

You should try it! Believe in the you that is awesome, and no wall can ever stop you!
Reply

Did you not read I literally ran into a wall face first. I am not 1 to give up but just running isn't smart.
Reply

this brought a smile in my face

Reply

haha I would love to run, o.o but I don't think I can go where I want to by just running a whole day, I would probably pass out to how far it is.
Reply

It's really about not quitting after the first day. Run what you can, then run the next day. And the next, and keep going - that how you get where you want to go.
Determination!
Reply

... Except for when someone uses 'mean look'.
Reply

"Stop running and start walking, as if something would stop you"
that one just popped in mind wwhen i read this, awesome piece dude

Reply

Waahh! I'm so glad I'm watching you! I love those "Pokemon Life Lessons"! Really well done!

Reply

Nice. But should be there read ''can't'' not ''can'' in this?
Reply

No...? "Nothing" can stop you, which means that you can't be stopped?
Reply

So motivational ;w;
It kinda shines my day a little x')
Reply