Description
Celui-là est le 27 !

Il est drôlement spécial, car en faite, c'est moi en poney !

Attention, pour les couleurs de sa queue, je ne suis pas sûr... Mais je le trouve bien !
Je l'ai fait avec une version différente de Pony Creator, celle de 2011 !

Sa marque de beauté est une clé d'UT blanche (ou peut-être rouge), mais dessiné comme celui d'Octavia !
Her cutie mark

is

a white

(or perhaps red)

Alto

Clef, but

drawn as

that of

Octavia

!

Cutie Mark : contraltissimo.deviantart.com/…
(
Without the
black
background
, of course)
My New Cutie Mark :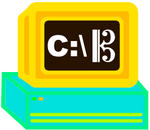 Fait le : Mercredi 18 Mai 2016 à 20 heures et 8 minutes !
Image details
Image size
401x359px 30.17 KB