First! A HUUUUUUUUGE thank you to

for providing me with a 3-month premium membership. You're awesome! <3
We've got costumes, figures, wigs, manga and other things for sale, including some vintage Sailor Moon stuff. Prices do not include shipping, but if you are local (Toronto), you can pick it up to save there. Shipping will be refunded if you are picking it up and you bought it off etsy (applies to costumes only). Paypal only unless you are picking it up. More to be added once I get them ready for sale!
North American Costumes
Blossom - Powerpuff Girls. Asking for $60
Fits a small. You slip into it and tie the black ties in the back. The dress is made of satin using the "wrong side" to get the right colour. The inside is all finished and serged to prevent fraying. Hairbow and wig not included. Additional photos can be seen on my
tumblr
. Can be bought
here
.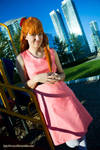 Pokemon Costumes
Cresselia Gijinka - Based off of
this
. Asking for $40. Can be bought
here
.
Fits approximately dress sizes 6-10. Does not stretch. Message for more details regarding sizing. This is for the dress and the head circle (which was just safety pinned to the wig). Wig and shoes not included.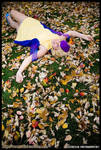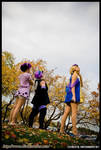 Anime Costumes
Tea Seller Seth - Trinity Blood Manga. Asking for $40.
Dress fits my measurements, which are throughout this post. For more information, ask. Since the picture below, the seams have been reinforced, the leg warmers and trim replaced, and the bonnet remade. More recent pictures can be seen
here
. Can be bought
here
.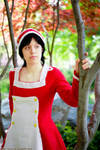 Figures
"Good Smile" Nenderoid thing FAKE
- Asking $10
She's in good condition and very cute. She has all her pieces, and has been out of the box. But she is a fake.
Deluxe Sam Flynn Tron Figure
- Asking $10
Corners of the box are a little damaged. Otherwise perfect condition. Never opened.
Racing Queen Lilith Blind Box Figure
- Asking $15 OBO
No box.
Trading Arts Full Metal Alchemist Lust
- Asking $15 OBO
No box.
Harry Potter Story Telling Figure
- Asking $10
I've taken him out of the box to look at him, but never actually had him on display. His base is a viewfinder with information about Harry, Hagrid, Hedwig and other things.
Kelly and Tommy: Alice and Mad Hatter
- Asking $60 OBO
Bought years ago, not sure why. Thought it was cool?
Never opened.
Sailor Moon Stuff
Sailor Mercury and Sailor Venus Adventure Dolls
- Asking $30 each or $50 for both
Never opened. Boxes show age damage and have some glue residue from the price tags they used to have.
Tuxedo Mask Adventure Figure
- Asking $20 OBO
The glue has come away from his packaging in places so the pamphlet that was with him has fallen out (and was lost in a box and probably won't be found). Otherwise, he's still in the package and hasn't been touched.
Sailor Moon Keychains (Full set of 6)
- Asking $60
Full set, each is still in its package inside the main bag. I bought it years ago and then didn't touch it.
Sailor Moon Wall Scroll
- Asking $30 OBO
Shipping is not included. Local sales preferred because I imagine shipping is not going to be awesome.
Manga
Kenshin Volumes 1, 2, 5-9
- Asking $5 each or $25 for all 7
Mobile Suit Gundam The Last Outpost Volume 3
- Asking $5
Shaman King Volume 12
- Asking $5
Wigs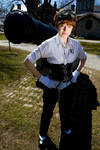 Short Brown Wig
- Asking $10
Bought with the intent of doing Season 1 Kari from Digimon, and Haruhi from Ouran. Didn't happen. Wore it for a photoshoot instead. More photos seen on my website
here.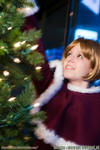 Short strawberry blonde wig
- Asking $15
I used this for Sakura, but while it's the perfect colour, it's a bit shorter than I'd like. Would work well for her uniform, or other times when she has the hat. More photos seen on my website
here.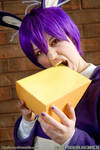 Short purple wig.
- Asking $15
Used for Lilith, Nidoran Male and Ratata. Can be included with the Rattata costume as well for $30 total (plus shipping). More photos seen on my website
here,
here,
and
here.
Other
Misc. Hats
- Asking $5 each or $10 for all of them MARILL SOLD
The tiger one's a bit used. The purple bunny is child sized. The other two are fine. I just want to get rid of these.
Transformers
- Asking $15 for both
No boxes.
Patches! Two Ouran and a Ravenclaw
- Asking $5 each
Hikaru No Go Tarot Cards
- Asking $20 OBO
Comes with the box and the book, but they're in Japanese, I believe. Never used. Not entirely sure where I got it.