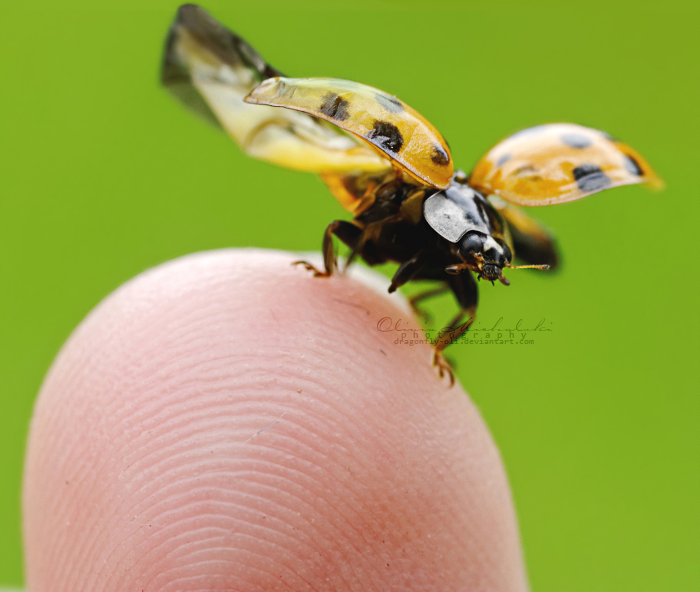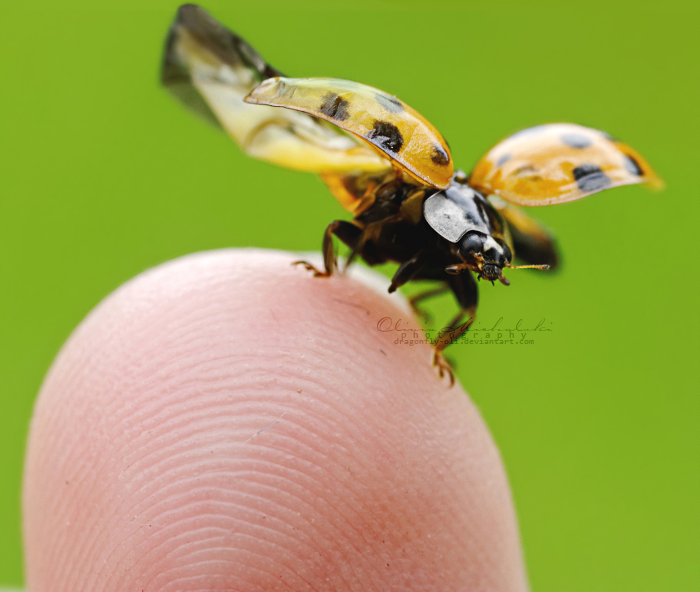 Watch
..aaaand action!
I never thought that I could take such a complicated picture in such a "great" way. The finger the ladybug sits on is my own, and I held the camera with the other hand. You don't know how happy I am that I focused right.


Featured:
fav.me/d6dfejb
fav.me/d6djj66
fav.me/d6hd8co
fav.me/d6mi1jj
fav.me/d6mpbpc

: Nikon D5000
Lens: Tamron 90mm f/2.8
Facebook
|
500px
|
Tumblr
|
Flickr
|
Formspring
|
ask me anything!
|
See more on my blog!
My pictures may not be reproduced, copied or stolen in any way!
© Olivia Michalski, all rights reserved.
I must firstly say, great job on capturing it as you did. It's very difficult capturing it on a plant, so to capture it by using one hand is quite impressive especially using a heavy DSLR.

Vision (4/5): You did a brilliant job given the circumstances. Obviously the sharpness could be better if a stable tripod was used and you waited for the moment. That's why I give you a 4 star vision, as it's brilliant given the circumstances.

Originality (5/5): One might argue on this one, but I have never seen a work which was taken by one hand while capturing something on your other hand. Hence, hats down to the originality of this.

Technique (3/5): As much as I love the technique used, it's completely unprofessional. This is not to say the outcome is bad. But it was mainly luck that got you this shot.

Impact (4/5): Overall, I'm very pleased and I thought it deserves a nice 4/5 stars for the overall impact given the technique used.

Thank you for sharing & keep up with your lovely photography!!
The Artist thought this was FAIR
29 out of 33 deviants thought this was fair.