Force Multiplication:
In military science, force multiplication or a force multiplier refers to a factor or a combination of factors that gives personnel or weapons (or other hardware) the ability to accomplish greater feats than without it. The expected size increase required to have the same effectiveness without that advantage is the multiplication factor. For example, if a certain technology like Phasers enables a force to accomplish the same results of a force five times as large but without Phasers, then the multiplier is five. Such estimates are used to justify an investment cost for force multipliers.
~~~
Mars -
i1.wp.com/trendintech.com/wp-c…
Starfleet by
FleetAdmiral01
-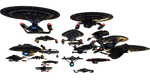 Disclaimer: I do not claim ownership of any of the original artwork used, unless specifically stated otherwise. All of my photomanipulation pieces are freely made for education, research and mutual enjoyment, allowed under the doctrine of Fair Use.
Image details
Image size
1920x1080px 2.02 MB