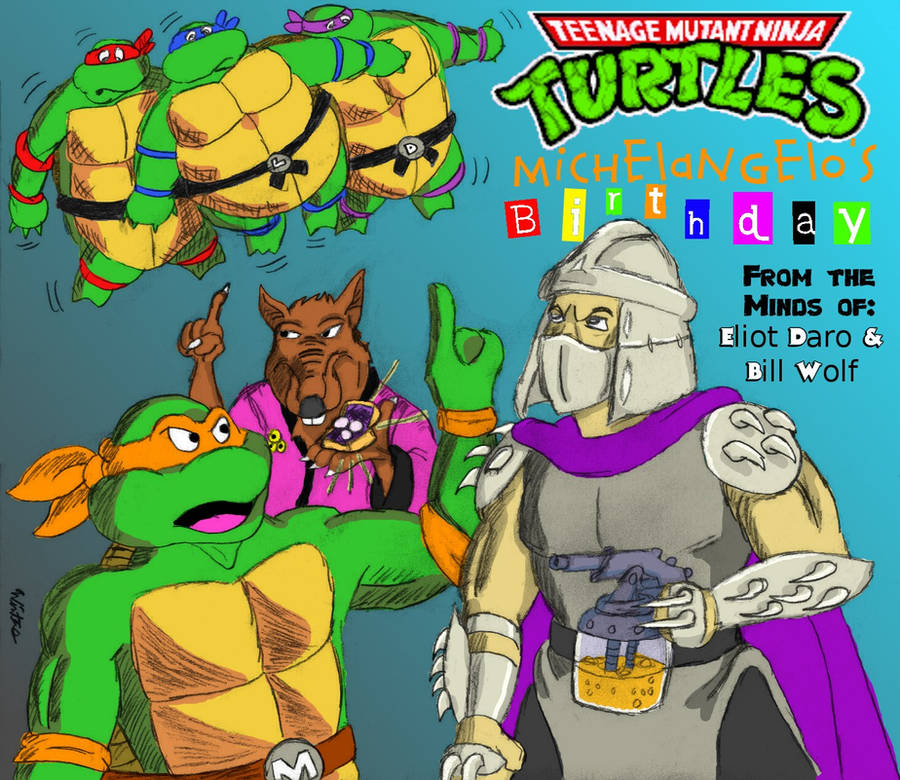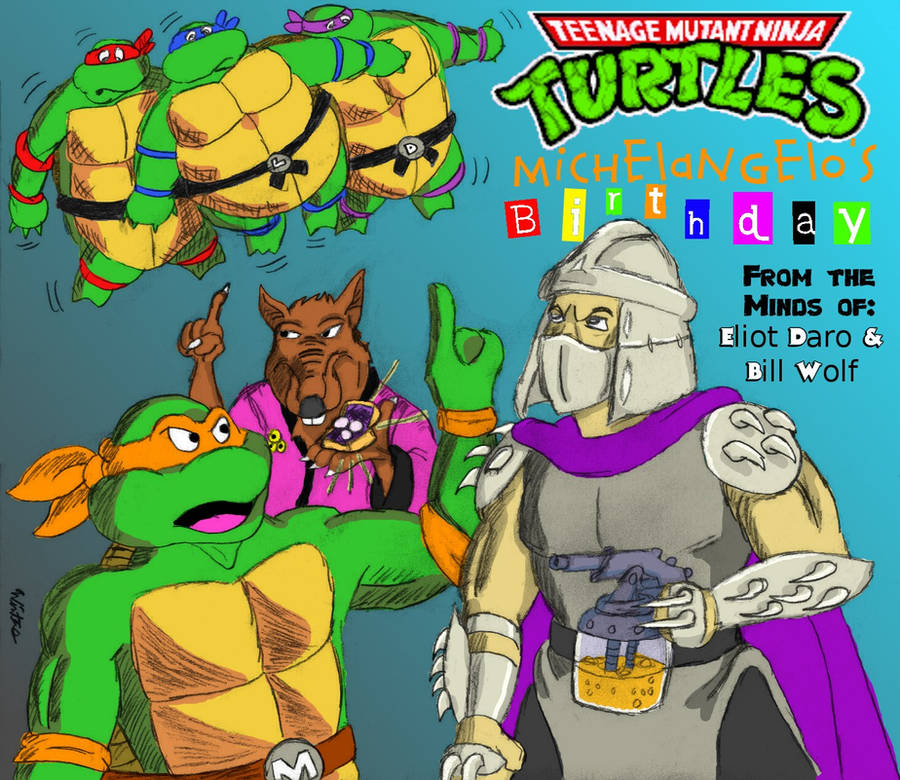 Colorized version of:
[link]
Ah, "Michelangleo's Birthday" . . .
I hope its obvious that I think this is one of the top 5 dumbest episodes of the Classic Toon. It's probably my 2nd least favorite episode, coming in a few miles behind "The Gang's All Here."
I don't know what Eliot Daro and Bill Wolf were going for with the plot resolution, but it certainly made for one of the more embarrassing scenes in all of TMNT history (trust me, that's a long list).
If I have to be honest though... I do think the whole thing is kinda funny.

By the way, I know I already commented on this. But I was just curious about one thing; what are those wobbly lines around the inflated turtles? Just curious.
Reply

I was trying to give the impression of movement... kinda like how a balloon wobbles in the air once it hits the ceiling.
Reply

One thing that crossed my mind; I think they should have left Leo, Raph, and Don and giant brain dead turtle balloons for just a little bit longer. They would have made great birthday balloons for Michelangelo.
Reply

That's a little too twisted for me!

Although, really, who doesn't love Turtles balloons?
Reply

Yeah, I guess you're right. Still though, it'd be kind of funny if they did. Besides, certain characters do look funny inflated.
Reply

Reply

Wow. I didn't know there was a Ninja Turtles manga!
Reply

Reply

Oh yeah. I remember this episode. And I especially remember the part where Leo, Don, and Raph were sprayed with that mutagen that caused them to inflate like balloons. That was kind of cartoony and bizarre. And, not only did that anti-mutagen make them inflate and puff up like balloons. But apparently, it also seemed to render them brain dead. Because they didn't respond to Michelangelo when he tried to speak to them. Good thing Splinter had those magic marbles, otherwise they would have remained brain dead turtle balloons forever.
Reply

What a bizarre episode and a stupid ending. I can't imagine Bill Wolf and Eliot Daro got a lot of work opportunities after this attempt at a script.
Reply

Reply

Reply

Thank you! It was one of my first, so I'm not terribly pleased with it now, but it was a good learning experience.
Reply

the last few seasons of the original show got pretty bad..
Reply

The show ran over 190 episodes, so it's understandable that there would be some clunkers in than span. Fortunately, the basic premise of the show was appealing and the voice acting was strong (for most of the series' run). I wasn't a big fan of the Dregg & Carter arcs in the last two years, but those seasons had some strong episodes.
Reply

I just remember it was 3rd grade(1993 or so) for me and those seasons were generally pretty weird, so my friends and I stopped watching. =/
Reply

hehe yeah... i was like WTF when Splinter used those magic marbles!! (I just started watching them all. In denmark we only got about 20 of the cartoons so i got the US ones

)
Reply

Heh, they were actually "mothballs!" I think marbles might have been slightly more believable (i.e., magic marbles?). But it's like the writers were trying to think of the worst possible explanation so they went with mothballs. lol
Reply

Reply