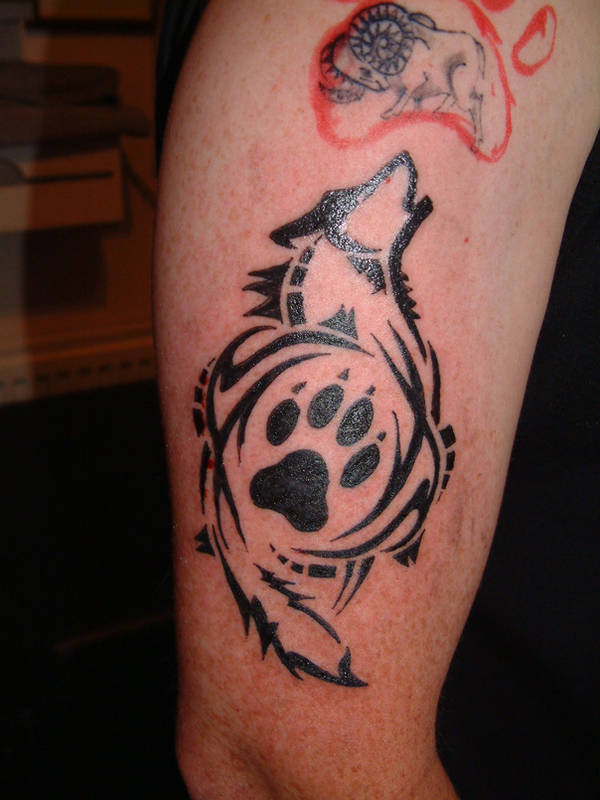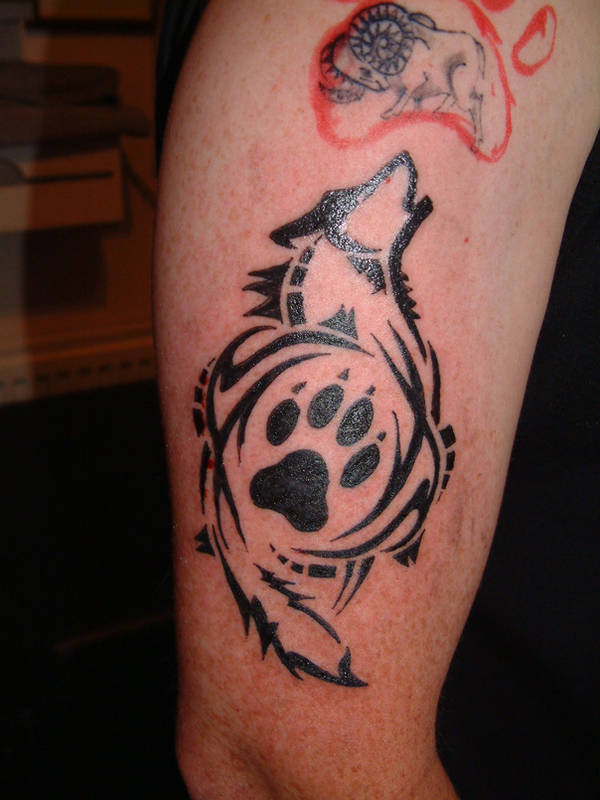 Watch
This customer came to me really angry. the snail or sheep thing on his arm is reason for this. luckily he chose a nice design and we have since decided to cover it with a paw print. He is another return customer fuming angry with an idiot who thinks he can tattoo in the town.

NOTE:
Faolin Salmalin IS THE ORIGINAL CREATOR OF THIS DESGN AND IT WAS ORIGINALLY USED AS A COMMISSION. THE CUSTOMER THAT BROUGHT IN THIS DESIGN WAS NOT AWARE OF THE COPYWRIGHT ATTATCHED TO THIS PIECE.THIS IS A LESSON LEARNED. I COMPLETLEY AGREE WITH Faolin Salmalin THAT PEOPLE DO NOT CARE ABOUT COPYWRIGHT AND AM LEAVING THIS HERE AS AN EXAMPLE. I AM ACTUALLY QUITE ANGRY ABOUT THIS AND WILL BE ATTEMPTING TO CONTACT THE PERSON IN QUESTION.

Hi.
I just came across this photograph and have to admit that the tattoo turned out really good.
The only thing is,
I'm the creator of this design
.
[link]
There is
a big and fat note
that the design is not to be used by others because it was exclusively done for a commissioner. It's really sad to see that so many people don't care about copyrights at all.
So... thanks a lot.
Reply

I'll drop him a note, although I don't have anything to do with his abusive comment. He found the whole thing via Google.
So - sorry. For me the case had been closed, there is nothing we can do about it anyway.
Reply

Thanks for that hun. Didn't think it would be to do with you but i had to make you aware as it is your name he is using - and you've got to admit it looks pretty bad. You have been so good and understanding about the whole thing i really do thank you and think your a great person. Just dont like to see people dragging your name through the mud.
Thanks again for everything mate
Cath
Reply

It was brought in by a customer so i was not aware that the design was not meant to be used again. Perhaps you should try to use a creative commons liscence. I personally do not put commisions on the internet as you can guarantee this will happen.Thanks for the comment on the tattoo.
Reply

Oh well, and thanks for the additional note in your description.

Reply

Thanks for your reply. I don't think it's your fault, I'm just sad about people taking anything they want without asking, just because it's in the internet.
I always ask my commissioners if I may upload the design somewhere because it's no secret that it is a risk... but the fact THAT it is a risk makes me kind of angry.
Reply

I know what you mean...theres nothing worse than spending hours on a design for someone then someone else thinks just because its on the internet, its automatically theirs.Its really not fair but unfortuatley it happens...and way too much
Reply

Looks amazing on skin but was definitely not supposed to be used by anyone except the commissioner!!!
Reply

Reply

Nice work!

Reply

Reply