Hello everyone this is me
Oktanas
bringing a new Top 10 Emoticons. In this article I gonna pick a topic and 10 emoticons representing the topic and put them in order from 10 to 1. I think you know how this works.
Few rules:

There must be an emoticon or a smile in a work.

It has to be uplouded to DA's any emoticon folder.

It has to represent the theme.

One emoticon per deviant.
The best part about this series of Top 10 Emoticons is that it's my top and you can't do anything about it

Let's start:
Number 10

by

And we start with fast loop animated emoticon.
Number 9

by

Hipnotizing block placing is in 9th place.
Number 8

by

Star placing is in 8 th place.
Number 7

by

Well I newer seen that happening before.
Number 6
:thumb108813453: by

Hey purple get lost this top is for green emotes.
Number 5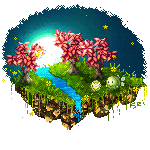 by

Fantastic pixeling of fairyland and green emote.
Number 4

by

Give something to tards and they will do all crazy things with that stuff.
Number 3

by

Yeah better not drink coffee near laptop.
Number 2

by

Another emote that tries to invade the wrong top.
Before the number 1 a quick recap:
#10 Hammer time cookiemagik.deviantart.com/art…
#9 Green, yellow, red, blue, green, yellow... sparklydest.deviantart.com/art…
#8 Oh so many stars brgtt.deviantart.com/art/playi…
#7 Portal cannon dsinger.deviantart.com/art/Can…
#6 Purple get lost uzumakislumpballz.deviantart.c…
#5 Fairyland seiorai.deviantart.com/art/Fai…
#4 Tard painters tear6446.deviantart.com/art/Ta…
#3 Drink coffee somewhere else de-mote.deviantart.com/art/Spi…
#2 Yellow wait for next week madb0y.deviantart.com/art/Swor…




And now for the Number 1


by


Fantastic pixel work, lighting and emote expression.
Previous Top 10:



Red emote news.deviantart.com/article/14…


Projects news.deviantart.com/article/14…


Explosions news.deviantart.com/article/13…


Cleaning news.deviantart.com/article/14…


Video games news.deviantart.com/article/14…