Little Sierra gets mistaken for the little kids in the daycare! Not sure, but I don't think anyone is going to believe her story.
If you like this sketch, come back and vote for it in the poll = April 23-29, 2020
The first sketch request for the "Corona Quarantine" Sketch Request Contest happening now!
details on how to join and request a sketch: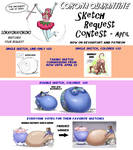 (this is a single character, colored sketch)
Image details
Image size
1897x2856px 2.04 MB