This is the last in my Tanzanian series of photo essays.
When we embarked on our Tanzanian safari in late October last year, I desperately wanted to see and photograph a leopard (Panthera pardus). I had seen one at Sabi Sands in South Africa years ago in the pre-digital age when I had little photographic gear, and certainly no long lens. Despite repeated attempts in various game reserves over the years, including two days tracking at Phinda Vlei, no further leopard had entered the viewfinder. An experienced guide, Dan Mackenzie, I met on RedBubble
www.redbubble.com/
, where I maintain an alter ego, gave me the useful advice to keep especially sharp eyes around the kopje in the Serengeti. This turned out to be admirable advice. He might also have mentioned to keep an umbrella handy - as we shall see! In fact, we ended up seeing at least seven (7!) leopard, possibly a record for a small party, and this was in very large part because of the remarkable abilities of Alfred the Great our guide and driver, who wears a lucky belt adorned with a leopard image buckle - one young woman offered him considerable favours should he part with this for a day, but he was unmoved, and the said lady went home disappointed, nor did she see any leopard

.
On with the show: Ooops - that can't be correct, the first shot is of a tree! With some zebees sheltering from the midday Sun, see how the shadow is entirely under the foliage of the tree, as the Sun is directly overhead. However, this is an umbrella tree (Acacia tortilis), and you should always study umbrellas in the Serengeti, because like as not there will be a leopard there! Can you spot her? (I say "her", as Alfred said this leopard was female.) In fact, she had been asleep, and the zebra were unaware of her in the tree. She woke up as we were observing, the zebra heard her and moved off pretty quickly. The second image shows the leopard awake and on the look out. Note the tail, swung out to the right as we look, in order to balance as she walks along the branch.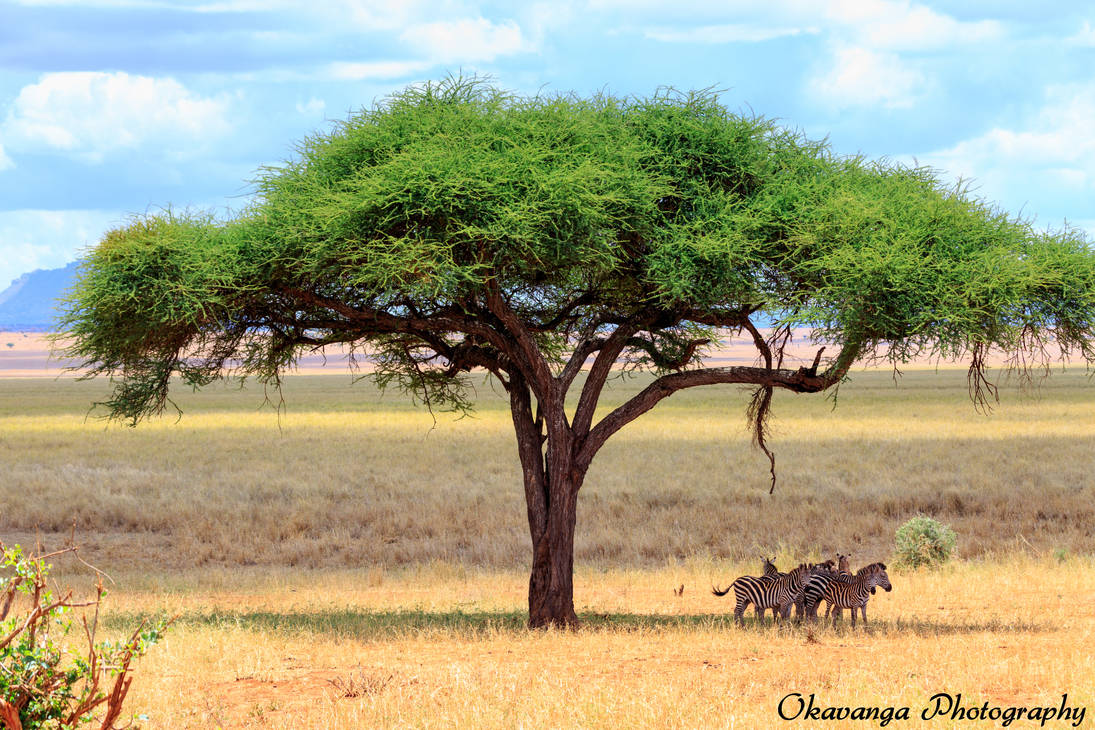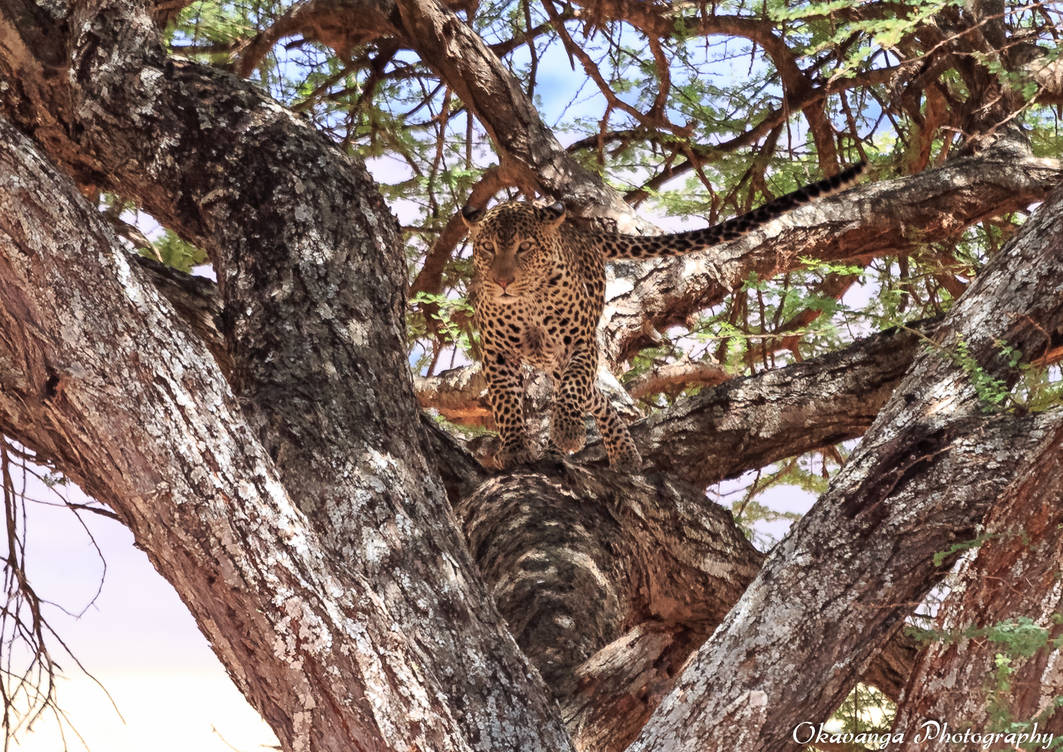 Leopards like trees, and seem to be able to adopt any posture for resting, as seen in the next shot. I'd swear that this fellow has a crossed-eyed look to him, but maybe that is because he has just woken up. Leopards are not the only Big Cat to like trees, with the next image, captured a few minutes later, showing two lions hanging about on a tree about 500 metres from the leopard. The lions were part of a small pride of five, the others lying at the base of the tree.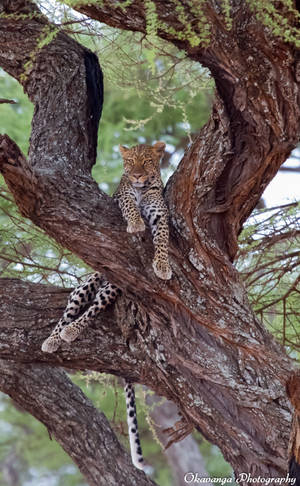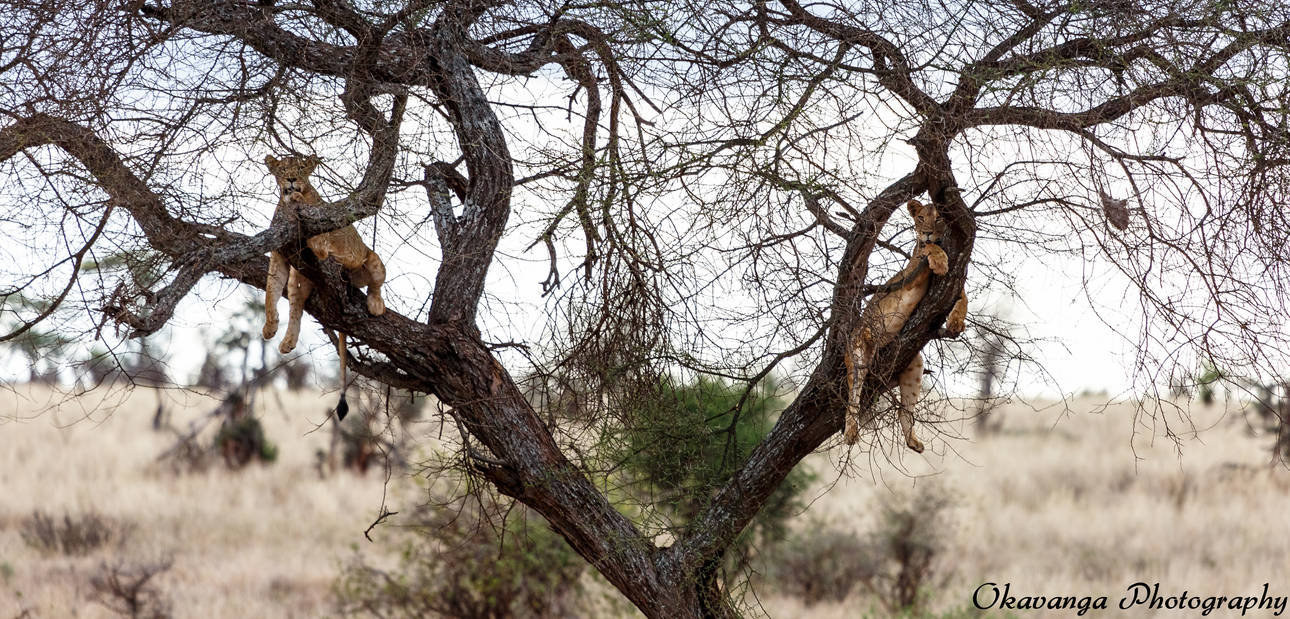 Why do leopards and lions do this? For leopards this behaviour is part of their evolutionary survival mechanism. Leopards are not an apex predator, lions being happy to kill them when given the chance. Thus, trees offer safe refuge, high above the grassland. In addition, leopards are adept at hauling their dead prey into the branches (we saw instances of this) keeping it safe from lions who would steal it, and the scavengers who would easily distract a sole leopard to pilfer the carcass. A further advantage of trees for leopards is the view that such a high position affords, looking for prey becomes easier. Finally, as well as shade, trees offer the chance of cooling breezes and some respite from ground dwelling insects. For lions, tree climbing can be done, but is unusual - too much energy expenditure. They would also be at a disadvantage if trying to climb a tree that already has a leopard in it. Leopards win out on agility and would not let a more poderous lion have any purchase. That brings me to leopard No. 3 the one in the tree taunting the lions that we saw in

The Leopard and the LionsJust South of the Lemala Camp, in the central Serengeti, stands a solitary statuesque sausage tree (Kigelia africana) http://www.kew.org/science-conservation/plants-fungi/kigelia-africana-sausage-tree Rising to 15 meters, with its convoluted branches covered in dense foliage and with its large sausage-shaped fruits hanging ripe to fall, this tree casts a wide shadow over a dry gulch of an ephemeral river that floods the land in the rainy season. Parched land covered in long but dessicated grass lies all around, an occasional thorn bush breaking the local monotony. This is where we found the lions that morning. I say "we" found the lions, rather our amazing guide/driver Alfred the Great, he of the lucky belt (more of which in a later Feature) had found the lions after a careful study of tracks and patches of flattened grass. Standing up in the Land Cruiser, scouring the landscape, my wife and I saw nothing until Alfred whispered, "There, in the gulch - a paw!" Carefully manoeu
. Here's a reminder: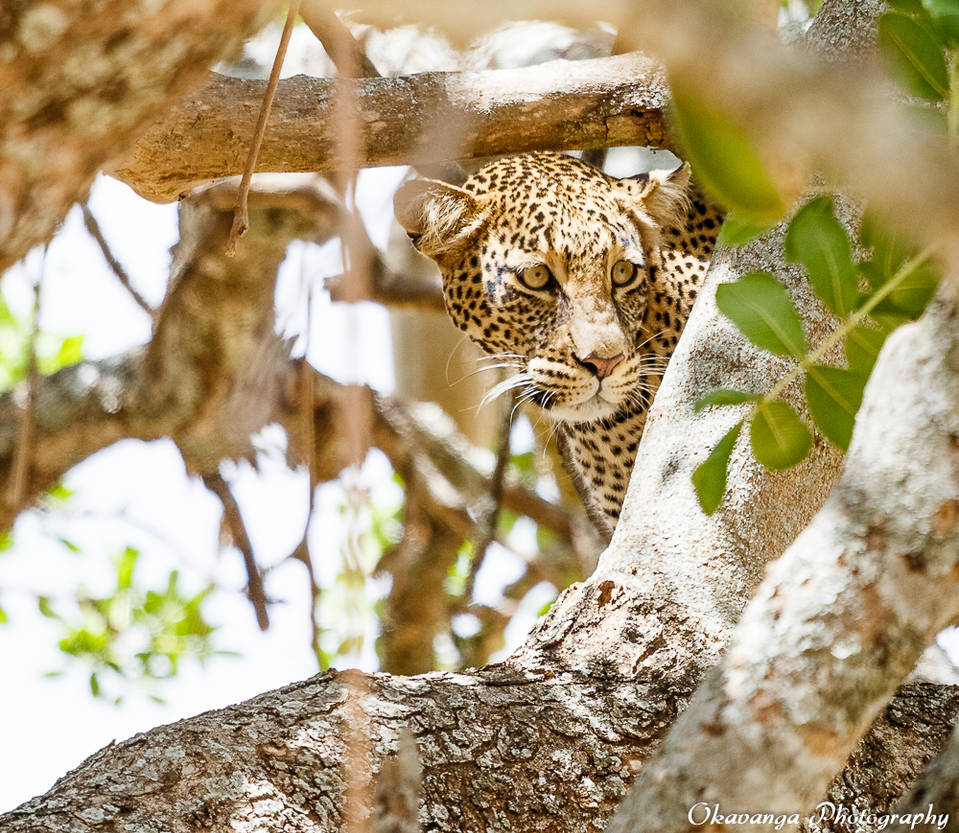 Leopard No. 4 was asleep in a tree, woke up, and decided to go for a jaunt. In the blink of an eye he was down from his perch and away, although I managed one reasonable shot of his descent before he vanished into the grass.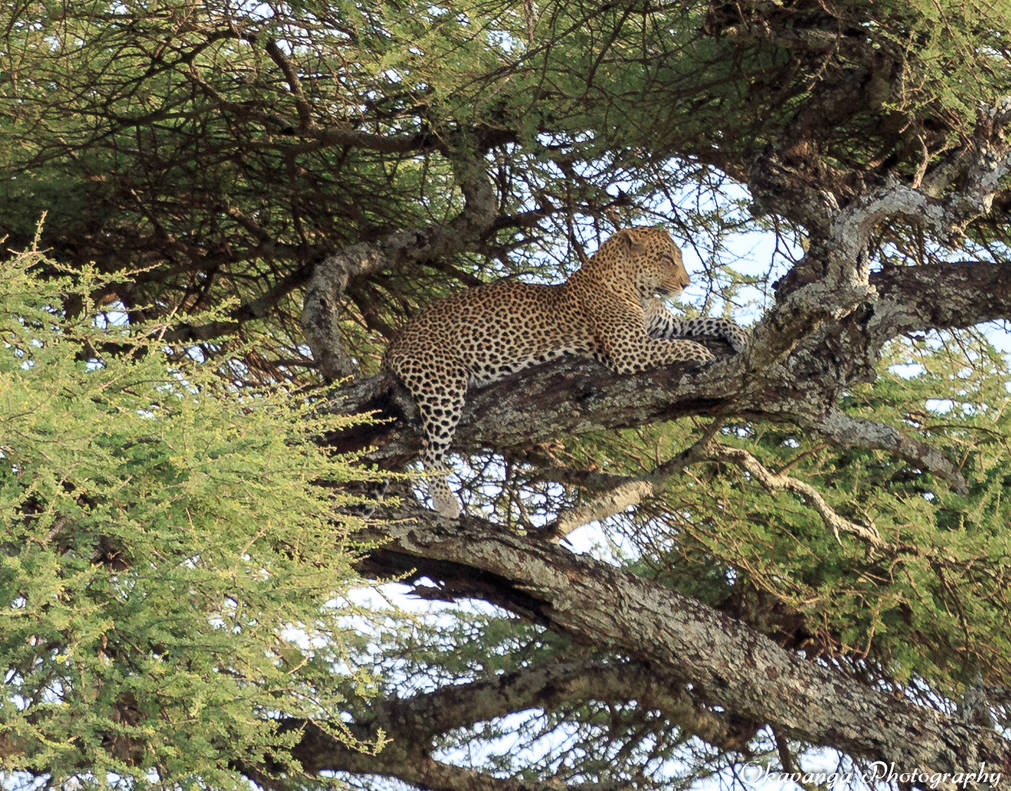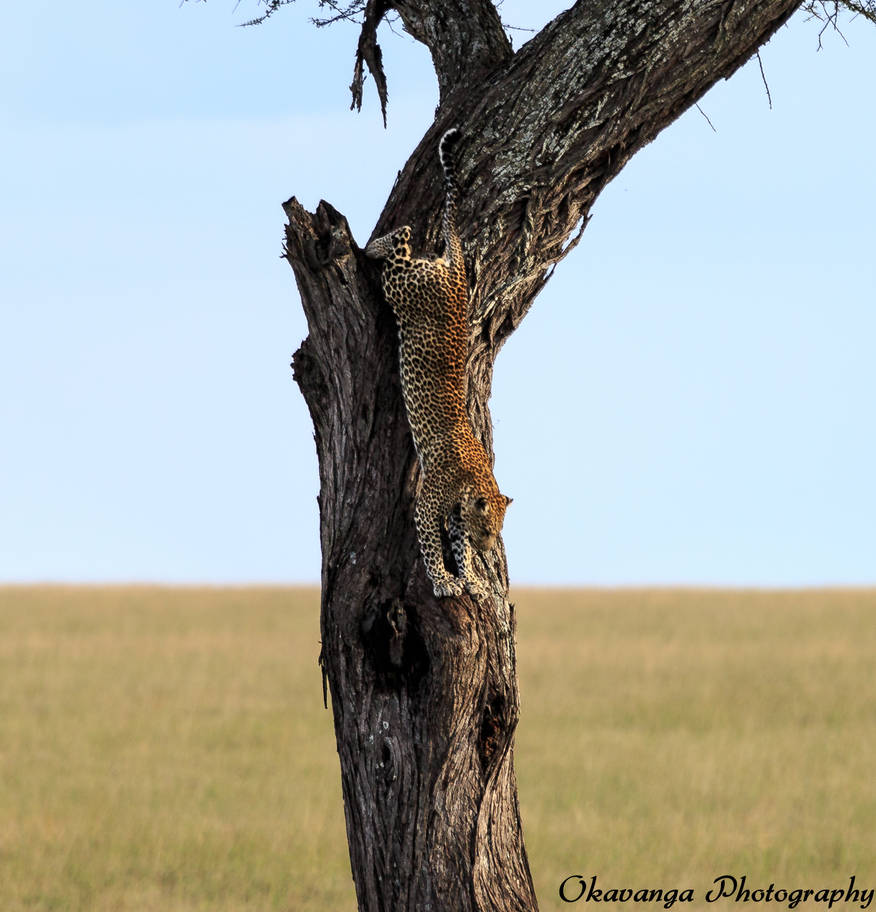 About 500 metres along from that leopard we came across a mother and two cubs. As I managed to capture only the mother and one cub, they are Nos. 5 and 6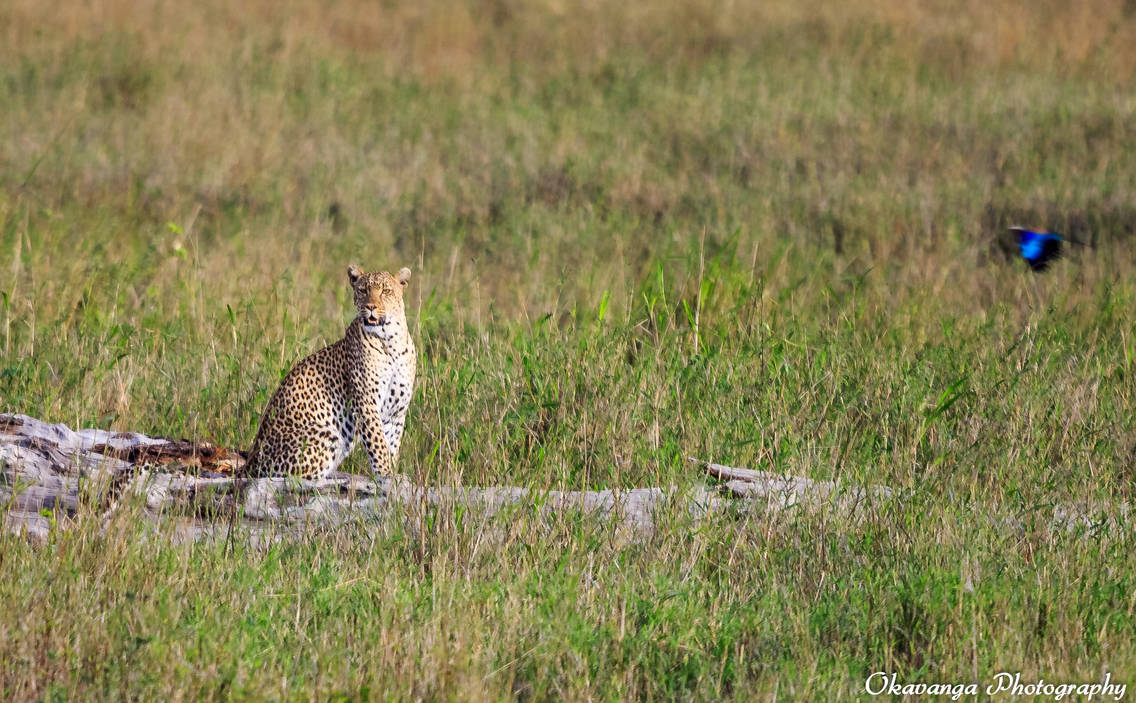 The mother was resting beside a fallen tree in the grassland, while one cub crossed over to a tree a couple of hundred meters away. The mother followed, leaving the second cub hidden from our sight behind the fallen tree. We had hoped that the mother and cub would climb, but no, the cub disappeared into the grass, and the mother settled down.
And so to the last leopard, No. 7. We met this young female in the first of these Journals "Jambo, Jambo"

Jambo, JamboThe cheerful Tanzanian greeting of "Jambo" or better still "Jambo, Jambo" seems sadly out of place given recent events in Paris, and the continuing deterioration in the Middle East. This is meant to be a happy return to DeviantArt following my recent safari through some of the National Parks of Northern Tanzania. The irony is that Tanzania, a country of scores of different races, tribes, and cultures, is an African success story with more or less complete harmony between its inhabitants, and a developing economy that promises great things for its peoples in the next decades. The slight disharmony comes from - dare I say it - but you know already - Islamic fundamentalism - on the island of Zanzibar.
Anyway, we had a marvellous time on safari, and I shot several thousand photographs of wildlife from huge baobab trees to tiny birds and flowers, via elephants, lions, leopards, wildebeest and more and more... My intention is to post the best of these shots over the next few weeks, and I am
. I used her as one of my animal portrait shots.
We encountered her on that memorable day of seeing the wildebeest crossing the Mara River when we headed away from the river up into the rocky hillside of a kopje. She was on the hunt for food for two cubs, according to a local guide, and we followed her for about an hour as she watched, rested, listened, moved, and trotted among the trees, rocks, and grassland. She was not successful in killing any prey while we were there, and I thought that our presence, and the arrival of 5 or 6 other Land Cruisers was interfering with her task.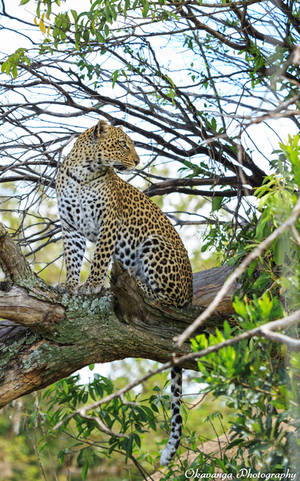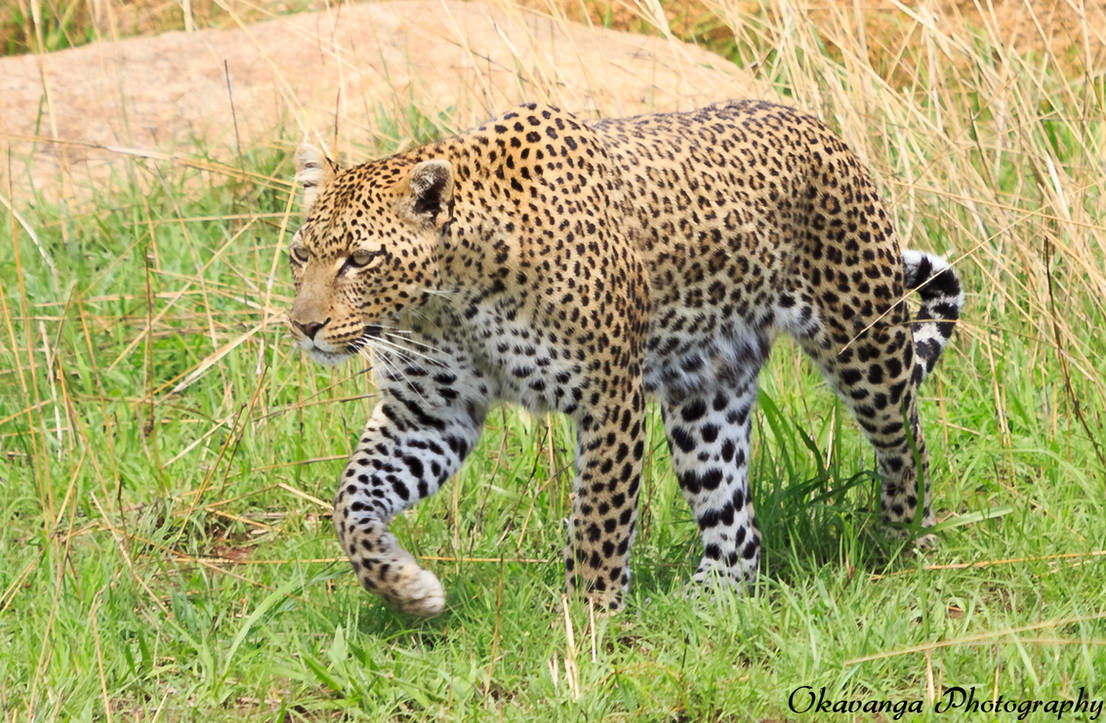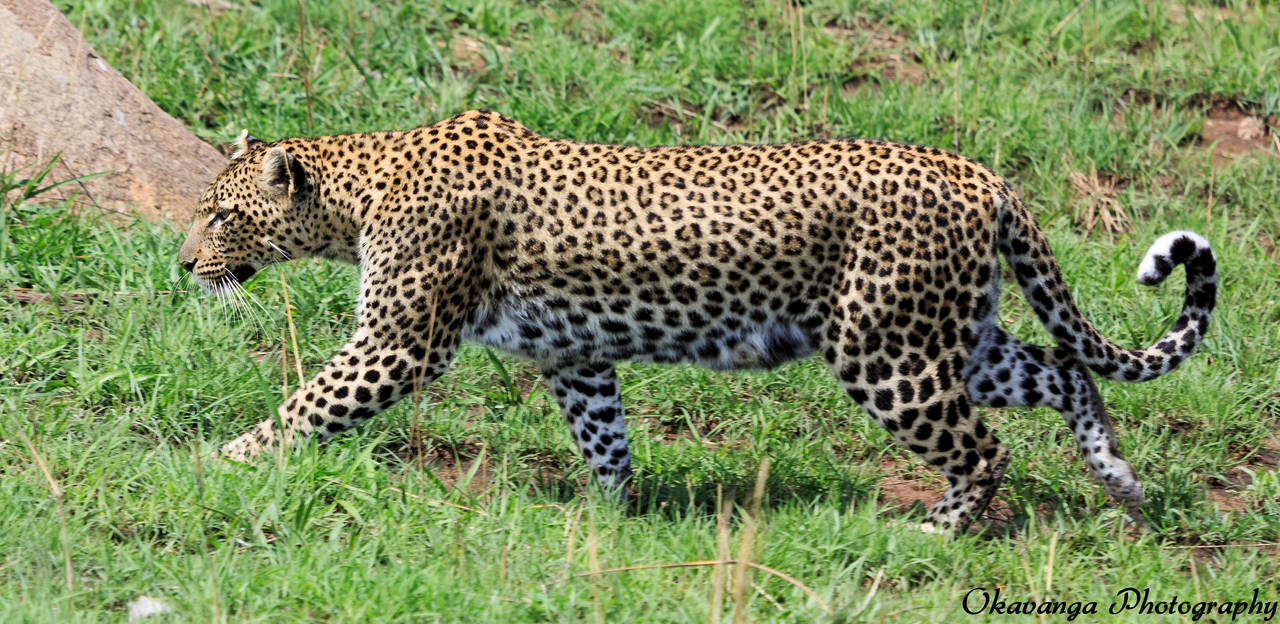 She was the most beautiful of all the animals that I saw, sleek, silent, sensuous, and I wish so so much that I was back there right now, back where the wildebeest trek through their never ending migration; where the zebras dance to the tune of the Earth; the lions lazily dine on their dish of the day; the elephants harrumph and bathe in dust and mud; where the vultures circle cawing and cackling; where the Great Plains roll and roll over the horizon, and where we humankind learn to know our place.
Here she is, one last time.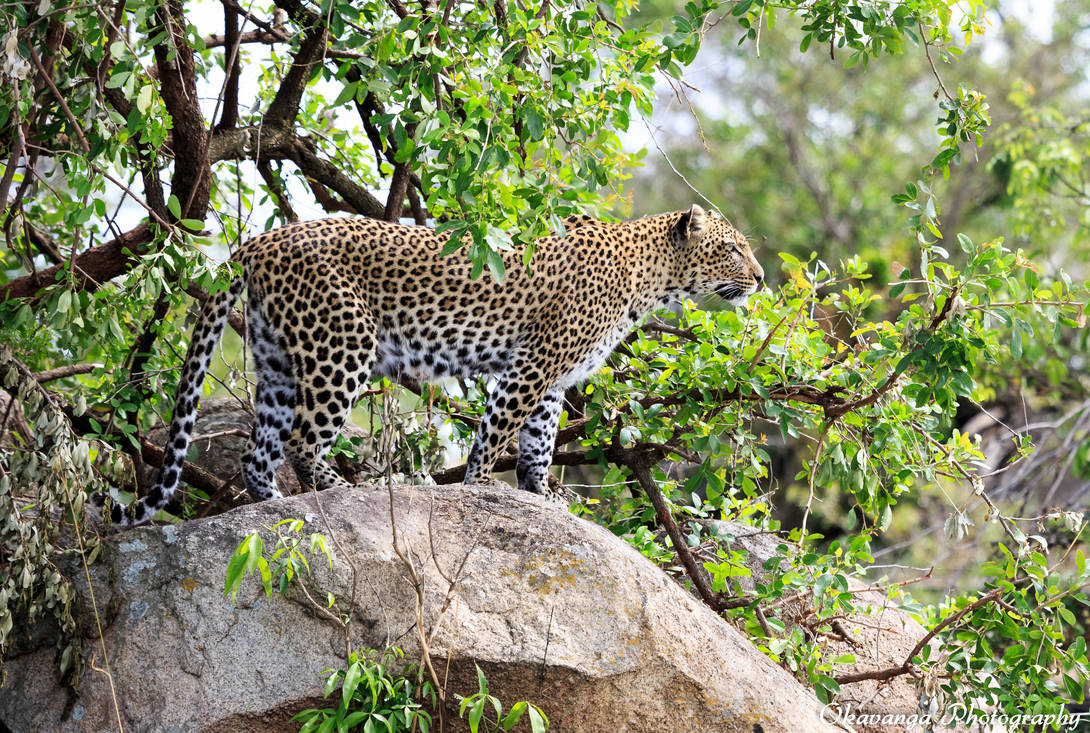 So, after 3 months we are at the end of these safari sketches. I hope you have enjoyed them. The statistics of faves and views suggest you have - just over 4000 faves to date, and 15,000 views of the 15 Journals. (This is the sixteenth!) Many, many thanks to all of you for looking reading, commenting, and supporting this project.
Finally, I must thank my long-suffering wife, Anne, for her patience, and our driver guide Alfred the Great for his skill, knowledge, professionlism and unending good humour.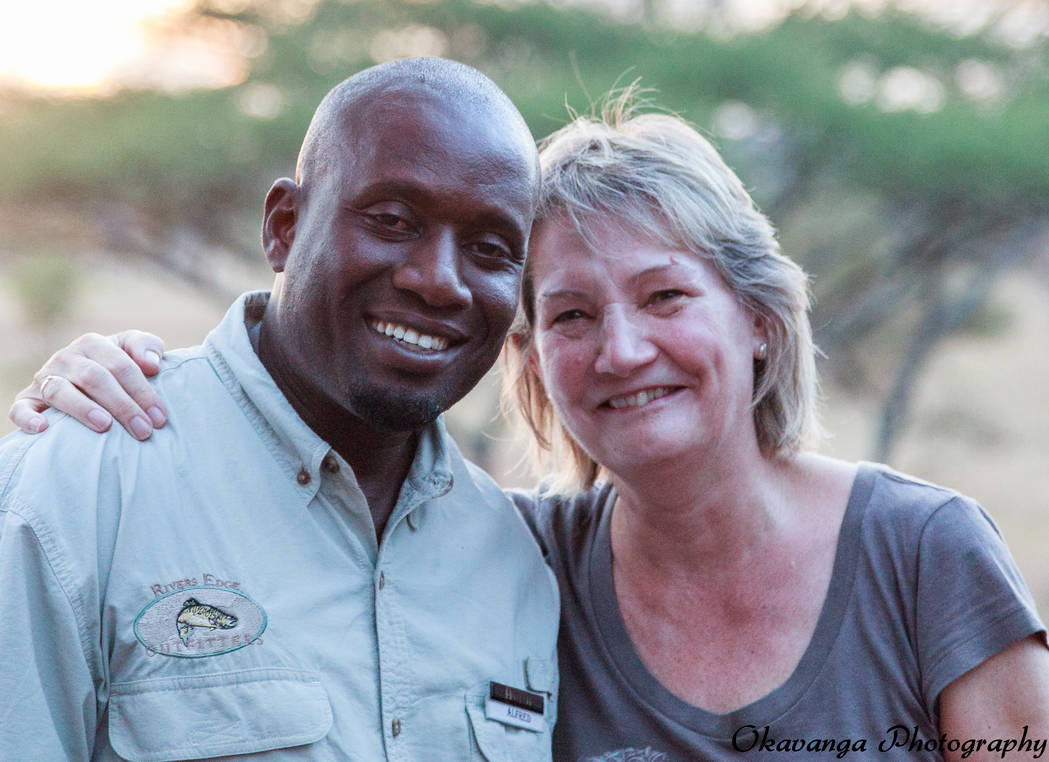 Best Wishes to All.
Cheers
David aka
Okavanga