Edited: 02/09/2019

COMMISSIONS ARE OPEN!



Feel free to contact me here or on Etsy or FB if you'd like to place a custom order for pretty much anything!
FAQ is down below, please read before contacting me!

Etsy: etsy.com/shop/ThePolymerOkapi
Facebook: facebook.com/thepolymerokapi
Patreon: patreon.com/thepolymerokapi
Instagram: instagram.com/polymerokapi/
~Commission Slot List~
The stars show the process and how many figures/charms are to be done.

= being worked on

= baked or on the pan to be baked

= the piece is done.

Keep in mind that if you did not specify a deadline, then I will probably jump around doing what I feel like at my own pace.


Commission Slots:
Rebecca
(HOLD)



-OPEN
-OPEN
-OPEN
-OPEN
-OPEN

~~~


YES, I CAN DO CHARACTERS/ITEMS/ETC THAT I HAVE NOT ALREADY DONE BEFORE.
Wobbles and Loafs (figures/ornaments):
Polymer clay figures of my own design, glazed to give them a shiny finished look and to protect them from damage. These guys range from $10-$30 apiece and are 3 inches high at the tallest, most 2 inches or under. They are to sit upon your desk or dangle from a tree or other decorative place.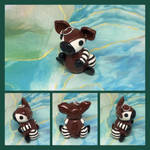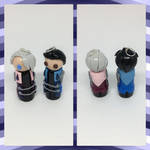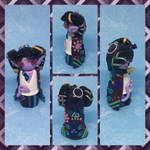 Charms/Jewelry:
These range from $1 to $5 apiece, sometimes more depending on the difficulty of the item.
Everything I can make them into is available under "Doohickeys"

Doohickeys:
The following are add-ons and range from 50c to $2 in addition to the charm they're getting attached to.
-Bookmark
-Bracelets (various colors available, pick 7+ charms for a bracelet get the bracelet itself free, beads are an additional $5+)
-Earrings (available in several grades ranging from silver plated brass to gold filled, various colors of hypoallergenic are available.)
-Jack plug (black or clear)
-Keychain (available in round, heart, and star shapes)
-Necklace (available in faux suede and organza, both in many different colors. Antique, gold and silver chain are also available, all nickel-free)
-Phone strap (free with any $5+ charm)


Wedding Cake Toppers:
Cake toppers consist of two characters of your choice, or your bride/groom selves, with a clay base for them to be attached onto. Props can be included (up to 3). Pricing as always depends upon the detail/character/etc and what you want done, though the average I'd say would be about $40, plus shipping. If you'd like a wooden base attached to the clay one or instead of the clay one, that can be done too for a little extra.


*All eyepins & jumprings come with the figures/charms, if you do not wish them to be attached (cannot be undone after being baked & glazed) then let me know when you place your order, or they will be included.*
---
How it works? FAQs:
Can I Have A Quote?
Yes, you may contact me for a quote within reason. My prices are what they are, $1-$5 per charm and $10-$30 for figures, not including fees and shipping. Please don't contact me for a quote tacking on a new item every time I quote you back. Compile everything you're looking to order from me into one list for one quote and take off items yourself until you're set with what you want and send that to me. Not to say you can't add items after your first quote but the less back and forth we have to do, the quicker you'll get your answers and the sooner I can get to work on your order.


Can I Reserve A Commission Slot?
Only if you're a Patron, otherwise its first come first served.


Can You Make ___?
I reserve the right to reject a commission on any grounds I like but the basics are the following: Nothing Homestuck (unless its your OC), no nudes, and nothing pornographic or dirty. Also, my style is my own, I will not copy another clay artist's work for you. If you want that item, make it yourself or buy it from them. All orders of items I've not made before MUST have a picture reference. Written descriptions are not acceptable reference. OCs are good so long as they're yours.


Any Sales Going On?

Sometimes, if there's one going on when you ask for a quote, I'll be sure to include the deal if your order qualifies (or at least let you know what's happening). Keep in mind though if the sale ends and you haven't paid, then the sale doesn't get extended for you.


How Do You Make ___?
Blood, sweat, tears, a lot of practice and trial and error.
For tutorials and more in-depth look at how I make the things, become a Patron for as little as $1 a month!


Bulk Orders
I do take bulk orders for charms, so if you want to purchase 5 or 10 of a charm to either make jewelry for yourself or resell (can only do so at conventions/fairs I'm not already attending) then I'm all for it!
Orders of 20+ quantity get 40% off. Example: You want to buy 20 pink narwhal charms and 10 blue, you don't get 40% off all 30, just 40% off the 20 pink ones.
Bulk figure orders are 5+ quantity get 20% off.


Consignment
If you're reselling my work at conventions, you MUST be selling at a con that I don't already sell at. Most cons don't like artists re-selling other people's work and we'd basically be competing with one another. A whole level of awkward. Consider New England cons off limits as that's where I tend to sell. Katsucon is one I plan to try to sell at at some point, same with Anthrocon but that's about as far as I'll travel at this time. If you plan to sell my work in your shop (physical) wonderful, please send pictures when everything is set up so that I can help promote your place!


Method of Contact
Etsy and Facebook are my primary places to communicate for commissions. Sending me a note on here is okay but I will ask to transfer the conversation/order to one of the previously specified sites. You can also become a Patron and contact me there.
If you don't check either regularly please let me know what method you do in the event I need to get hold of you for an update on your order.


Payment
All orders totaling less than $300 must be paid up front in full, and 50% of that is non-refundable.
Orders totaling more than $300 have to have 50% paid up front and that is non-refundable, the rest can be done in increments or paid in full.
Payments in full can be done thru Etsy, payment increments must be done thru Paypal.


Revisions/Changes
When making your commission if its something I haven't made before then you're allowed 2 revisions. After that you'll be a charged a fee per revision (25% of the item's base price) and that goes up by 25% for each revision. Handmade items are harder to change details on, especially clay were most details are stuck on pretty tight, and after so many changes it will look very ugly and so redoing the entire piece is likely the better bet. Once the item is baked no further changes may be made.


Time Frame
Figures can take 3-6 months to complete, charms vary depending on if I've made them before or not/how many you want/etc.
Specify up front whether you need the items by a certain date otherwise assume they won't be ready in time.
I work on clay whenever possible but I have a day job so my time for clay is limited.
Please be patient, if you harass me or are rude to me or push for updates repeatedly (daily/weekly) when I've already informed you on the current state of your commission, then your order will be canceled and you'll be refunded your money except the 50% deposit.


Shipping
All orders are shipped USPS.
All orders $100 or more get free standard shipping worldwide, Tier 2+ Patrons get free shipping once a month.
Insurance and customs fees are your responsibility, and insurance is required for $300+ orders.


Damages/Returns
If you receive your item and its damaged beyond repair then insurance should cover it.
Contact me as soon as you receive the item, if its repairable/don't want to deal with insurance, I will make repairs for free but you must pay for shipping both ways. Super glue usually fixes most breaks.
Refunds and returns are handled on a case by case basis, but general rule is I don't accept returns because most commissions are something I can't resell. So once all sculpted and processed, its done, so choose carefully what you purchase.


Disclaimer/Care
Wear and tear is unavoidable for the charms so be gentle. Figures are not toys.
My work is not waterproof so do not wear or put items in water.
My work is not for small children and should be kept out of the way of pets.
While the clay is non-toxic, most have some metal in them to hold them together which could be harmful if swallowed.


Other Questions
Feel free to contact me with any other questions/concerns!

***By commissioning me you accept you've read and understood all of the above mentioned.***