Hey everyone, a little late but hope your holidays were pleasant and safe!
First up, new Patreon rewards are available!
Charms:

Blue Yarn Balls (Light, Dark, Dark Pearl)

Woolly Bugs (Ancient Magus Bride)

Figures:

Totoro Loaf (My Neighbor Totoro)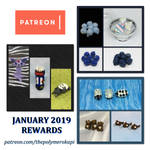 Consider pledging, even just a $1 helps me out and gets you access to content, first dibs on new and restocked items as well as all work-in-progresses, including vids!
Also apart from commission or requested order from Etsy or buying at conventions, this is the only other way to get most fanart from me. I don't list Overwatch or anime related work on Etsy anymore. You can pledge $25 to get that Soldier76 figure (and other goodies you get at that tier) and then reduce your pledge next month!
Pre-order for Honduran white bat earrings are up!
January's purchases will ship February 1st. Got to my Etsy page to purchase, there are hypoallergenic options available for hooks!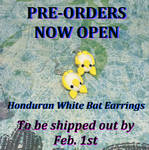 Lastly I WILL be at Queen City Kmaikaze in March and Anime Boston in April!
Follow me on IG and other social media to get more updates than here on DA!
Patreon
Etsy
Instagram
Tumblr