Would rather sit around doodling and playing the flute than do school work...oh wait...
Programs I use:
Photoshop CS, ImageReady CS, Paint Tool SAI, Photoshop Elements 5, and Paint (for screenshots).
Favourite cartoon character(s): Toothless, Rainbowdash, Amaterasu








Most of my drawings feature music, fantasy creatures (usually dragons), plants, or animals. Sometimes I like to mix it up and doing something involving more then one of these themes!





~

~

~

~

~

Work made by others for me! Thank you!
:thumb346886259: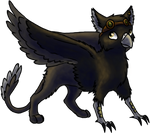 :thumb568492388:
Favourite Movies
How to Train Your Dragon, Sweeney Todd: The Demon Barber of Fleet Street, Tim Burton stuff
Favourite Gaming Platform
Wii, PC, Playstation 1 and 2
Tools of the Trade
Pencil, paper, mouse, tablet...whatever I can get my hands on!
Other Interests
How to Train Your Dragon, Flute, Ocarina