A huge thankyou to everyone who has sent in entries to the
Harpley Hunt's second meeting
, I'm so pleased to see how many of you wanted to enter, and with just how many great pictures we've got!
As with the Boxing Day Hunt I ran at the end of last year, this was not a competition or asking for efforts to outdo one another, but I have had a few secret categories in mind and will be leaving little surprise awards by the drawings which really captured certain aspects of hunting and horses. Each mini rosette links back to its own post in my Scrapbook, if you'd like to save a copy as a souvenir, or edit it in to your picture's caption

So, time to see the compilation of art! Every thumbnail clicks through to the artist's own post, so do go and have a look at them full size, and show your appreciation for the ones which catch your eye

Here are my own contributions, featuring hunt staff and the members and regular riders of the Harpley Hunt in my cast of characters. I drew
the huntsman and MFH last time
, so for this meeting I decided to draw up a portrait of Whipper-in Valentine Wyatt, to fill out the ranks of hunt servants with at least one more named character!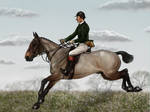 His big roan horse Woodlark seems to have been a hit, it's nice to introduce a new character to an immediately enthusiastic reception!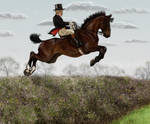 Amyas and Horatio, taking an absolutely
huge
leap over the first hedge of the day!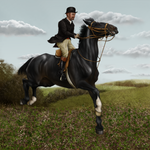 Samson and Valiant, jumping with a little less style but still plenty of upwards spring.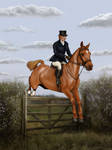 Iris on her homebred mare Firebird, showing the chaps the cool and seemingly effortless way it
should
be done.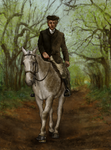 And finally, Wil, taking Henry on the long slow walk home after a less than successful ride!
Now, on to the gorgeous art sent in by everyone else. I'm amazed by how many entries we've had this time, it's
brilliant
and I thank every last one of you for taking part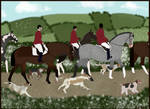 'Hunt Day' by
apodidae
A very full scene of multiple horses, riders, and hounds - note the neat little clips to keep the hunters cool.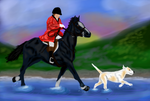 'the Harpley Hunt- St George's Day Meet' by
CapNRCubey
A bright and colourful scene including a very happy-looking hound!
'The Chase' by
ElkCreek
Sleek stylised lines give this a very neat feel, and what a fine leap by that bay horse!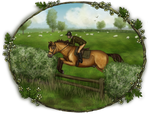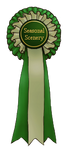 'Harpley Hunt - Easter Meet' by
ElreniaGreenleaf
Simply stunning background and bordering here, this charming scene wins an award for the most seasonal scenery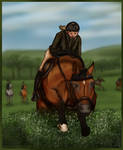 'The Abbot of Unreason - Harpley Hunt' by
ElreniaGreenleaf
Another entry from EAE's cast of characters, bravely tacking a tricky head-on angle and filling the background with added interest of other riders in the field.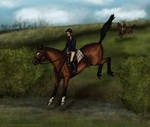 'The Harpley Hunt- St George's Day Meet - Mitchell' by
ElreniaGreenleaf
Mitchell going boldly across this different country, in a richly coloured and textured drawing with perfect scenery and a lovely feel.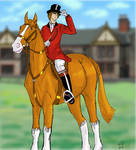 'It feels as if I'm living in the past...' by
Louvan
Making the most of the Harpley Hunt's long history to send along a character from the 1970s, a great idea from our resident cartoonist, and a very happy pair who get to join in!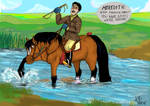 'Mudlark' by
Louvan
An amusing appearance by the famous (or should that be infamous!) Meredith, and his frustrated rider Gareth, from Havillands.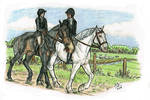 'Harpley Hunt - St George's Day' by
MistyofSunrise
A gorgeous hand-drawn entry packed full of detail, just look at that practical plaited mane, and the gorgeous background including some of Wil's farm's sheep!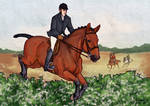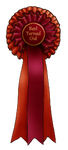 'St George's Day' - Harpley Hunt by
Ohdotar
A beautiful painted style with distinctive outlining, this entry is just beautiful to look at, and takes the prize for Best Turned Out thanks to that neat and formal traditional look.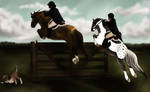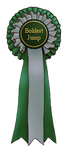 'Mother and Son' by
TheForeverKnight
You've got to love those tough little ponies who can easily keep up with the larger horses and don't have to take the easy option of gaps and opened gates - this lad definitely takes after his mother in fearless cross country riding, and so, while
both
of them are jumping well, I'm handing the rosette for Boldest Jump to young Faraji.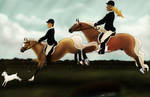 'Oddities' by
TheForeverKnight
Two beautiful unusual coat colours here, both making a striking sight over a jump, and both riders seemingly loving their day out with the Harpley!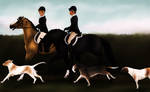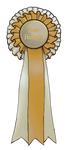 'Ride with the Pack' by
TheForeverKnight
A third stunning entry, horses full of character and expression and some great dramatic and atmospheric colouring. This picture gets our surprise award for the best hounds, really nicely done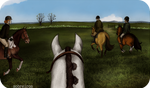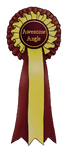 'The Harpley Hunt - St George's Day Meet' by
sobreiros
Richly coloured and textured, a really gorgeous scene here, which really captures the thrill of riding out at speed in company. A deserving winner of the Awesome Angle rosette, for such an innovative viewpoint!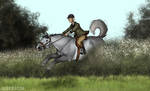 'The Harpley Hunt - Rory and Friedrich' by
sobreiros
Another beautifully drawn scene full to the brim with detail. Nothing sums up a good tough hunter like the ability to plough through a hedge and keep on going, neither horse nor rider seem daunted by this little mishap.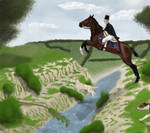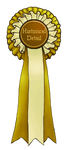 'Harpley Hunt St George's Meet' by
Spotted-Tabby-Cat
Another historical entry, it's so nice to see various periods being brought together in an event like this. A much-deserved Historical Detail rosette, awarded for a meticulously researched character from the Napoleonic era, dressed and kitted out correctly and riding just the way he would've done.
Again, a very grateful thank you to everyone who sent in a picture, and I hope you had as much fun drawing all these scenes as I did running it! Next meeting of the Harpley Hunt will be in the autumn