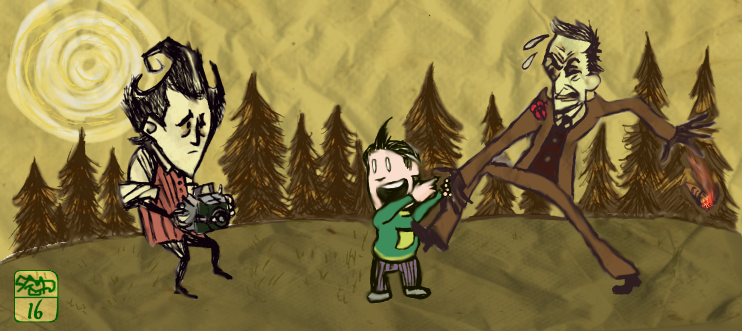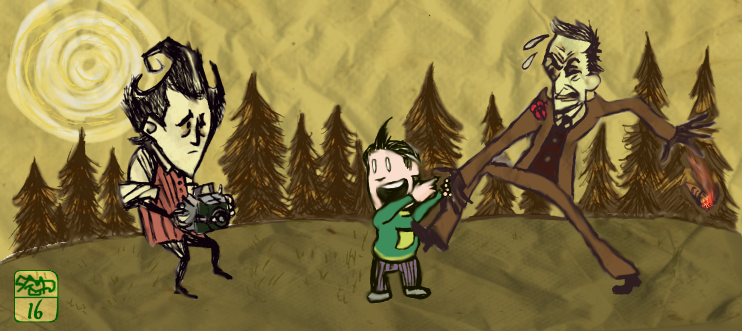 I've been wanting to do this crossover since I realized Mark Tutlli's art style resembled the Goreyian style of Don't Starve. Then I remembered that adorable picture where Li
ō and death are laughing at comic strips. This kid is great nightmare retardant(just like the tvtropes article).

So my apophenia clicked and finally had a chance to draw Maxwell without feeling horrified at drawing him at the same time. He makes me feel uneasy. Basically the way Wilson looks here. The camera he's holding his actually from his time period so had to really simplify the camera I used for reference.

art©


Love Lio! Was my favorite comic when I still got that newspaper!
Reply

The art style Tutulli does fits Don't Starve so well, I had to. Though to differentiate them, I decided not to give Lio a paper texture so he could be different enough.

It's still my father's favorite besides Buni and Pearls Before Swine.
Reply

Yeah it does and pretty cool with the lio. also LIO IS AWESOME!
Reply

I think what got me into the comic later than my father is the images of him goofing around with death. My father was aware of buni and Lio since he goes to gocomics daily to read his daily Dick Tracy but I first found out about it through tvtropes with little imagery. Youtube reviewer the Punchline talked about it in detail and got me interested. Hope he goes for the tamer Scary Gary sometime.

It's this nightmare retardent attitude that inspired me to have Lio cling to Maxwell similar to a genie moment in Disney's aladdin. Maxwell kind of terrifies me due to the atmosphere he brings, so yes.
Reply

Pretty interesting and it was always fun to see lio messing around with his inventions and such and I do have to agree with seeing lio do that to maxwell if he met him, only problem for maxwell if he sent lio into his work is that lio would probably become friends with all the monsters or just make a death ray or something.
Reply