FaLLEN Merchandise
A Tribute To FaLLEN Art Booklet
A 40 page full-color art booklet featuring character bios, series introduction, official art and guest art from artists all over the world! Participating artists are as follows:




























PRICES:
A Tribute To FaLLEN.............................$12
SHIPPING:
$3.00 shipping anywhere around the world!
FaLLEN Character Charms
The first set of charms (which can be used as phone straps or attached to keychains, backpacks, etc) feature Lamia, Arma, and Vox.
Lamia's Guardian color is yellow, so her strap is yellow with a golden bell attached. Because her attacks are illusion based, she has a little .5 inch star charm attached (because she'll make you see stars!). Lamia herself is 1.5 inches tall.
Arma's Guardian color is green, so her strap and bell are both green. Arma's sword Slayer is included and stands 1 inch tall, while Arma herself stands 1.5 inches tall.
Vox the mouse doesn't have a Guardian color (it's either black or dark gray, usually) so his strap is black with a silver bell, like his fur colors. He has a .5 inch piece of cheese to nibble on, and since he is a mouse he is shorter than the others at only 1 inch tall.
These are designed and put together by me, with the charm printing by Printsess at printsess.com! Sturdy acrylic that can withstand a little wear and tear as well as a rainy day.
VOX IS SOLD OUT!! (9/14)
Only Lamia and Arma are left... More characters coming in the fall!
PRICES:
1 charm.............................$6
3 charms set......................$15
SHIPPING:
$2.50 shipping anywhere around the world!
If these sell, more characters will be coming! Which character do you want to see next?
POSTCARDS
A6 size postcards, 180 kg coat paper
There are five designs to choose from: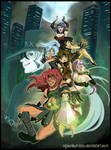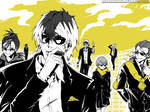 These are designed for use in Japan, but they will work in other countries as well. The back features a small pic of Vox the mouse where the postage stamp can go and a section for the address and for a written message.
PRICES:
1 postcard............................. $1
5 postcards.............................$3
5 postcards + sticker sheet.......$5
SHIPPING:
$2.50
STICKER SHEET
A6 size matte coat sticker sheet featuring ten characters from FaLLEN in super deformed/chibi form. The sheet includes the following images: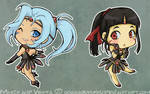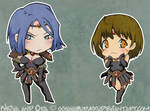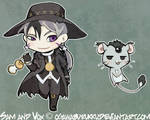 PRICES:
1 sticker sheet........................$3 (with bonus postcard included)
5 postcards + sticker sheet......$5
SHIPPING:
$2.50
PAYMENT
Just note me if you want to buy anything. Payments should be through Paypal, and I'll give you the information for that as well as a final price after you tell me what you want. All payments should be in US dollars (and Paypal converts, so non-US citizens can still place orders). Do NOT send payment in yen; Paypal doesn't have it set up so people in Japan can receive money to their bank accounts directly, so I am currently using my US bank account for all internet transactions.
Soon To Come
- "Suicide Consultant" original manga
- more character charms!
Note: Because the dollar is getting weaker and weaker, I may occasionally adjust prices to keep up. Remember, I live in Japan, so until paypal let's me send money directly to my Japanese bank...