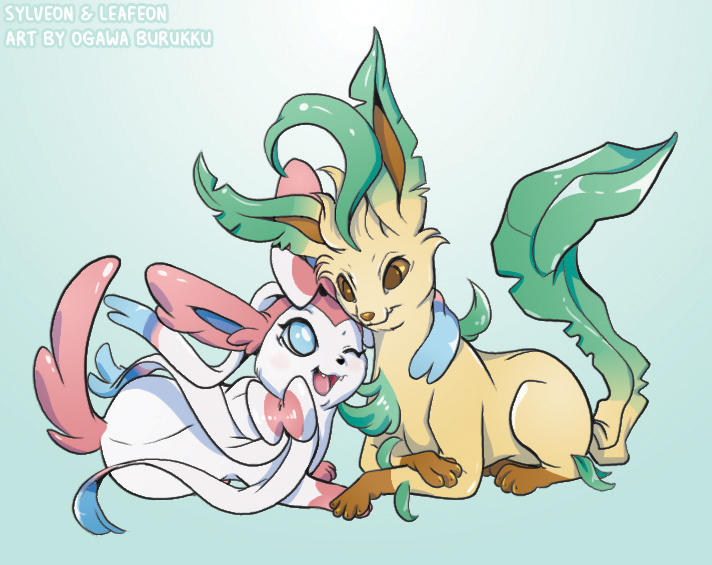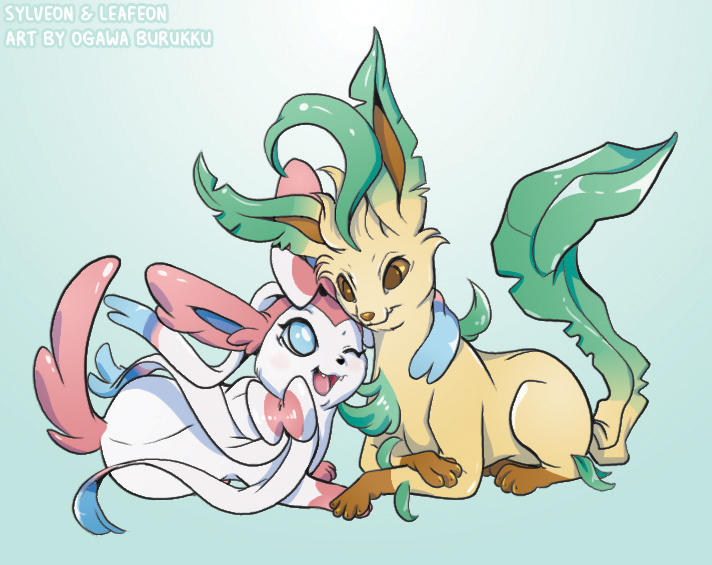 While my webcomic FaLLEN is on a break, I am not working on art I can really show people at the moment. However, I have been working off and on for like a year on this massive commission I was paid to draw for a friend that features around 40 pokemon. He said I could draw it in my own style and has been super cool about my super late delivery. I'm about 75% done, but still finishing up Kickstarter stuff, so in between those projects I thought I'd take a little time out every day to finish portions of the collage.

Today we have Sylveon and Leafeon. In my head Sylveon is always a girl and Leafeon is always a boy (same for my game pokes) so they are getting snuggly like they are about to go behind a bush and awwww yeah (it's 3 am, can you tell?)

I like to draw Pokemon in a more Western-inspired style. People I draw more anime-ish, but animals always come out a bit more Disney-ish.

Leafeon is my absolute favorite Pokemon so I was excited I got to draw one for this collage.

Pokemon © Game Freak / Nintendo



Reply

Part of me swears you were thinking of Bus when you were drawing this. XD
Reply

Not really XD I did a little bit when I was drawing a dog pokemon, though. I'll post that one eventually.
Reply

They look great together! Mqybe espeon and umbreon next?
Reply

Thanks! I'm just drawing the pokemon I was commissioned to draw for this collage, and unfortunately Espeon and Umbreon aren't in it. But Glaceon and I think Flareon are in it at least, so maybe I will post one of them later this week

Reply

That is a lot of pokemon to draw...0.o;;
Reply

I was also asked for the pokemon to do specific things, like here where Leafeon and Sylveon had to be cuddly and sorta holding paws. Fitting all that into one illustration has been really hard. I like doing group pics, but in the future if I do anything like this I'll be limiting the number of pokemon per pic and I want to decide their interactions. I am really only doing this because I've known the guy for forever.
Reply

I like to classify Sylveon and Leafeon as sisters.
Reply