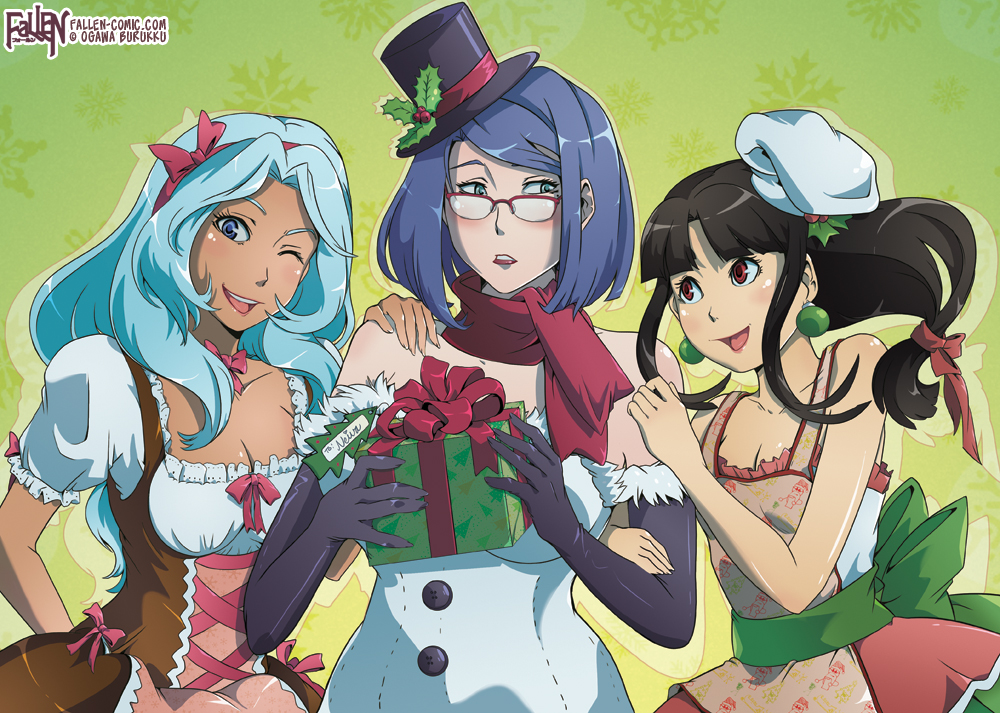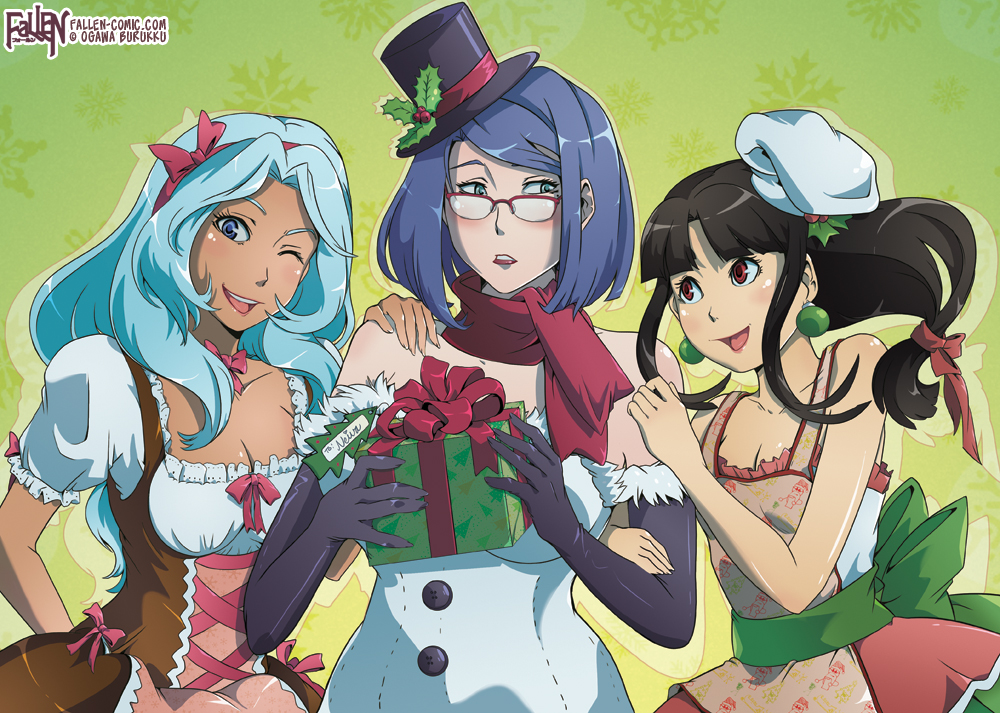 Watch
The only illustration from the 2018 FaLLEN Calendar I'm releasing early, here's a Christmas themed holiday illustration for you guys. I've been super inactive because I'm about two weeks away from giving birth to my first kid and I tore a muscle in my leg recently, so I have been focused on healing while also getting last minute baby stuff ready before the big day comes.

I decided to post this because I have been a ghost on dA and other sites, I feel like, and I wanted to get something up to let you all know I'm still alive. I have ignored messages but I'll try to answer those today.

This illustration features Maris as a gingerbread girl, Neiva as a sexy Frosty the snowman, and Vesta as... Mrs. Claus? I don't remember. I did this way back when I was in my first trimester and I was super sick and queasy all the time, so I have implemented some Sailor Moon Crystal styled anatomy as well as other mistakes, haha. It's one of my least favorite images from the calendar, and I think next year I will have a new holiday-themed image to post so I thought I'd go ahead and post this now. Get it out of the way. No other image from the calendar will get an early release.

I think Christmas is wrapping up for most everyone (it's the 26th here) so it's a little late, but yesterday I spent most of the day napping because my pain meds make me sleepy. I hope you all had a good whatever-you-celebrate, and if not... well, a new year is starting soon!
---

Um aren't you dead?
Shhhhh No... Shhh that was just the end of the chapter
ohhhh
Merry Christmas!

LOL
Reply

She rose from the dead just for this calendar, haha
Reply

Man I've been gone for to long, I've got to catch up to this series.

btw how have you been?
Reply

Now's a good time to catch up! I'm in the last two weeks of my pregnancy and I won't be updating the comic again until probably February or March, so you won't fall behind if you start reading now for sure

I'm pretty tired, haha. Being pregnant isn't fun. I pulled a leg muscle and that's left me pretty immobile for the next few weeks.
Reply

Waaaaaa you're back!!! Welcome back and merry late Christmas


Reply

Haha I am back, sort of. Still on pregnancy leave with the comic but that doesn't mean I'm not still working on FaLLEN. I'll have more art up I think in the next few days.
Have a happy new year


Reply

Don't worry, i'll wait OwO (though i can't hide that i'm excited to know what will happen in the next chapter XD)
Happy new year to you too

Reply

Man it's so good to hear from you again. Sounds like alot is shit on your plate lately...
Reply

This whole year has been very intense. Trying to get Kickstarter rewards carried out while pregnant has not been easy.
Pregnancy: I don't recommend it

Reply

I'll keep that in mind when I'm banging my gf...

But yeah I'm certain most don't expect you to dish them out too quickly, I for one am glad enough to get them late and what not
Reply

Contraception is FANTASTIC. Not to say that our baby was a mistake, because she's not, haha, but don't have a baby before you're ready! Bag it before you shag it.

I've only got like 25 packages left to send out (out of nearly 400...) and most people who are still waiting are waiting because they got original poster art or the Japanese version of the book, which hasn't been checked for quality and all that yet. Ugh, need to get another Kickstarter update... hopefully the last mass update I do.
Reply

Well I JUST somehow noticed one of my manga isn't in Japanese, I think that's right right? Cuz idr what I got from my tier ;-;
Reply

What tier were you in? I can check for you if you want

Do you know what handle you use on Kickstarter?
Reply

Welp I just woke up to mine! So I can confirm all is well with mine!
Reply

That definitely sounds like a lot of things that require attention. Hope you'll be able to manage.
Reply

Thanks! I hope I can manage too XD Been a craaaaazy year.
Reply

I suppose it's about to get crazier.
Reply

With two weeks left in my pregnancy? Yeah, I'd say so

haha
Reply

And it'll get even crazier afterward; imagine what happens when baby inevitably asks what mommy's job is.
Reply

Fortunately I have many years before I have to deal with that question XD
Though, it's not like I draw straight up porn or anything. She probably won't think much of it since she'll be used to seeing scantily clad anime girls just by growing up in Japan, haha.
Reply

Don't apologize so much, it's not like you wanted to abandon all your readers and watchers. You had enough reasons this year, and i really wish you everything that 2018 will be great your for you

Reply

Ehhh I know, but it is still really disappointing as a creator to have to step away from the art desk and deal with RL stuff

It's not how I wanted things to happen. Next year sure as heck better be different, though!
Reply

I know, but please think about yourself, what does it bring you if you overwork yourself, lose the fun creating or have pain doing something (i know of a creator who has problems with his shoulder and still tries to draw even with the pain). I think you would disappoint your readers more if you aren't able to live normal because this is something no one wants

But like i said, i believe next year will be a good year for you - and like you said on Patreon, your pregnancy wasn't a bad thing that happened, now try to get through the last phases and 2018, with your family behind, will become your year, i just know it

Reply

At least Patreon retracted their new billing decision! That's at least one good thing I can look forward to. My lost patrons didn't come back, haha, but maybe in time they will. Just gotta keep on trying to do the best I can!
Reply

I think some will first wait, before coming back, this was a very bad move from Patreon (this whole week), at least they partially apologized. I am also still waiting till next month and then go back to the normal amounts, but i am also a little bit on the fence.

I for once won't go back to use their service anymore (except the support part) because they told me that i am not worth the time..
Reply

Wait, what do you mean they told you they weren't worth the time?? Did they say that or do you mean because they were trying to cut out small pledges? I think they made a STUPID MISTAKE but at least the canceled their plans pretty quickly. I still trust Patreon but they are still a young company, crowd funding is still a relatively new thing online, and there are bound to be a few mistakes made as sites like Patreon try to figure out a business plan.

I know I can't afford to not use Patreon. I've done really well with them in the past, and I hope I can bring up my numbers again once the hiatus is over. I got one new patron recently, but the others who quit this month haven't come back... yet? We'll see. XD
Reply

I might said it a little bit strong, but they (or someone from their higher-ups) did a post where they said that the small donators and creators are not worth supporting, because the big ones are the ones who bring new people and money.
Like i said, for me, i loved using Patreon because i thought the way i could post there (even if nobody except on person supported me there) everything, videos, pictures or just small writings with pictures (what i miss on Deviantart - i know i can pay for that), but this put me a little bit off - i might wait a little while for going back (since i went and wrote i won't come back, the pageviews doubles o.O) but for the moment i try my luck elsewhere. I don't want to be seen as just something "uninteresting".
But i won't stop using it to support some of my favorite artists there, at least as long they don't change the platform

For me, it doesn't matter, let's face it my work isn't worth supporting and nobody would miss it on the long run, but i know how all you real artists out there rely on this income. And it would make me sad seeing you stop doing what you love because of some company just being absolute idiots

Reply

I don't know, do you have a doctor's note for all these absences?

I think you have a good excuse. Good luck, and congrats. Looking forward to when you have the time to get back to dA. ^_^
Reply

Haha I've got a small can of pain meds, hot compresses, and notes prescribed by the doctor right here next to me, but no note to excuse me from class! ;D

I'm going to try to be a bit more active, maybe get one more post up before the new year. I've been posting more on Patreon than dA, so it's not that I haven't had anything to show. I'm sure I'll go temporarily AWOL again once the baby is born, though >_<
Reply