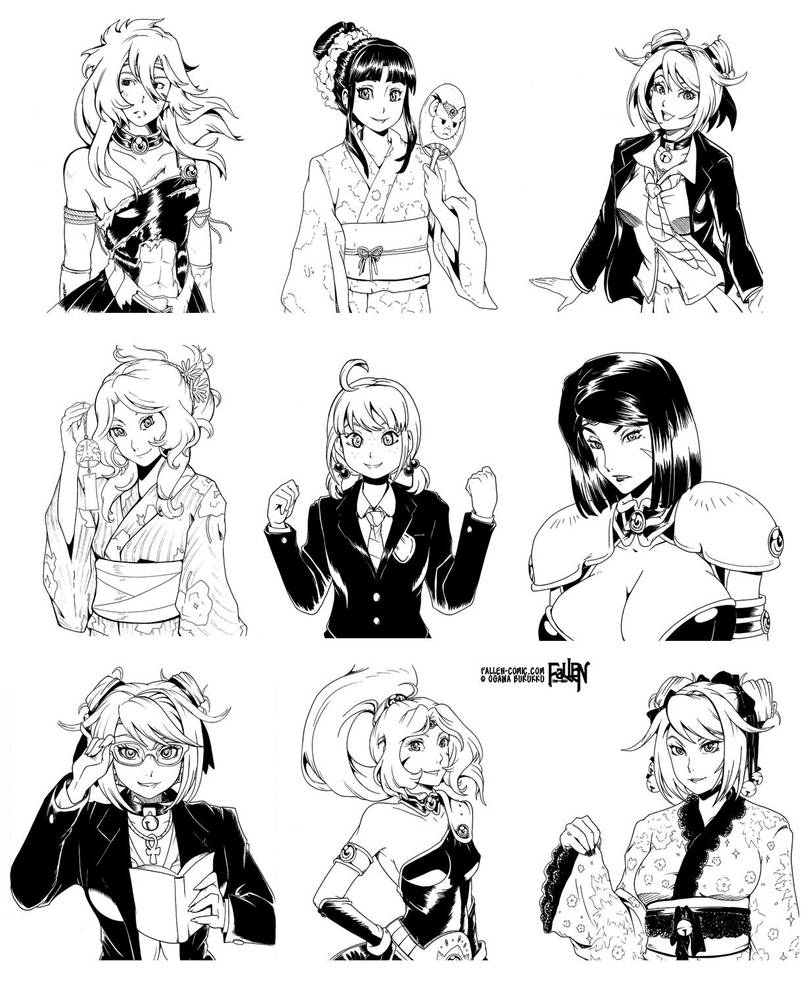 Normally on the last day of the year I do some kind of collage of examples of my work throughout the year. Well, as I've mentioned, I got pregnant in April and I'm due just about any day now. One thing I really underestimated was the toll pregnancy takes on you physically. I think I thought it would be like gaining weight and a little nausea in maybe the very beginning... no. NO. I had to put my comic on hold because I did not expect all the crazy changes that would have an effect on my drawing ability. There were months I could not properly grip a pencil or stylus, I experienced regular migraines for the first time in my life, and some days I would fall asleep while sitting up only to wake five hours later just as tired as when I dozed off.
So though I actually did a LOT of artwork this year, much of it was in the first half, before I was pregnant, etc etc. I didn't have a full year of consistent artwork for the first time in as far back as I can remember. I never want to repeat a year like this, ever, and one of my only two New Year's Resolutions are to get back to comicking 6 weeks after I've given birth and to keep FaLLEN going.
The other resolution? To be a good mother to a healthy baby

These sketchboards were part of the higher tier rewards to my FaLLEN Vol. 2 Kickstarter. I did around 40 this year, with my most popular requests being Lamia and Maris. I'll slowly post these in collage format here, but if you are in the $2+ tiers on Patreon I'm posting larger versions of these in smaller batches more frequently for my patrons.
All of these sketchboards were done by hand with pencil and Copic multiliners and markers on a thick autograph board, and I rarely used any white out or anything so there are certainly mistakes scattered about, haha. I will definitely be doing these again in future Kickstarters.
Here's hoping everyone has a fantastic 2018!
List of characters:
Arma in a tattered Guardian uniform
Vesta in a festival yukata
Lamia in her school uniform
Maris in a festival yukata
Ora in her school uniform
Neiva in her Guardian uniform
Lamia in her school uniform with bulky glasses
Maris in her Guardian uniform
Lamia in a (non-traditional) yukata
2203
---

Who's the girl on the middle right, she looks amazing.

Reply

That's "big boobs." I don't think you're far enough in the comic when she gets her name and abilities.
Reply

lol you mean the ditzy girl, who gave the bluenette the name of Yogi Bear's sidekick, calls her Big boobs!? "rofl"
Reply

nice one... my niece will impress from you !!
Reply

Congrats on getting through 2017, Mama Burukku! And here's to the next year!
Reply

I sure hope 2018 is a much better year! Not that least year was bad, but it was definitely a struggle, haha.
Reply

You did an amazing job with all of them

WHat i really like is what you say about the mistake part XD - i am honest seeing mistakes, just lets it feel more precious, you are a person, after all, not a robot

And you will be a great mother, you might have to explain this later at some point but i don't think this will be seen as something bad, you already giving her something to be proud of her mother

Reply

Haha I wish I was a robot sometimes... might make some things a bit easier XD
Reply

This is good I am ok with this... Maris ;-;
Reply

Reply

If I may ask when that due date? I'm curious
Reply

1/12 is the due date. I originally wanted her to come right on that day because it's numerically the same as my birthday (11-2 versus 1-12) but now I'm pretty much ready for her to come out, like, now, haha. There's a thing called "Lightning crotch" nobody ever tells you about until you are dealing with it, and I'm not a fan

Reply