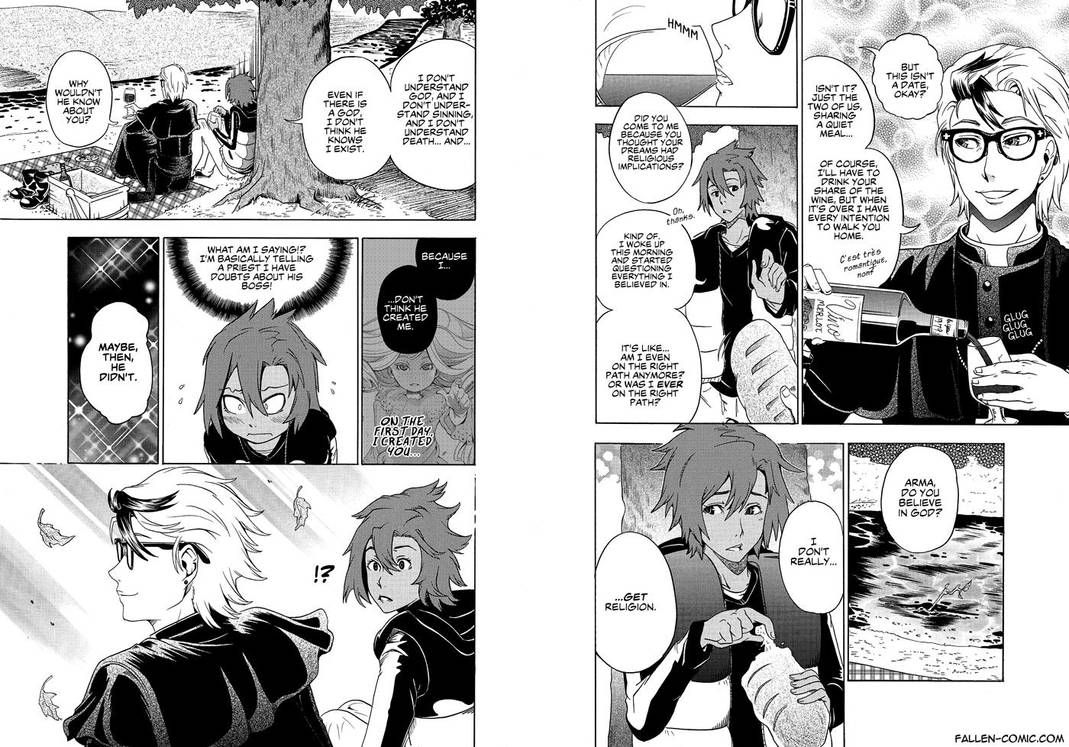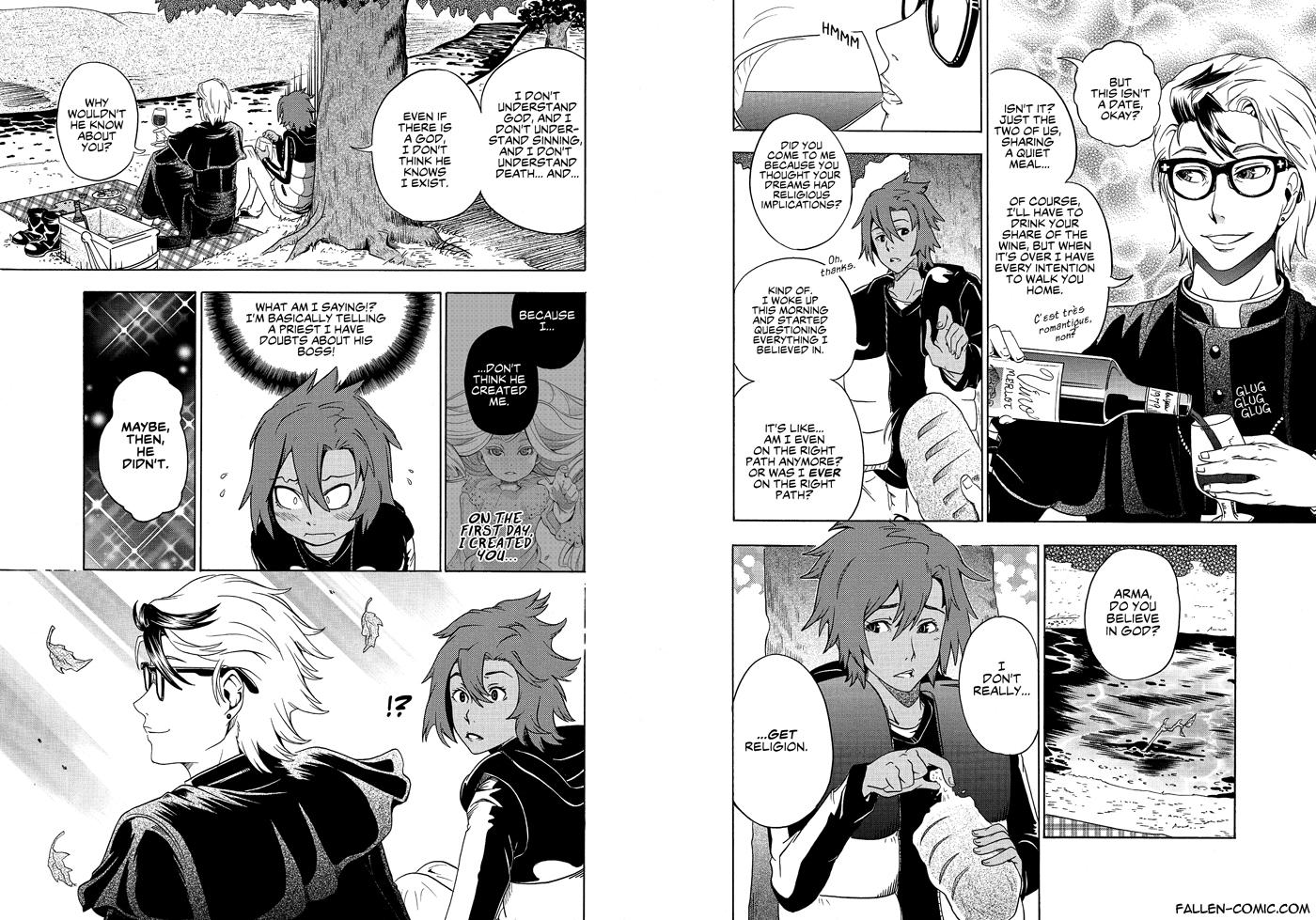 Watch
PREVIOUS PAGE
NEXT PAGE
Sorry for the delay, guys. I've been cranking out pages trying to finish Chapter 13 by the 20th and I got kinda lost on updating everything else. So here's Arma and Sam drinking and discussing whether there's a god or not! Because that's how every first date should go.
Oh, right, it's not a date.

Quick give him the fancy frame it gets your favor up to plus 100!

Reply

I figure it's an important detail Arma's creator God is a girl and not a male. At least as far as this reality's physics is concerned.
Reply

For now, Sam is letting Arma express her feelings without saying one way or another on what he thinks. He never really gives her straightforward advice, but he will have a follow-up on the next page.
Reply

Arma, no! Stranger danger! This is one time when you really should listen to Lamia. This is the point where Sam starts telling you all about the ancient Sith master who had all the answers to your questions...
Reply

At this point I don't know if we can call it "stranger danger", unless in this case we just mean he's a strange guy, haha. But yeah, Lamia is Obi-Wan and she has gotten some bad vibes about this Palpatine in priests clothing. Only the color of Arma's light saber will tell us for sure if she's switched to the dark side...
Reply

Neither Arma nor anyone else knows who Sam really is. He may be pretending to be her friend but his real self is still a stranger to her.

Well, let's just hope in Arma's case that the curtains don't match the... ummmm... uhhhhh.. errrrrr.... Okay, I give up - I don't think there's any metaphor I could use for a lightsaber that doesn't turn into a penis joke.
Reply

Well that's true, yes. But she sees him more and more as a friend/life advisor, with no idea of course that he's the man with the scythe.

lol Didn't they wag their lightsabers from their crotch in Spaceballs?
Reply

Reply

Lol
Arma's expression in the middle of the left page is priceless
Reply
Hey y'all peeps! Did you TWC for VOTE on FaLLEN this wondrous day?
www.topwebcomics.com/vote/1458…
Also... Is there a limit on the sizes of the comments on this here comment section...? e_e Eh, guess I'll find out sooner or later.
Part 3 - Random Encounter
Behind her GM screens Ora rolls a d100 to see what encounter the group shall face,
"so you you are in the forest when you hear loud music and shouting up ahead."
She looks at the others and continues when they just look back, "what do you do?"
Lamia having glanced at her characters stat-card tells Ora, "I steal money from Arma-deuce."
"Wha-, y-you can't do that!" Ora exclaims as Arma glares at Lamia who just shrugs, "sure I can. It says here on the card that my special ability is to steal stuff so."
"But only from NPCs," GM Ora rules while Arma agrees, "yea! Only from... Eh, NPCs?"
"Non-Player Character! Characters that are controlled by the GM! ... The Game Master, me!"
"Ora, I believe you've failed to mention that you also control a character," Neiva comments, pausing her reading of all the cards and trying to figure out the rules.
"No, I play all the enemies and stuff!"
"Oh, please don't fight everyone! Let's just move on," Vesta begs.
"Yeah, good idea Vesta. You press forward towards the noise. You come to a small clearing where you can see several rat looking creatures the size of men. They are very badly playing some primitive instruments and drinking from big barrels of booze. You can hear them scream CHUG! CHUG! CHUG!"
"So these are the evil enemies I've heard so much about!" Arma looks like she's out for blood, "I draw my sword and kill them!"
"W-wait, not all the NPCs are enemies! Maybe you could try to talk to them first?"
Arma looks sorta pissed off having her enemies taken from her, but Maris nods at Ora and goes, "Hail friends! I'm Mariel the elven ranger! Let us pass and I will keep the mighty knight, Armadeus, from killing you all!"
"Wow, that was so cool Maris," Ora beams and continues, "the rat-men abruptly stops playing the music and one of the ugly creatures approaches you and says, he says: hey, hottie, how's it hanging! As he says this another rat-man approaches you, this one much bigger and burlier than all the other and with a tufted tail."
"Hahaha, a tufted tail! Just like voxy-poxy! Maybe I can give him some of my cheese and he'll let us pass?" Wonders the cheese mogul of the game, Mr Grumpy aka Vesta.
The GM continues, "the big rat pushes the smaller rat to the side and pokes you in the chest Maris, eh, I mean Mariel, and he says:
Hey bro! Do you even lift?!
The smaller rat laughs and says:
Hahaha, BRO! That's not a bro, that's a hottie bro!
Whatever! I'm Voxer the Boxer! Boxer bro-xtraordinaire! Challenge me and I'll let you pass if you win!"
Arma not one to let a challenge go immediately responds, "hey, pal! Get your paws of my friend! I'll fight ya!"
The first fight of the game thus begins, and Ora starts laying out the hexagon field upon which she places rat-men figures and the players theirs. The whole group are gathered in a circle around Armadeus and Voxler. Ora explains very very quickly the basic rules, initiative roll, move phase, combat phase and such. Just as the fight is about to start Neiva asks Ora about where the barrels of booze Ora mentioned earlier are, not really paying attention Ora says they are in the back of the field.
Rolling a good roll with the d100 Arma starts of the fight by maneuvering straight up to Voxler, a move both Lamia and Neiva decries as tactically unsound as upon his turn Voxler can attack straight away. As he does and rolls a perfect, under 5 on the d100 and thus hands out the first wound of the game. The fight goes on for a few rounds, Armadeus having a hard time as he cannot use his weapon and the bonus his character gets for using weapons. The Dwarf with a higher base defence would have been a better choice to use in the fight... Mr Grumpy however is busy giving out cheese to the rat-men cheering the fight. Just behind Mr Grumpys turn in the combat phase comes The Thief Lamia, stealing back all the cheese Mr Grumpy just gave away. The Scholar is preoccupied with moving to the back of the hexagon field.
At last finishing the fight with a perfect roll of her own Arma hardly have time to celebrate and gloat before Neiva asks Ora, "if I may inquire once again were the barrels of booze are situated Ora?"
"Yeah, uh, sure you are just next to them..."
"Then I pick up as many as I can carry and abscond."
The others quickly hurrying after Flinders Petrie, The Scholar moonlighting as a moonshine thief, the gang is once again on their way to the first of the Dreadful Towers of Oragon!
Reply

The first battle! Voxler is a worthy opponent for the powerful Armadeus... but the booze is a powerful opponent for Neiva. Resistance is futile!!

I think at some point you will likely hit the size limit for comments, heh. I have only ever hit it once myself, and that was years ago so they may have expanded it since then.
Reply
Arma-deuce without weapon is pretty weak though. All-one knows this, Arma's not trying the thinking even what???

Reply

Maybe she created you... god isn't necessarily a man... Sam plays the role of disinterested priest to make Arma come to her own answers... Arma does not know his ways XD
Reply

Yeah, he's never going to push anything onto Arma as far as religion goes. Just as you said, he listens to her and encourages her to go her own course. She hasn't quite caught on that that's what's going on, but I think deep down it's one reason she likes talking to him.
Reply

What, no religious reassurances, no poorly veiled attempts at conversion? Sam, you fail at Catholicism.
Reply

Yeah, as Arma's said, he's basically the worst salesman for his faith ever.
Reply

Sam! You devious dog you! You're barking up the wrong tree ((she's actually a chick!))
Jokes aside, shits getting all meta in here bout gods, when we all know the one true God *In cultist robes* the great Cthulhu!!
Reply

Since I'm the one who created these characters, and I'm the one who chooses whether they live or die, I am basically the FaLLEN god, so Sam serves me and Arma should bow down and kiss my feet.

I was going to argue that the one true god is the fire from Game of Thrones but I can't remember how to spell his name. R'heller? R'hellor? Raylor? Meh.
Reply

R'hllor, the Lord of Light! [[im not a nerd about GoT i just looked it up because i have time to do so, since im worthless : D ]]
I am behind whole season on that shit man i gotta catch up before the new one.
Reply

lol you're more devoted to my own fandom than I am (
OgawaBurukku
<--- hardcore GoT nerd)
I loved the most recent season (every season is excellent, though) and since the newest book just came out I have been reading the books since I cannot wait for HBO. I'm on book 3, so I still have a ways to go. Really enjoying the books, too. It makes relationships and the history of the fictional world and such a lot clearer than the TV series does.
Reply

Gaddam im special [[with a backwards 'S']]
I very much loved the first 4, but then season five just... left a bad taste in my mouth.
Reply

Oh yeah, for me that was a weaker season when it came to King's Landing. I kind of hate all things religious fanatics so when that story arc popped up I was kind of unhappy, but I feel like Season 6 makes up for it with the way they handle the end of that arc. No spoilers, but I applauded a character I never thought I would root for ever. It's not a perfect season but I really enjoyed 6.
Reply

Season 5 made me miss Joffrey... Thats not a thing that should happen! [[His lil brother is a lil bitch im sorry i have to say it]]
Reply

Tommen is a lil bitch, yeah. A problem with the TV series is that all the actors are much older than their characters (Rickon was like 4 when we left off in Season/Book 1, but in Season 6 he is played by a teenager... I laughed way harder than I should have). Tommen is only like 8 I think they say in Book 3, and Margery is like 16. So keeping that in mind kind of helps. I have no idea if their relationship is in the books but I think I'm about to get to Joffrey's wedding, and we know how that ends up...

Dany is only 12 or 13 in the first book! I don't think they mention that in the HBO version, haha.
Reply
(1 Reply)
Reply

What is this, this is brilliant XD And he looks like Benedict Cumberbatch.
Reply
That's... Grant Morrison's run of Animal Man. He's insane. It's insane. One of my favorite chapters from it is called "The Coyote Gospel" where a Wile E. Coyote stand in is plucked from "cartoon world" to "comic world" by god/writer and well... I dunno it's sorta hard to explain. -_-'
I was gonna use a page from that chapter originally but couldn't find it because I couldn't remember what a coyote was called...
s3.amazonaws.com/fanlit/images…
Actually, you can pirate(?) read the whole chapter here if ya wanna:
marswillsendnomore.wordpress.c…
Reply

I am definitely reading this later. I flipped through it a little and it looked pretty out there, in a good way.
Reply
Reply