~"I desire to be the most flexible being in the world."~
It almost felt like a dream to Donni, but this may be real, even for a moment. A mysteriously alluring woman named Elise, adorned with jewelry that only covers her most intimate parts, approached the carefree yogini. Elise knows about Donni through her own powers of magic; knowing about her past of how yoga and flexibility "saved her from a broken heart". The omnipotent genie even felt the great strides and progress Donni has made. She sees a lot of potential for Donni to go far beyond anyone's flexibility in due time, so she grants her wish to become even more flexible than ever.
Donni was already in a cobra pose as she makes her wish. Elise went into downward dog before lifting her leg from behind, easily bending her spine, easily opening her hips to a backbend split. Donni's eyes glow as while letting out a gasp and moan. Elise's perfectly round, soft breasts came in direct contact against Donni's bosom. In an instant, Donni felt her spine bend further back to a complete fold. Her head fell to between her knees, and her legs bend forward, landing her feet to hip level. She felt her body fold easily like paper; and her belly felt more hollow with every breath. The position was held for nearly a minute, but it felt like an eternity to Donni. "I've never held a pose like this for so many breaths", she thought.
Donni went out of her trance, but was still in this pose for a few more seconds before slowly resuming to a more relaxing. She gazed at the nearly-nude genie as the genie winked at her before walking a way. It felt like a surreal dream, but she has the potential of becoming the most flexible human being...or at least a flexible genie in the future.

This is a gift for
Sensuax
featuring her sensational original character, Elise Hedone: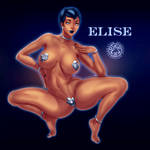 Roe did an awesome job combining both their poses in this piece. I, somehow pictured Elise putting Donni under the spell in that fashion. I love Elise's curves in his top-tier coloring and shading, implemented with her pose
Artwork ©

Donni belongs to me ---->

Elise Hedone is the creative work of
Sensuax
---->

Image details
Image size
6571x4583px 10.02 MB