Welcome back to Space Engineers! Sorry for the long delay between chapters, but life can be a great big grizzly bear. You almost never win when wrestling a grizzly bear. So how about we learn to shoot it in the face instead?!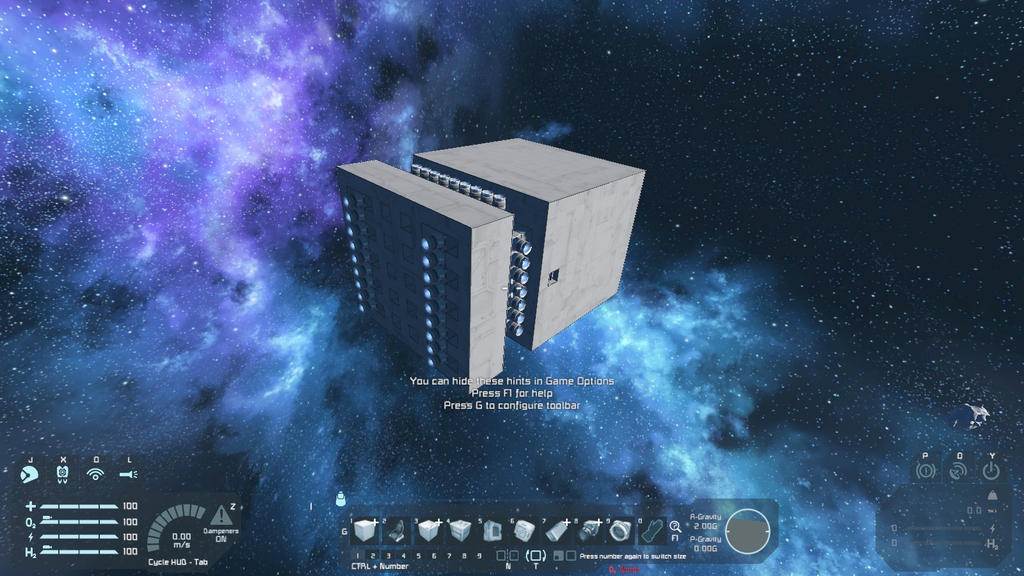 FIGURE 1
Let's pull out the armored survival ship we built last time and turn it into something with a bit more bite. Starting with the easy and obvious, we have the front grill. As you know from the footnote comment I made on the last journal – I'll wait for you to reread it – that grill doesn't work for mining as-is. Putting a drill on every other block just doesn't give enough coverage. That being said, it's absolutely fine to plug it full of rocket launchers, since those do have splash damage.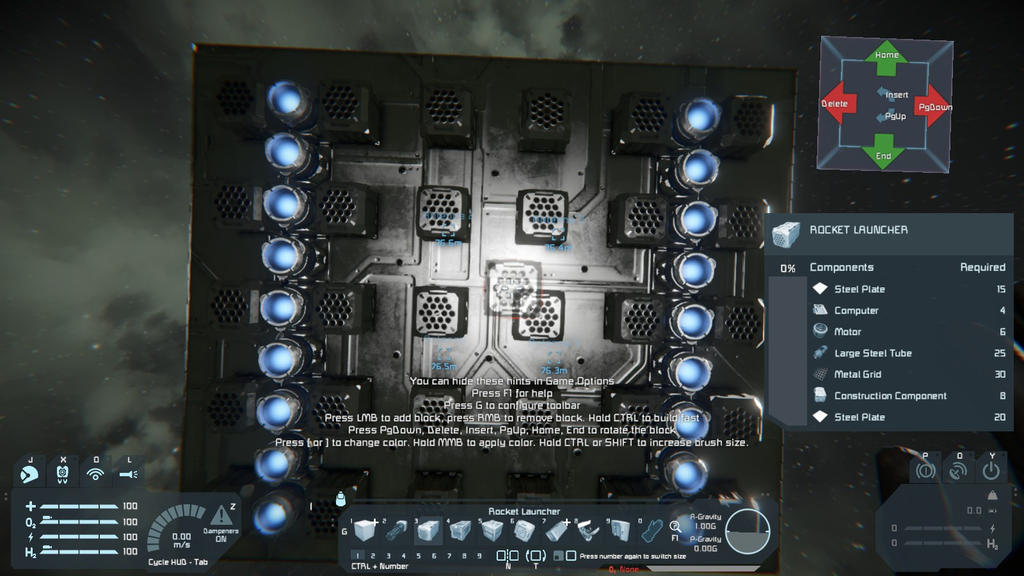 FIGURE 2
Now, that is one nice set of teeth our bear-eater has. It's almost enough to make you want to fire off some celebratory shots, huh? Well, not quite so fast. There's a little bit of maintenance work to do before we go playing with our shiny new toys.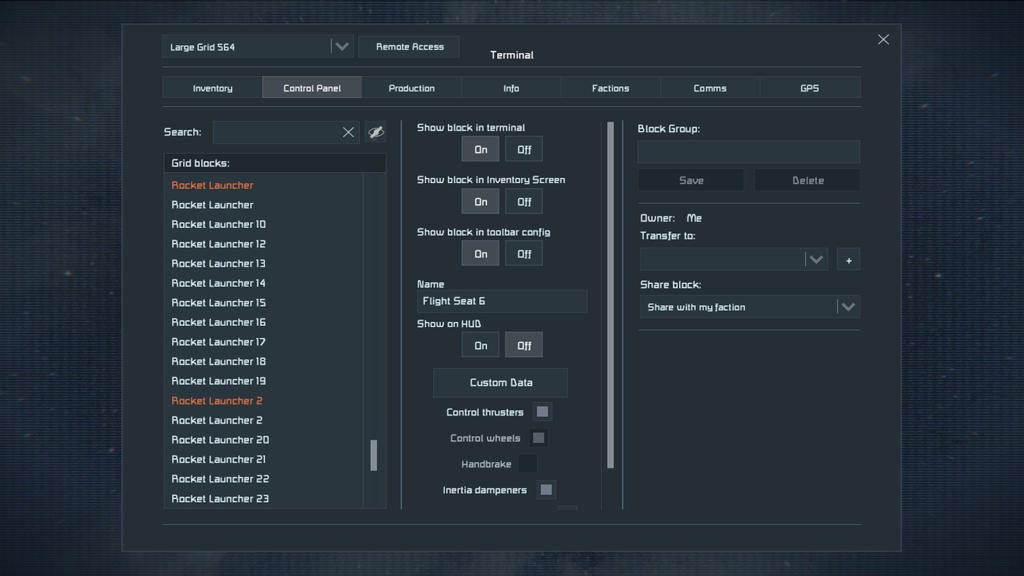 FIGURE 3
So the first thing you have to do is run inside and use "e" hop into one of the control chairs on the bridge. From there you bring up the control panel with "k." Now you'll see a screen like figure three. The orange bits probably won't be there, since orange indicates that those are pieces of a fighter craft docked to this one. We'll get into those later in this journal. Scroll down until you're looking at the rocket launcher listing. Click on the first one, scroll to the last one, and hold down shift while clicking on the last. It should highlight all of them. Once you've done that go over to the group section of the screen and save those as a group. I'd name it "Rocket Launchers," personally, but if you want to name it "Facepunch" that'll have a nice ring to it too.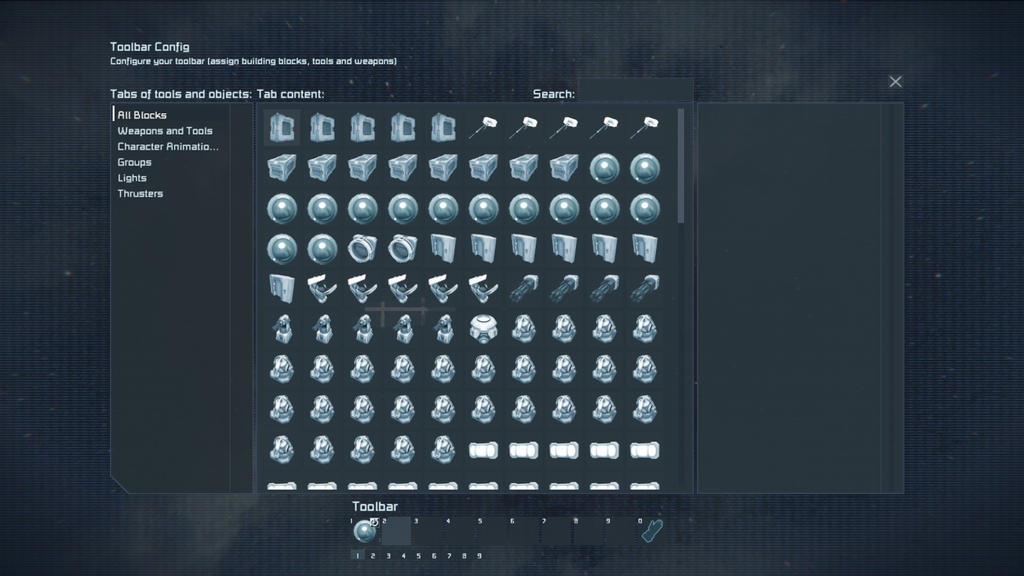 FIGURE 4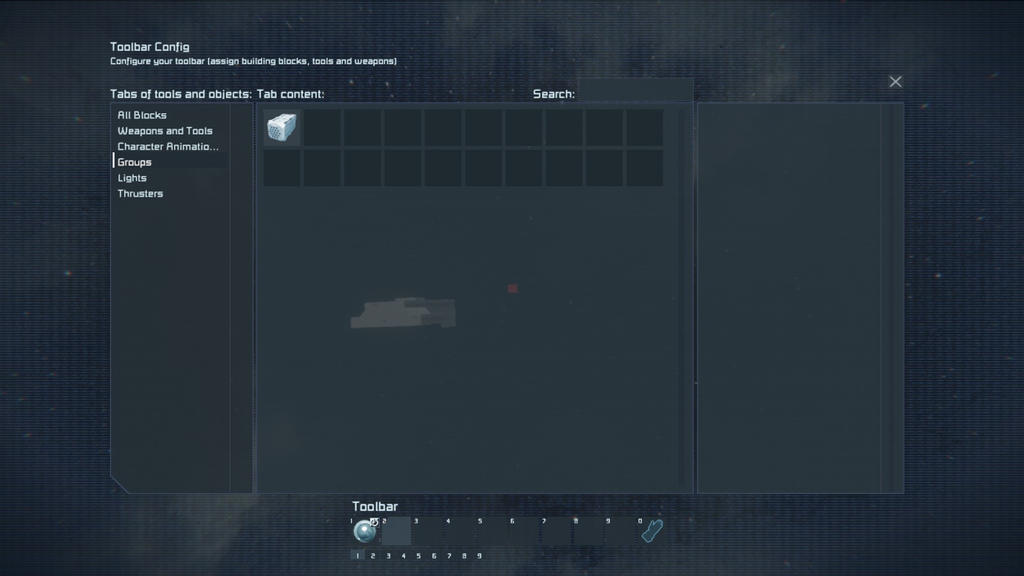 FIGURE 5
Now that you've done that, back out of the menu so you're sitting in the control chair again. Now hit "g" and you'll see Figure 4, the toolbar screen. From there click on the groups section and you'll see Figure 5. Just drag that rocket launcher group down to one of the empty spaces on your toolbar.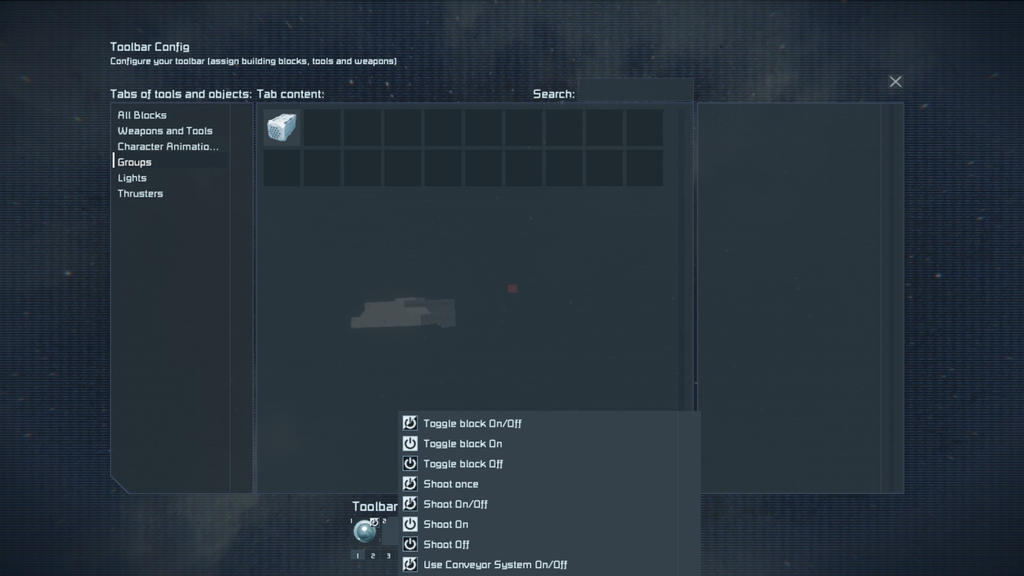 FIGURE 6
When you drag the rocket group into your toolbar, you'll get this menu. I'd choose "Shoot Once" just so I have control over how many rockets I expend, but if you want to set it to "Shoot On/Off" and watch the worlds in front of you burn, you go ahead and do that. I won't judge you. Once you've done this, you're almost good to go. You'll notice in my screen that there's a little soap bubble with a ring around it on the first toolbar slot. That's a camera. This ship has cameras all over the front. Cycle through them until you find the one you want, and set it to your toolbar. Use the "View" option so you can see out of it and use it as a gun sight. And yes, while looking for a good camera view, feel free to press the rocket button as much as you want/need to. That's what it's there for, and it will help you find a good, centered viewing angle.
Now that we've got a working weapon, let's learn the partciulars. spaceengineerswiki.com/Weapons The charts on this page are very informative for this stuff. They walk you through how damage works, and tell you most of the stuff you need to know about your weapons. In particular, two facts stand out. 1. Doing the math tells us it will take five rounds to completely destroy a light armor block. Now, our weapons have splash damage, but that site doesn't tell us how much damage or how far it goes. We can certainly count on it taking five rounds to take out what we're directly aiming at. At least two, probably way more, to take out the intervening blocks with the splash damage from four rockets at once.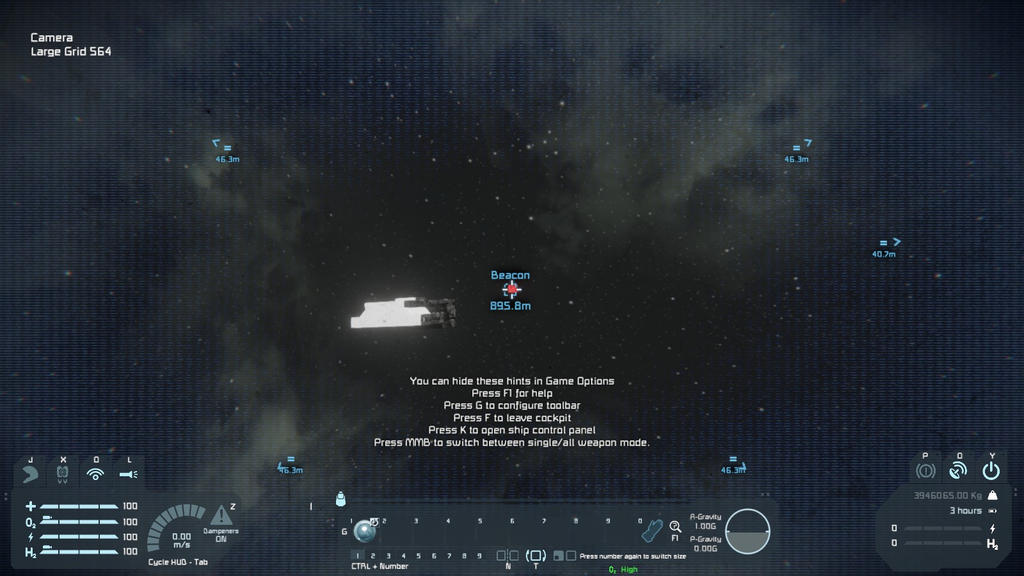 FIGURE 7
The second fact is that our weapons only have a max reach of 800 meters. Figure 7's handy red target ship will demonstrate this perfectly.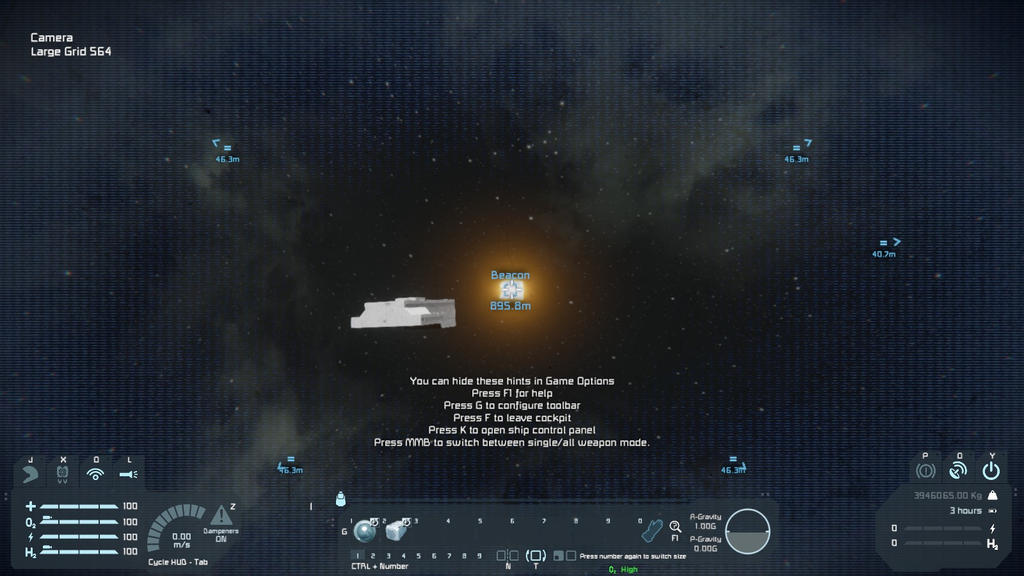 FIGURE 8
Let's see what ten rounds of burning metal and shrapnel does at this range, darn red bear!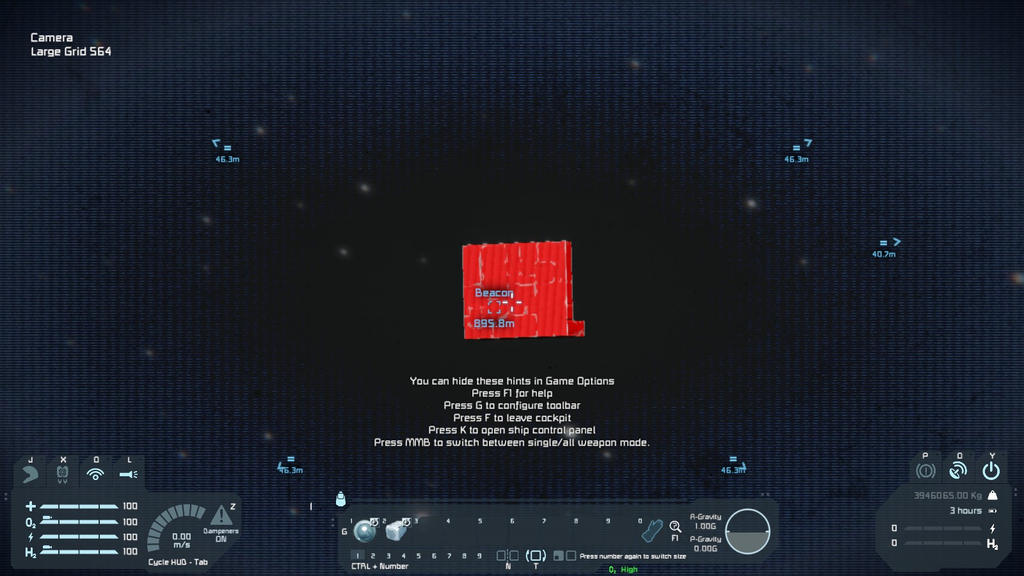 FIGURE 9
As you can see, it is perfectly untouched. It will appear to onlookers as if the rockets kept going and going, but the game has a cutoff for damage of 800 meters. It is possible there are mods to fix this. If you're using one, enjoy the challenge of actually hitting your targets from long range. Especially moving ones.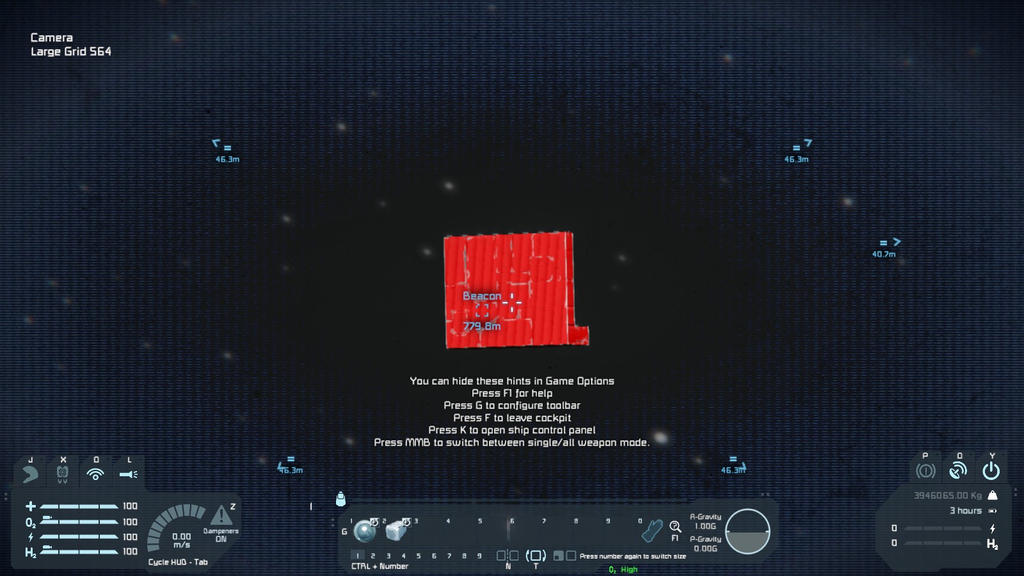 FIGURE 10
Now let's get closer. No need to get much closer. The game calculates the distance to target from your personal position, not the ship's. So your launchers are easily within reach from where we're sitting now. One round should do. This target is a ship, and it doesn't have thrusters. I should have made it a station so it couldn't budge, but hindsight is like "I told you so." It doesn't solve the past. (Of course, just adding thrusters and a few gyroscopes would have done the job too.)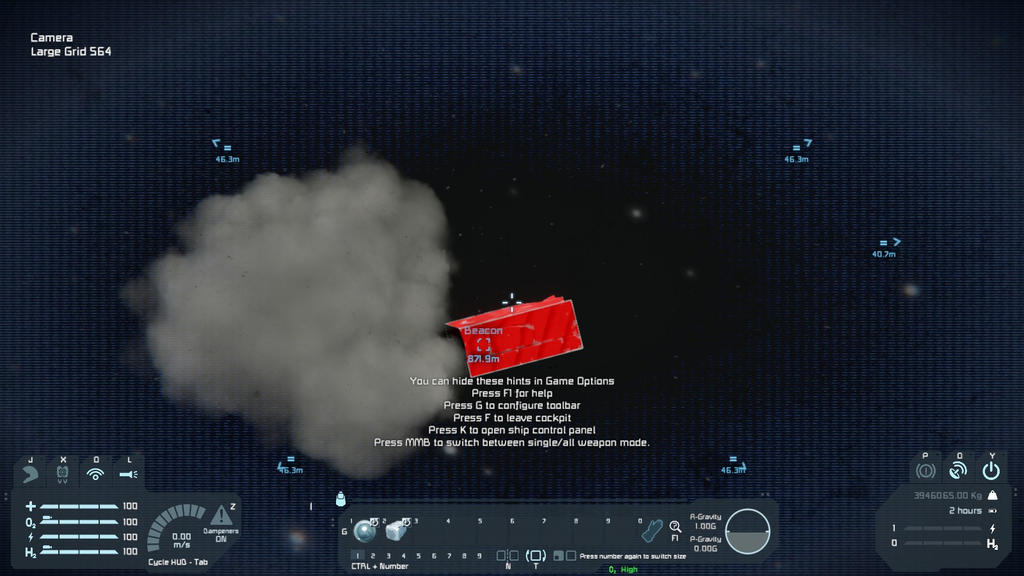 FIGURE 11
As you can see, it's floating away and there's warping that clearly indicates it's taken damage. Getting within 800 meters is an absolute must if you're using the base game's weaponry. There's other methods we can use, but that's more complicated than we're getting into this time.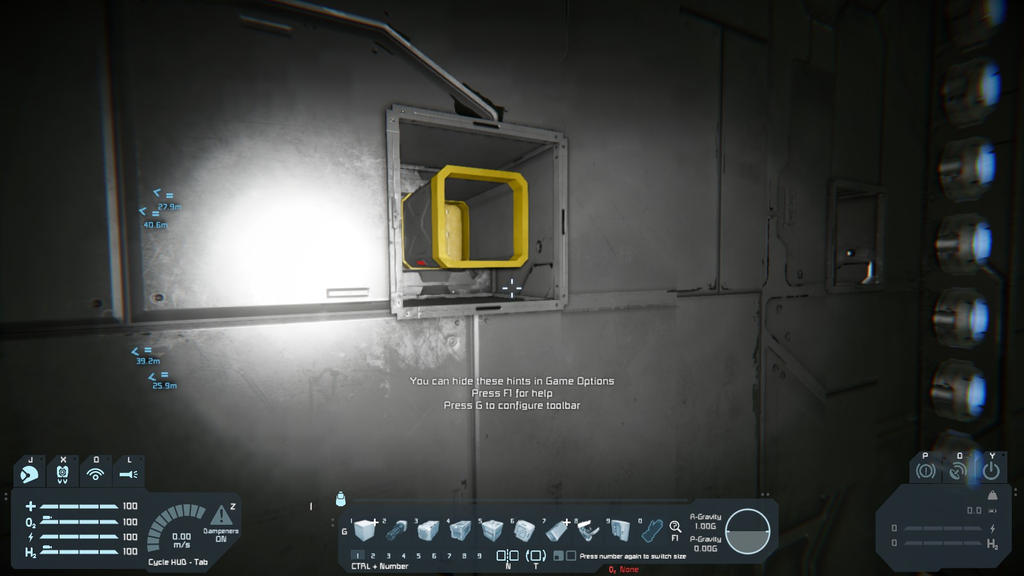 FIGURE 12
Rocket Launchers are all well and good for attacking things, but if you're in PVP you probably won't be the only one doing attack runs. You're going to need some defense as well. Luckily, as you'll recall, we installed connector grids under the skin of every side of our survival ship. All we need to do is uncover some of those connectors and put an extra conveyor tube down to connect the conveyor network to any surface weapons we add.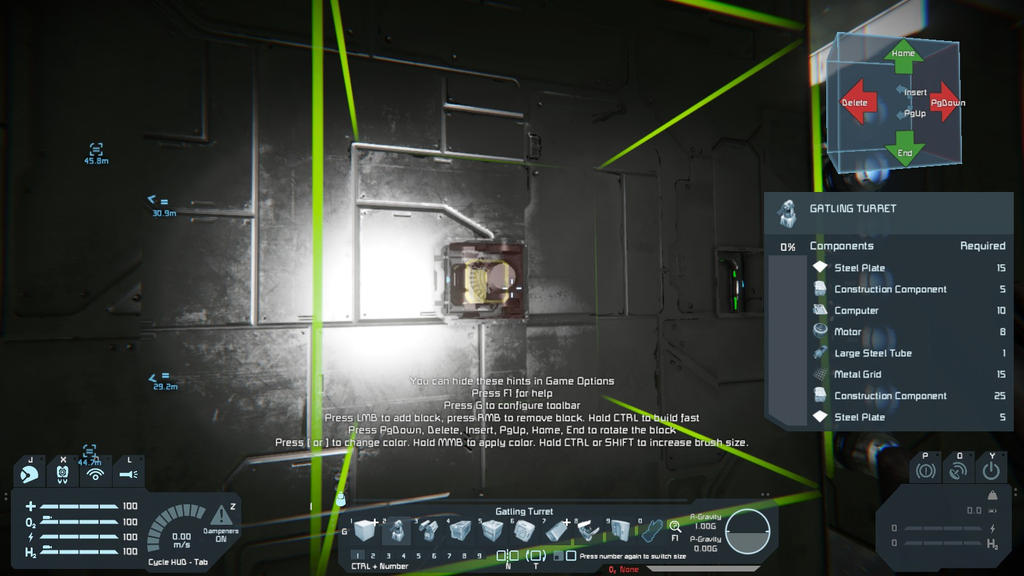 FIGURE 13
For our purposes, the humble gatling turret will be perfect. Sadly, we can't just uncover every connector in our grid and slap a turret on each one. While the turrets themselves fit snugly on a single conveyor tube, their building outline requires a three by three block of space. Each turret swallows up the space between connectors.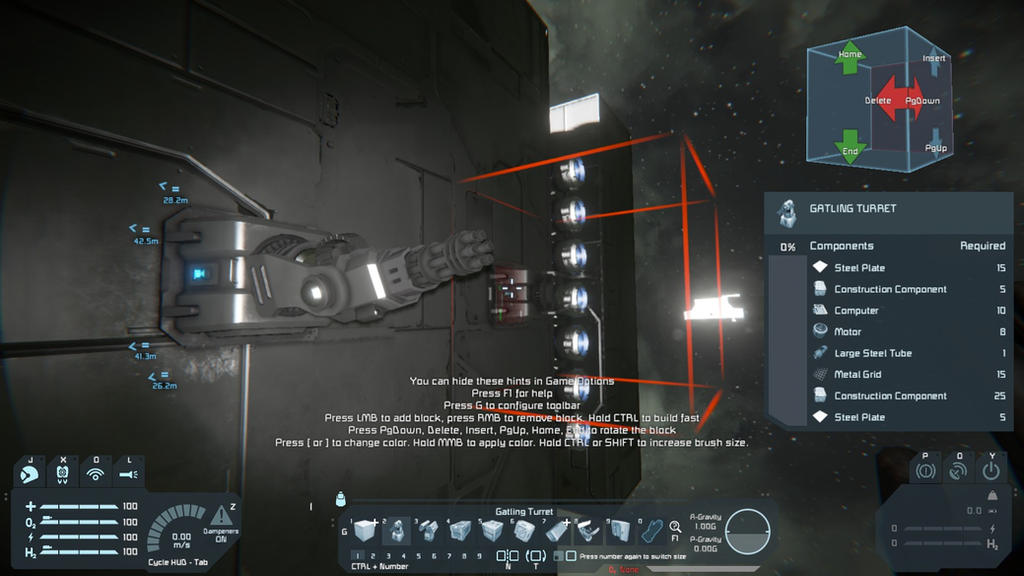 FIGURE 14
Here I've installed a single turret toward the center of the wall. Personally I'd throw down a network of five turrets on each side. One on each corner and one toward the center. Enemies coming straight on will face at least five guns at a time. And the closer they get the more likely the corner guns on adjacent sides will throw their fire into the mix. That'd be nine guns. It takes roughly 42 rounds to destroy a single light armor block. With nine guns firing, that's five rounds from each. Even with five guns firing, that's only eight/nine rounds from each. These things fire 700 rounds a minute. 5-9 guns is plenty to rake an enemy fighter craft as it comes in. They can even be set from the control panel to fire on incoming rockets.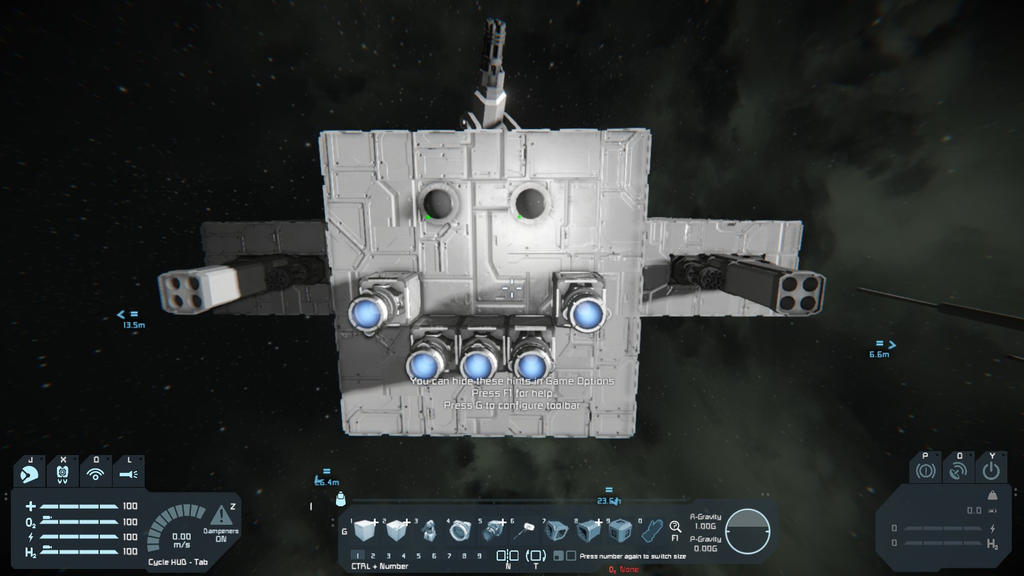 FIGURE 15
Now, the mention of fighter craft brings up a question from my friend smiley here. "Should I have fighters for defense?" They have their pros and cons. As I mentioned, a mere 9 gatling turrets can do a good bit of damage if they get enough shots against light armor. (Heavy armor is a concern, but it slows ships down. Fighters aren't likely to use much of it outside of a skeletal frame.) There's a high chance they will. The game has a hard coded speed limit of 104 m./s. Doing the math, it'll take 8 seconds, minimum, to reach an enemy from maximum firing range. And I can guarantee, you aren't going to want to fight from max range. Moving targets make things more difficult, and turrets of all stripes can be used against missiles. Of course you can dilute the enemy fire by launching a wave of fighters all in the same direction, but that can get expensive if your enemy has support. Of course, the fighters can be decoys while your main ship fires off a 21 rocket salute that swallows up the turrets. It just depends on how you want to use them.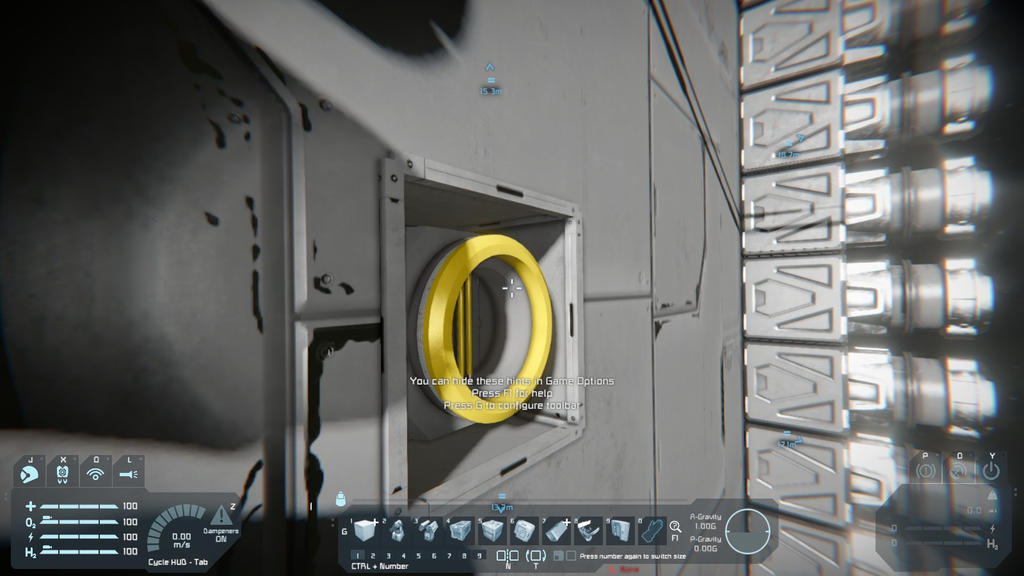 FIGURE 16
This is a specialized connector that allows you to hook two craft together without them counting as the same ship. You could just build a big enclosed deck and place landing pads on your fighter craft, but using these connectors instead allows you to directly transfer supplies from your main ship to your small ones. This can be a godsend in the middle of battle, should it rage long enough for your fighter craft to expend their entire ammunition supplies. These connectors can also hold your fighter craft hard in place, so there's less problem sticking them on the outside of your ship. Landing pads get a little wonky and are more likely to let go at high speeds. Also remember that the space around your connector determines the layout of your fighter craft. You might be able to build bigger than the space, if you arrange things right, but it's probably easier to just build your fighter to fit within the area around its docking connector. Helpful hint: A large block is three meters to a side, a small one is only one meter.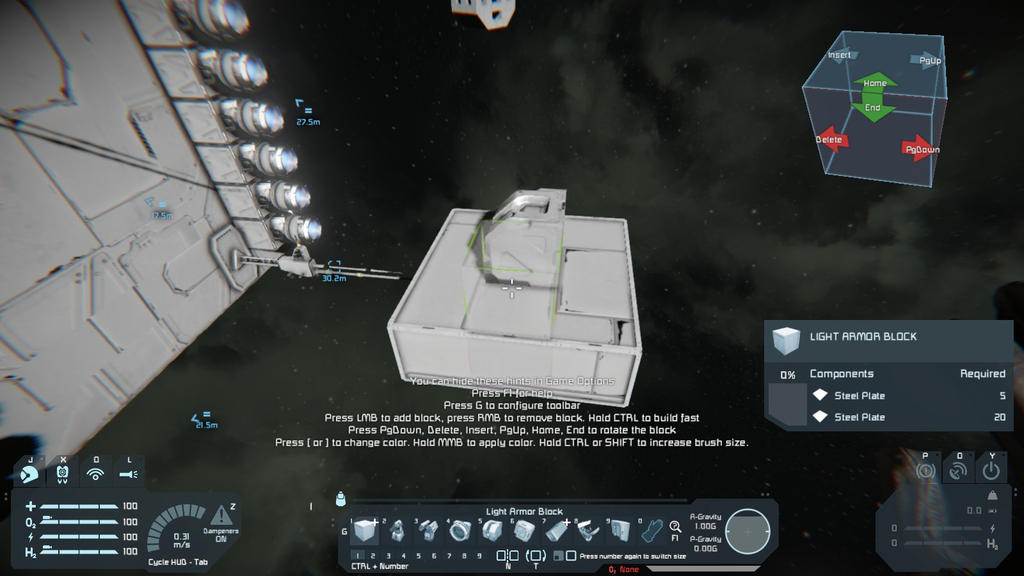 FIGURE 17
One of the biggest matters to consider with fighters is control. The obvious choice is to throw a cockpit in there and have a player inside it. That can be a good fit for some circumstances, but it means putting your team into harm's way with a small craft. You could use heavy armor on the cockpit and enclose it, but if you're going to do something like that, there's a better answer than an in-person pilot: drones. Figure 17 shows a remote control block waiting to be encased in armor. (This is smiley's brain, actually.) There's several options when building drones. If you're a good programmer, you can use a programmable block and build codes for different tasks. For the rest of us, you can use a remote control block and antenna relays to manually control the drone itself. If you can program, do it. Manual control is fun, but it has a limited range of 200 meters from the closest allied antenna. Unless you have the resources to string a daisy chain of antenna ships between you and the target, you're better off using manual control mainly for screening your approach to the enemy. If you're good at spacial reasoning and math, there is a third option. There's an autopilot system within the remote block. If you can figure out the proper coordinates to get the drone to go where you want it to, it can be sent on combat missions. It won't fly fancy, but it can be sent on patrols and the guns will auto target whatever they're told to.
All in all, if you can find a way for it to fit your purpose, a drone is safer than piloting. You won't lose any teammates if a drone goes down, just the minerals it took to build it. Of course, there's many players who swear off carriers and fighters, and just bring large warships to the fight. It completely depends on your style. Just know your enemy, and know your own skill. You'll be able to figure out the best strategy for yourself. Thank you for your time and your patience. Hopefully you enjoyed this little discussion of defense and bear biting in Space Engineers.