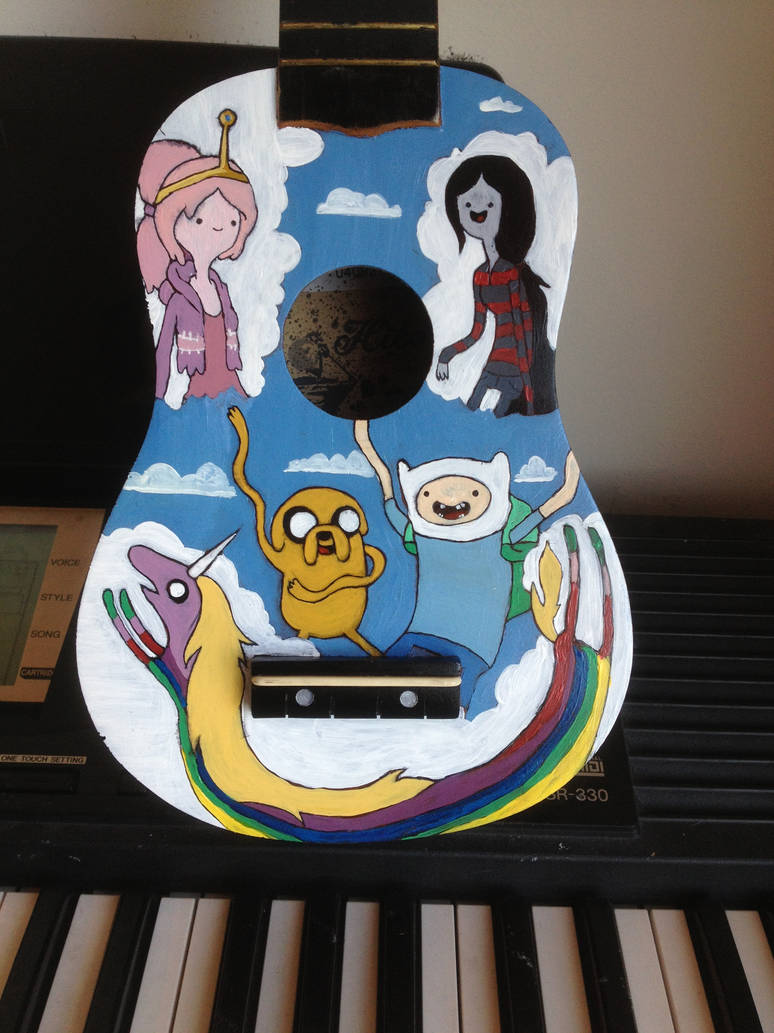 It's ukulele time, of course.
So, I decided I needed a ukulele the other day. I went to Craig's List to find whoever happened to be selling one, and I found a guy who only wanted thirty bucks, so I went over & purchased it from him. The strings didn't hold tune worth a darn, so I had to go out and immediately buy a new set. I figured while I had them off, I'd just go ahead and paint the front of the uke, because hey, why not!?
It only took me about five minutes to decide that it pretty much couldn't be anything other than Adventure Time themed. I literally stayed up all night painting it, because I can't stand to go to bed before I've finished a project, no matter how tired I am. @_@
Everything was perfect until I sprayed it down with gloss, and well... You can see what happened there. Poor PB and Jake's arm!!
;_; It's a tragedy! (Also, I didn't quite get some of the faces right, as Finn appears to have recently had a lobotomy and Marceline quite obviously herped a bowl of derps for breakfast.)
IT NEEDS WORK!
But I'm not gonna worry too much about that until I need to replace the strings again because for now, I just want to get the strings on there and play this bad boy!!

WOW! My sister plays the ukulele and loves Adventure Time! This is awesome!
Reply

Wow! This is amazing, great talent, great show! Keep up the good work!
Reply

Nice

Reply

THIS. IS. FREAKIN. BEAUTIFUL.
Reply

Reply

Reply

Reply