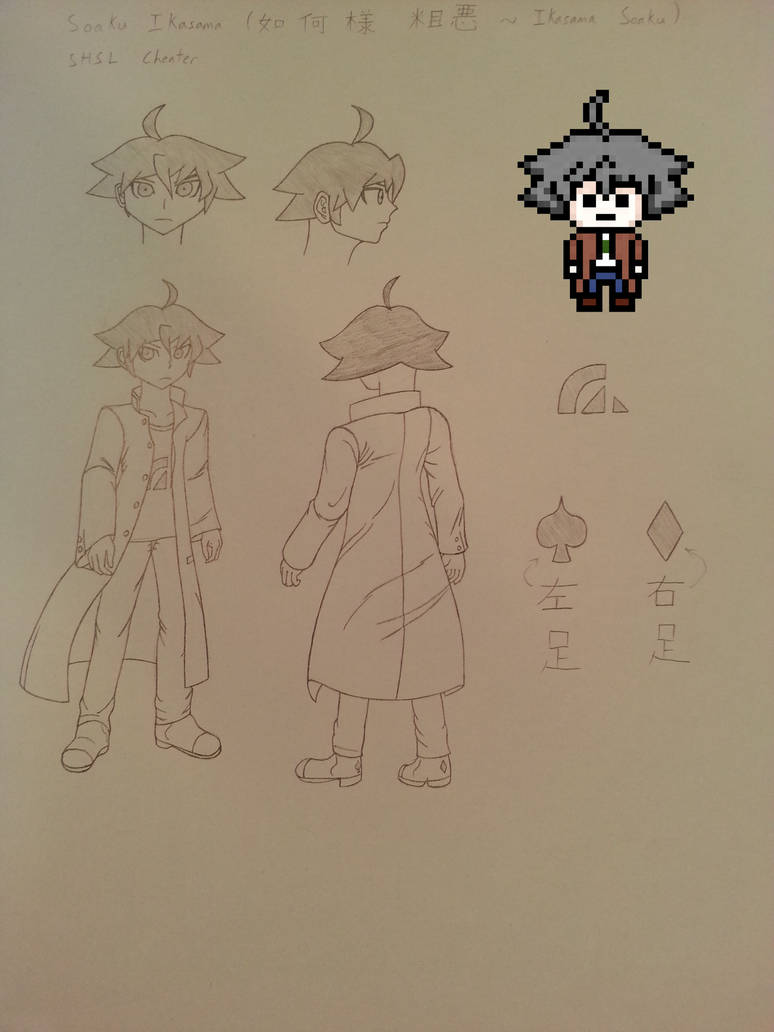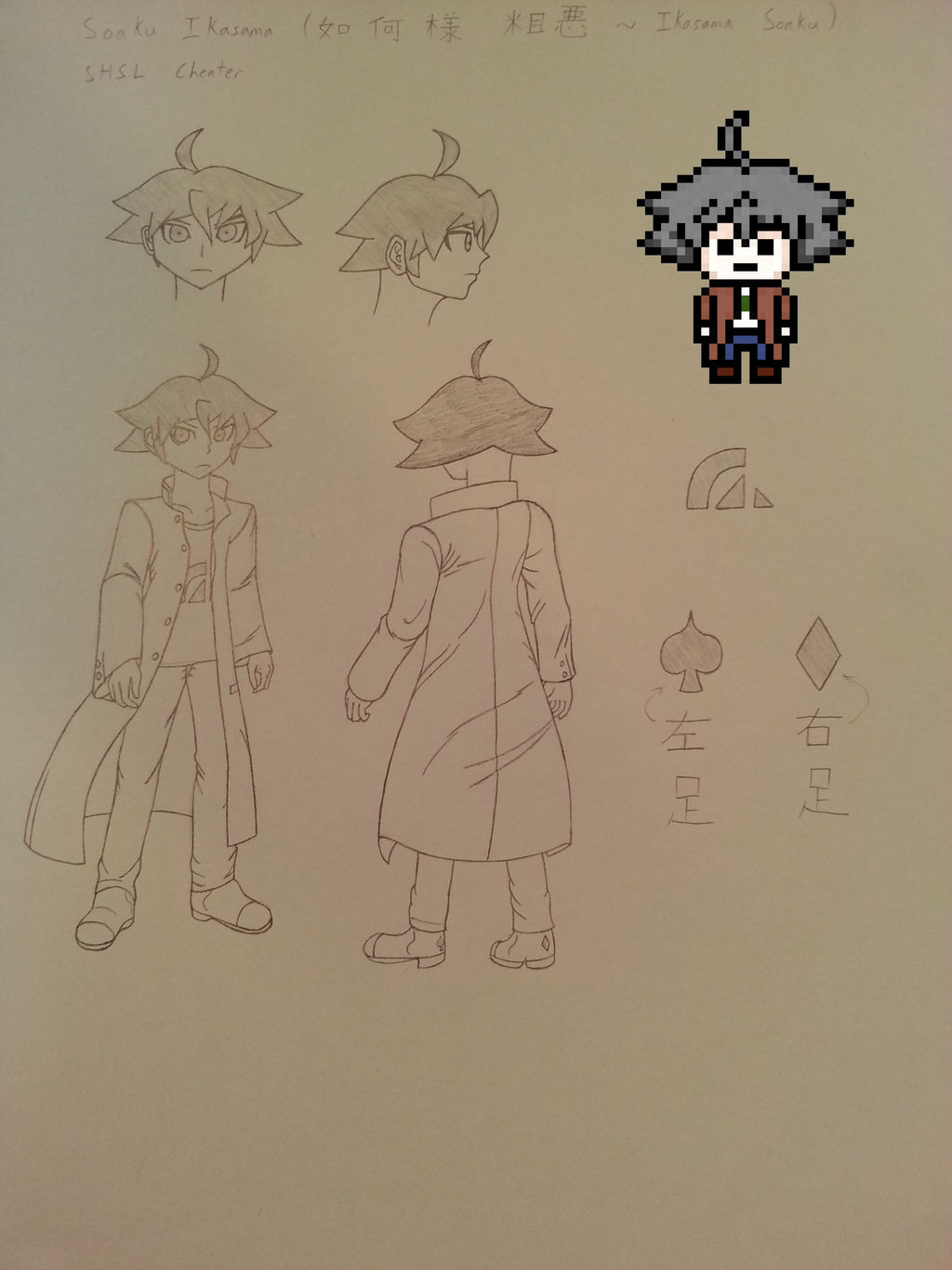 Watch
Merry Christmas and Happy Holidays, everyone! I finished this off as quickly as I could, and my scanner is faulty right now so please settle for phone cam

This is the second Dangan Ronpa OC I thought of, and coincidentally the second to be drawn properly. Me and my girlfriend kinda have conflicting ideas about his design, but I prefer this design anyway =7=
Also, please disregard the old design, it sucks.
~~~~~~~~~~~~~~~~~~~~~~~~~~~~~~~~~~~
Name: Soaku Ikasama (如何様 粗悪 / イカサマ ソアク - Ikasama Soaku)
Gender: Male
SHSL: Cheater (超高校級の 「詐欺師」 - Chō-kōkō-kyū no "Sagi-shi")
Height: 177 cm
Weight: 68 kg
Birth date: February 28
Likes: Flirting, ice-cream, fireworks
Dislikes: Cheese, cameras, short sleeves
Personality: A cheeky guy who loves to exploit anything and everything to his advantage, just to make his life easier. He is a master at cheating in exams, games, relationships, almost anything that can be cheated. He takes no shame in doing so, and only claims that it is "a handy survival trait". However, by his own code, he claims that he would never actively steal anything. Despite being quite arrogant, he secretly wishes he could be a better person and leave a good impact on the world.
Bio: Before obtaining his SHSL talent, he went through great efforts to cheat off others in order to gain a talent of his own. In time, his talent soon became known to be 'cheating'.
Physical description: A medium height guy. Not particularly muscley. Grey hair with ahoge, and large bang down the middle of his face. Wears a long sleeve coat with jeans.
Execution: "Ikasama Death Game" - 「イカサマデスゲイム」
Execution Description: Ikasama is up against a wide wall, and Monobear is standing beside a large pile of bombs. Ikasama's face shows clear signs of anxiety and nervousness, and Monobear laughs. The title of the execution is chalked into the wall: 「イカサマデスゲイム」"Ikasama Death Game"
Monobear holds up one of the bombs, prepares to throw it, and Ikasama shows a sly smile. The bomb is thrown and Ikasama dashes off to the side at a blinding pace. Monobear throws a barrage of bombs towards Ikasama, but he avoids them all by rolling, jumping and especially hiding behind large objects such as trees and cars. The objects that are thrown turn from simply bombs to an array of other explosives, such as grenades, missiles, TNT boxes, dynamite sticks, and out of nowhere, a kitchen sink. Eventually he runs out to an area and realises the throwing has stopped, because Monobear has run out of things to throw, to his dismay. Ikasama laughs at his apparent victory, but the camera zooms out to show he's standing on a road. A bus horn is heard, Ikasama stops smiling, looks to his left confused and is immediately run into by the bus.
Hopefully I don't sound rude in any criticism I give, because I really like this design and personality, even if I'm not really sure where this OC is from.

I haven't heard of Dangan Ronpa.
Anyway, design and concept.

Vision: I thought was very good, though if he seems to a bit sly, give him that expression, even if he wouldn't show it otherwise. It gives a nice view into the personality, and people can get a feel for his personality before explaining it.
Originality: I love it! I enjoy the personality, the design, and his facial features. He doesn't seem like every other OC, the same thing over and over again, just in different fandoms.
Technique: Your lines are clean and crisp, something I envy. I have a very sketchy style, meaning getting straight, crisp lines takes hours and hours, and lots of frustration. However, I am going to point out that the back and side views should include hair going down the neck. For example, when a girl pulls her hair up in a ponytail, there is still hair attached to the base of the skull and little wisps running down the neck. If you need references, google images has a few, depending on the look you need.
Impact: This was to show his design from all angles and to explain his backstory and such, and that is what it accomplished.
I hope you don't mind the length of this, hopefully it does not annoy you.

Overall I'd give it four stars. You are getting a watch from me.

Thanks for your time!
The Artist thought this was FAIR
3 out of 3 deviants thought this was fair.