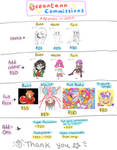 Commission me here
!!!!!!!! Guys!!!! I've been meaning to open commissions the whole year and I've finally found a chance to. I'm actually really excited! I need a break from original work sometimes.
I've raised my prices from last year because 1. the quality of my work has gone up and 2. with the job offers I've gotten over the past year it just calls for it.
Thanks for everyone's interest!
How To:
1. Fill out the form: docs.google.com/forms/d/1MVoMu…
2. You will receive an e-mail from me within 24 hours confirming your commission.
3. If you choose 'ready to pay' and invoice will be sent to you within 24 hours. If you choose not ready, you will be waitlisted.

4. If you're waitlisted you will be contacted after I'm done all my current work to see if you're ready to pay.
Notes:
-Serious buyers please
-All prices in USD
-PayPal only
-I prefer to draw girls
-No R-rated requests please
-All full piece commissions will be shown to the commissioner before moving onto colour. All sketch commissions are done in one sitting.
-These are commissions for personal purposes. Not meant for distribution or marketing. If you would like to propose a project to me, please e-mail me at oshaikeuchi@gmail.com
-I don't know when commissions will be closing. Maybe next week, maybe next month-- it'll depend on how many I receive. I don't know if/when I will be re-opening them after they close. Sorry for the inconvenience.
Thank you!!


Waitlist:

1. Natalie S - invoice paid
2. Gloria F - invoice paid
3. Chu Z - invoice sent
4. Samantha N - invoice paid
5. Chelsea S - invoice sent
6. Carla R - invoice paid
7. Faith - negotiation
8.
Jacquelyn Chu - negotiation

9. Mia M - invoice paid
10. Jeff F. - invoice paid
11. Maddie D - Negotiation
12. OPEN
13. OPEN
14. OPEN
15. OPEN
16. OPEN
17. OPEN
18. OPEN
19. OPEN
20. OPEN