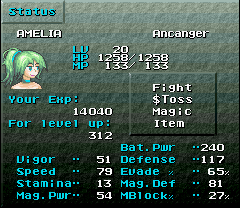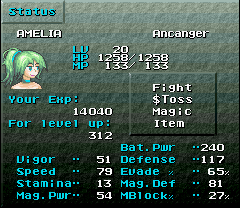 Watch
Now an FF6 style ID. I took the menu shot from my playthrough of FF6, with Amelia in it.

Maybe later I'll upgrade to FF8 style ID.

amelia?? wait is that ff6? so it mean it's terra
Reply

It is the FF6 menu, I just sprited my own character (who is also green haired) and put her as the faceset and changed some things just for the fun of it. So I could use it as an ID.
Reply

Something tells me the face graphic is a little far over, but it looks nice.
Reply

Her ponytail goes into the far left side of the screen, whereas the original FF6 character wasn't like that. But it's still in the same general area, Amelia just has too much hair.
Reply

13 Stamina? She get tired easly.
Reply