...as an illustrator! People officially pay me for art and it is glorious.

It's all marketing stuff, but still - I am full-time paid, with benefits, to sit at a desk and draw all day.

I even have my name on the door!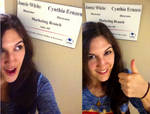 So, that's mostly why I've been gone. I've been too busy to work on personal art, and then I felt ashamed for disappearing again so I thought I'd hide until I had something to show for myself...but that isn't working out, so here I am.

I DID, in fact, continue drawing OC Pageant rounds for Rai just for the heck of it, as I said I would!
I just haven't had time to finish any of them. OTL I'm actually proud of a few of them and I can't wait to finish and show them to people, plus all the interactive doodles...but alas. Who knows when that will be.
Anyway! This new job is super time consuming so far, so I don't know how active I'm gonna be until I get used to the rhythm of things. This also means, so my great despair, that I will probably not be able to do
this year's OC Pageant.

If my workload lessens before February, we'll see, but I don't think it's gonna happen.

And if you don't know what

is, you should go check it out and enter! It's SUPER FUN and they are OPEN for new contestants right now!
That said, I WILL be finding time to slowly look through the submissions that I missed and comment on things and
tryyyyyy
to actually connect with people here again. OTL I just can't promise anything submission-wise until my job gets less busy.
Putting a vague To-Do list here (though I won't get to work on any of these until my
paid
workload slows down):

-- belated Christmas card for
Ace-Zaslavsky
(-CRIES- I'M SO SORRY.

I started it on time and then got hired like right before Christmas and everything fell apaaaaaaart.

I GOT YOURS THOUGH AND IT WAS BEAUTIUFL

)

-- last year's OC Pageant art

-- belated kiriban prize for
LadyLoriel

-- This year's OC Pageant stuff? Maybe? ""orz