1. How long have you been on DeviantArt?
Slightly over 9 and a half years now. Wow.

2. What does your username mean?
3. Describe yourself in three words.
Introverted, moralistic, anachronistic.
4. Are you left or right handed?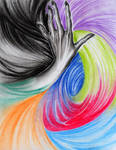 5. What was your first deviation?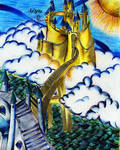 6. What is your favourite type of art to create?

Experimental would probably be the best word to use...

7. If you could instantly master a different art style, what would it be?

Sculpting.

8. What was your first favourite?

Piece of art? Van Gogh's Starry, Starry Night. On DA? O.o... uh... I believe it was this one:


9. What type of art do you tend to favourite the most?

That is a tough one...

I suppose art that makes me smile or intrigues me. Therefore, it really varies.

10. Who is your all-time favourite deviant artist?

There are far too many different styles and techniques, each with their own kind of beauty that choosing is rather impossible for me.

11. If you could meet anyone on DeviantArt in person, who would it be?

I am a hermit. Unless there is a remarkable cat on here with art skills, I likely wouldn't be up to meeting anyone.

12. How has a fellow deviant impacted your life?

I haven't gotten to know anyone via DA on such a level yet.

13. What are your preferred tools to create art?

Pencil, paper and then pen or pencil sketch, scan and computer art programs.

14. What is the most inspirational place for you to create art?

I've never had a physical place inspire me so much as situations, ideas and curiosities I encounter.

15. What is your favourite DeviantArt memory?

That is a very hard question since I have a very poor memory... I suppose in that my favorite memory would being able to search and find new art every day with the occasional "treasure" popping up to feat my eyes or wits upon.

#DeviantArtistQuestionnaire