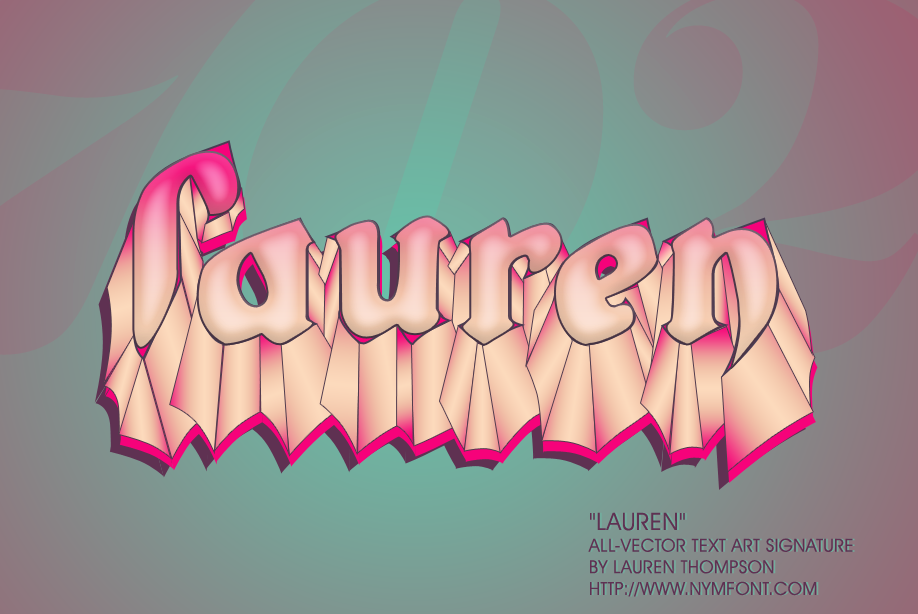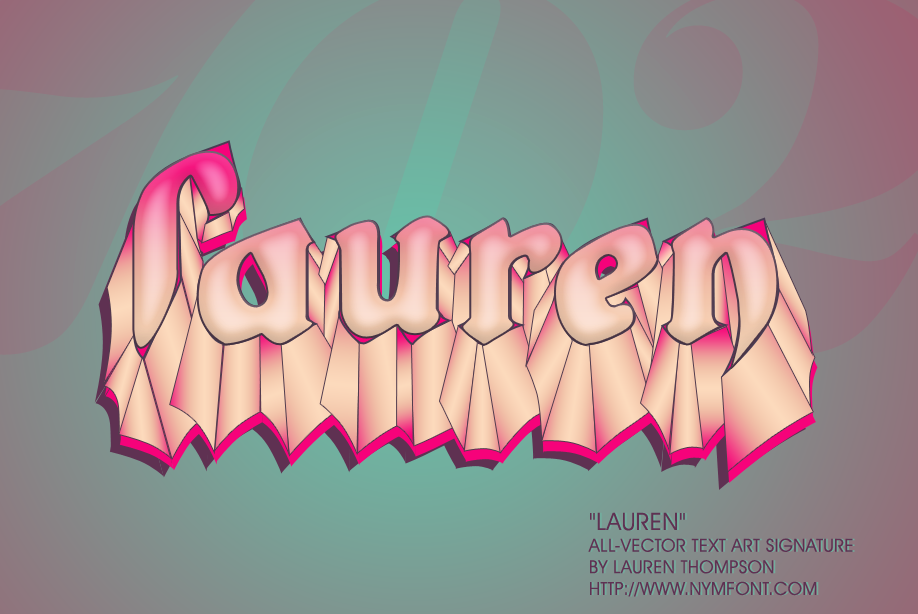 Watch
Lauren - All Vector Text Art Signature
100% Vector Text Art By myself (Lauren

)
The vector lettering for "lauren," itself is based on a modern black-letter typeface I have entitled Libitina (not yet publicly released) which was influenced by traditional German black-letter type-settings from the 1600's, and made with a love of Fraktur (obsession with) at heart.
I added "urban," or graffiti style "beveling" and other bordering styles on the lettering are in the style that I do that sort of art, and in a way that I remember seeing graffiti artwork as a young child in California, and was so smitten with and in awe of then, and still am today.
Ever so lightly behind the "lauren" lettering are the numbers 702 in Bodoni Bold Italic, which represent Las Vegas, where I am from, as it is the area code here.
And in the bottom right, the caption is done in-- what else, The awesomeness that is Herb Lubalin's Avant Garde (Book BT).
I guess I am a bit old skool or maybe just stubborn, but I tend to make / give my vector designs a "rasterized" appearance. Often times I mix rasterized objects with true vectors, but I assure you this is all vec. Made in PhotoShop. (Still have the PSD's of course, 'cus I did like this one myself and might want to try other things with it.....

Colors inspired by palettes I made on the wonderful ColourLovers.com
Hope you like.

Anyways. Rawk on. <3 Lauren 420.24.7.02

Reply

HAI FIVE for same name !!!
Reply

wow this looks so amazing!
Reply

Reply

awesome, i am glad you found the time to take part


Reply


Thank you as well, I've wanted to work on my illustrative and vector abilities, the festivities of VecType have been immeasurably inspiring for me

Really, what you guys are doing on dA is huge, I hope that other specialized art genres on dA have similar groups, activities & communities available to them. It's a real treat.

I most definitly will participate in the events I am able to in the future. So much fun. Have a super one.
~Lauren


Reply